Bijan Robinson earns Ed Doherty Award; Spencer Rattler named National QB of the Year; Danny White to be inducted into QB Hall of Fame
December 8, 2018 by Andy Morales, AZPreps365
---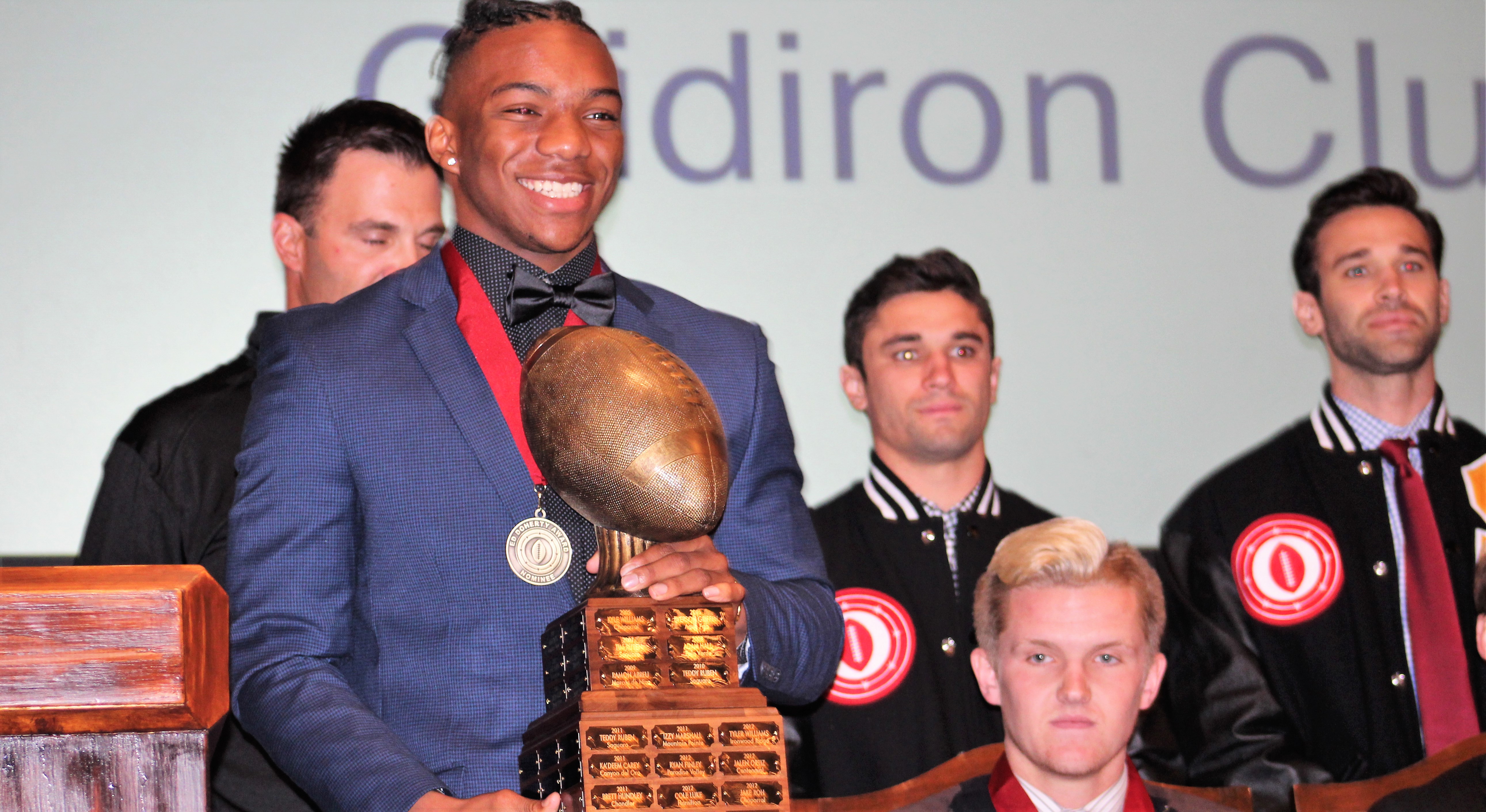 Saturday proved to be an eventful day with several current and past high-profile Arizona high school football standouts earning state and national recognition.
First, Salpointe running back Bijan Robinson earned the Ed Doherty Award, signifying the best high school football player in Arizona. The Gridiron Club held its annual award luncheon Saturday afternoon at the Scottsdale Resort at McCormick Ranch and 51 nominees from throughout the state were recognized for their accomplishments in the 2018 season.
Robinson, Chandler RB DeCarlos Brooks, Saguaro athlete Connor Soelle, Notre Dame receiver Jake Smith and Chandler QB Jacob Conover were named the five finalists by the selection committee and Robinson was chosen from this group of very deserving athletes.
Words cannot express how proud I am of @BijanRob_ Forever linked to Coach Doherty is a great honor! Having played for Coach Doherty and coaching Bijan are 2 of the great gifts in my life. To the @gcs_gridiron members - Thank you!
#2018 AZ Player of the Year 💯 pic.twitter.com/DigTBHLiaW

— Dennis Bene (@LancerFBcoach) December 9, 2018
Only a junior, Robinson rushed for 2,400 yards with 35 touchdowns including 155 yards and a TD against Saguaro in the 4A state championship game.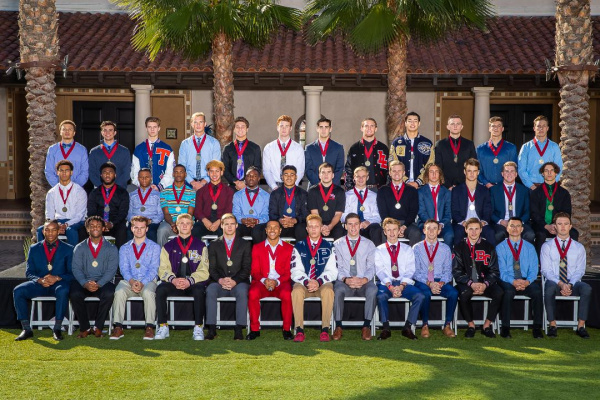 2018 Ed Doherty Nominees (Peak Image Photo)
And @SCLancerNation @BijanRob_ Bijan Robinson named the top high school football player in Arizona @gcs_gridiron #EdDohertyAward pic.twitter.com/uIP1r29Wvj

— Andy Morales (@AndyMorales8) December 8, 2018
2018 ED DOHERTY NOMINEES
Anthodrius Ashley Betty Fairfax RB SR
Israel Benjamin Saguaro RB JR
Trenton Bourguet Marana QB SR
Spencer Brasch Higley QB SR
DeCarlos Brooks Chandler RB SR
Kaleb Bryant Buena RB SR
Tommy Christakos Chaparral WR/K JR
Austin Clark Prescott QB SR
Jacob Conover Chandler QB SR
Braxton Croteau Liberty DL SR
Gunner Cruz Casteel QB SR
Kohner Cullimore Highland RB SR
Kevin Daniels Glendale RB JR
Michael Densmore Winslow DE SR
Tyler Duncan Greenway QB SR
Paxton Earl Arcadia RB JR
Ben Finley Paradise Valley QB/K JR
Keegan Freid Sunrise Mountain QB SR
Devon Grubbs Desert Vista RB FR
Nico Haen Sunnyslope QB JR
Hayden Hatten Saguaro TE/LB SR
Terrell Hayward Cienega WR SR
John Henderson Yuma Catholic WR SR
Hendrix Johnson Boulder Creek WR/SS SR
Brayden Leibrock Chandler TE SR
Brock Locnikar Notre Dame Prep LB JR
Logan Maxwell Higley DE SR
Eddie McClendon Mesa WR SR
Jakim McKinney Mountain Pointe RB SR
Trevor Messing Thunderbird QB SR
Jack Miller Chaparral QB JR
Zach Nelson Casteel WR SR
Coleman Owen Higley WR SR
Will Plummer Gilbert QB JR
Noa Pola-Gates Williams Field ATH SR
Chubba Purdy Perry QB JR
Ryan Puskas Liberty LB SR
Spencer Rattler Pinnacle QB SR
Gage Reese Yuma Catholic QB JR
Bijan Robinson Salpointe RB JR
Brayden Rohme Perry OL SR
Zack Sheppard Williams Field QB SR
Kedon Slovis Desert Mountain QB SR
Jake Smith Notre Dame RB/WR SR
Connor Soelle Saguaro LB SR
Malik Taylor Phoenix Christian RB SR
Vince Wallace Seton Catholic QB SR
Tyler Wilridge Tombstone RB/SS SR
Lucas Wright Desert Ridge RB SR
Jaydin Young Centennial S/RB JR
Jalen Young Perry RB SR
@SCLancerNation @BijanRob_ Bijan Robinson talking @gcs_gridiron #EdDohertyAward and some Lancer talk pic.twitter.com/ckbWpdAfWr

— Andy Morales (@AndyMorales8) December 8, 2018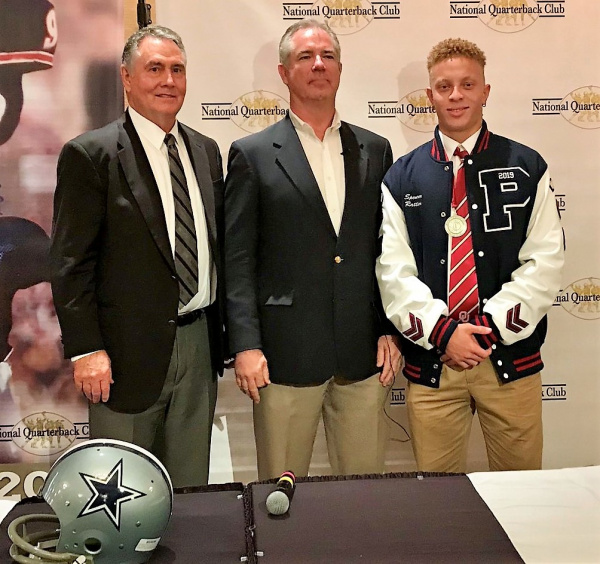 Danny White, Gridiron Club President Don Kile and Spencer Rattler (Andy Morales/AZPreps365.com)
Next, Pinnacle QB Spencer Rattler was named National High School Quarterback of the Year by the National Quarterback Club. Bo Nix of Pinson Valley High School in Birmingham, Alabama was also recognized. Drew Brees of the New Orleans Saints earned the NFL version and Jalen Hurts and Tua Tagovailoa of the University of Alabama earned the college recognition.
The National QB Award winners will be recognized at the National Quarterback Club Awards Dinner and Hall of Fame Induction Ceremony at The Scottsdale Resort at McCormick Ranch on January 19.
Finally, former Mesa Westwood QB Danny White will be inducted into the National Quarterback Hall of Fame on the same night as the Quarterback Club gala. White went on to play for Arizona State and the Dallas Cowboys.
Former Chicago Bears QB Jim McMahon will also be inducted into the Hall of Fame and former Buffalo Bills QB Jim Kelly and Oakland Raiders QB Ken Stabler will be honored with a Legacy Recognition Award for their on-going contributions to their communities through the good works of their charitable foundations.
NOTE: I'm a voting member of the selection committee.
---