GIRLS HOOPS: Salpointe is back in the Top 10 but have the glory days returned?
January 8, 2019 by Andy Morales, AZPreps365
---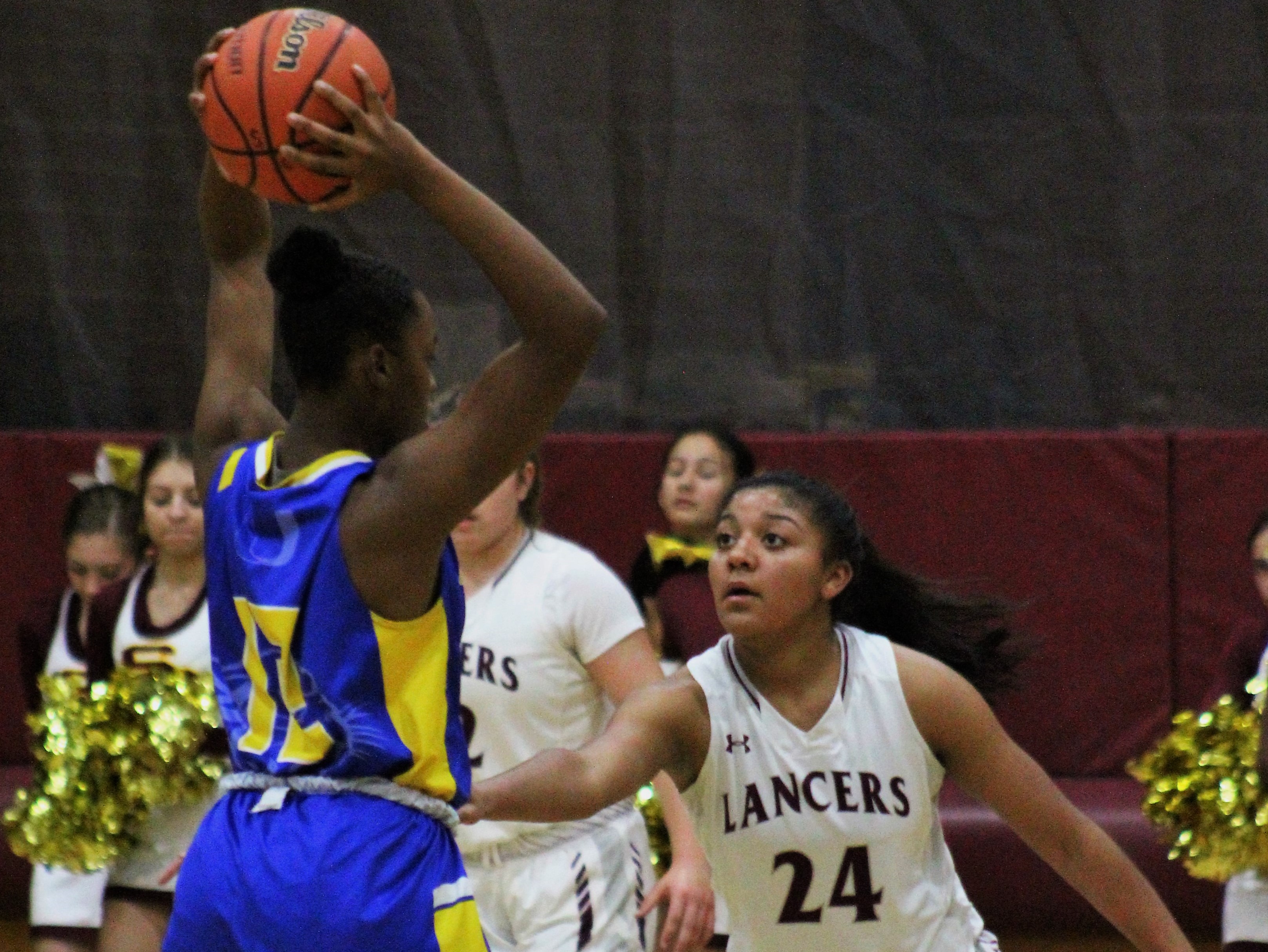 It's been nearly 16 years since Sybil Dosty scored 25 points and pulled down 10 rebounds to help lead Salpointe to a runner-up finish in 2003 to Gilbert Highland. Currently an assistant coach at Nevada, Dosty was part of a five-year run that saw the Lancers reach the state semifinals in the highest division in the state (2002-2006) but a first-round exit in 2007 led to a decade of struggling to recapture the glory days. Though obviously not at that high of a level, the winning ways might be back.
The 41-38 loss to Highland on March 4, 2003 is still the biggest day in program history but one could argue February 8, 2018 signaled a new beginning because that was the day the Lancers, as a 10 seed, beat No. 23 Gila Ridge 52-32 to open up the 4A playoffs. The Lancers went on to lose five days later but the win put the team back on the map.
Jaya Nelson and Briana Arizmendi were only freshman last year but the duo led the team with almost 10 points a game. Now sophomores, Nelson and Arizmendi are joined by freshman Kylee Callahan, juniors Iasia Ratliffe and Kam Powell and seniors Daniel Bernal and Diana Montano. It's a mix of players that helped lead the Lancers to 11 wins overall, a 5-2 record in power-ranking games and a No. 6 ranking entering Tuesday night where the team beat No. 33 Casa Grande 60-24.
The Cougars finished 18-8 last year - and made it to the 4A play-in tournament - but things have been a bit more difficult this year despite the play of senior LaBraea Davis. Davis scored 14 points and pulled down 10 rebounds in that playoff loss and she has continued to put up big numbers despite a 2-8 record in power-ranking games this winter.
Davis led Casa Grande with 18 points Tuesday night and she kept the Cougars in the game early but a 12-8 deficit with 7:50 left in the second quarter quickly got out of hand.
"We are a very young team this year and it's frustrating at times," Davis said. "But we are continuing to work through it. I'll try to go out and get some rebounds and score and hopefully we will win some."
Nelson led Salpointe with 24, Arizmendi added 13, Bernal had eight, Callahan scored six, Powell scored five and Montano finished with four points. Davis scored her 18 points for Casa Grande and Kalyssa Fox, Mika Doty and Justice Lockhart scored two points each.
The Cougars will host No. 34 Catalina Foothills on Thursday and Salpointe will host No. 28 Canyon del Oro on Friday. No. 1 Sahuaro is 16-1 on the year and the Cougars are 9-0 in power-ranking games and 2-0 in the 4A Kino Region.
@SalpointeLancer sophomore Jaya Nelson 24 points tonight pic.twitter.com/rulFtMvEb3

— Andy Morales (@AZPreps365Andy) January 9, 2019
The Lancers have climbed the ranking numbers from a low of 40 in 2015, to 37 in 2016, to 24 in 2017 and then 10 last year. The next 11 games might be the most important stretch for the program in a generation.
---