Matt Johnson's resignation from Ironwood Ridge highlights list of football openings
January 10, 2019 by Andy Morales, AZPreps365
---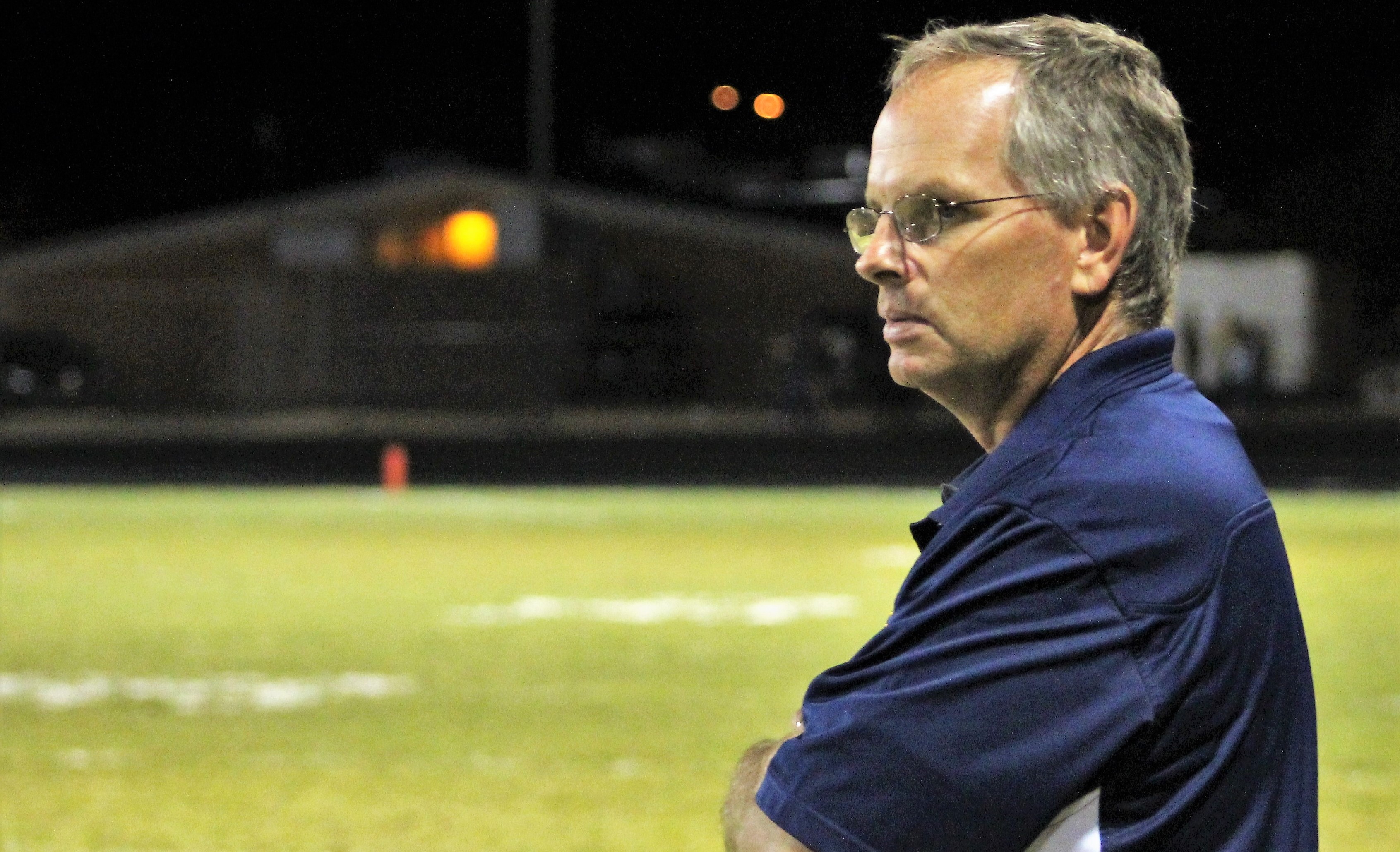 Jeff Scurran stepped away from a lengthy prep coaching career on October 27. More on Scurran HERE.
Empire head coach W.T. Jeffries announced his retirement on October 28 after six years.
"It is time for me to spend time with my family and get healthy," Jeffries wrote in his announcement. "It has been a wild ride and I wouldn't want it any other way! Thank You to my family and Empire for letting me live the Dream!"
Jeffries survived cancer in recent years and is still battling back issues. He led the Ravens to the playoffs in 2017.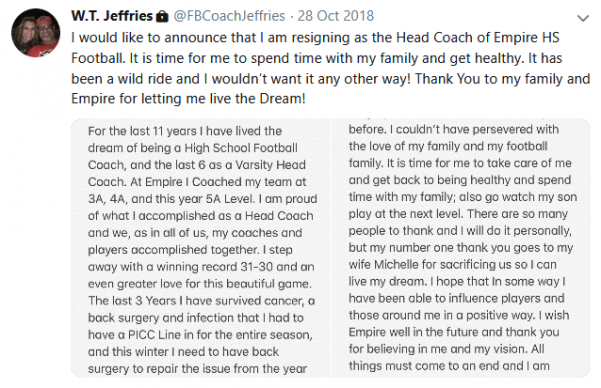 Palo Verde head coach Laurence Ruhf left the program on October 29 after five years with the program. Ruhf coached at Cholla from 2010 to 2013.
Told the boys today I have stepped down as head coach @ Palo Verde High School. Difficult decision but it's the right decision for my family, players & myself. Palo Verde has a great admin, facilities & students. If your a experienced football coach, I highly recommend applying!

— Laurence Ruhf (@CoachRuhf) October 29, 2018
Sunnyside parted ways with Roy Lopez on November 26 after Lopez posted a 12-18 record in three years, including the first two at the very difficult 6A level. Lopez led Marcos de Niza to a state runner-up finish in 2009.
Former University of Arizona tight end Bam McRae announced his leave from coaching Mountain View Marana on December 20 after earning 46 wins in seven years including four postseason berths with a quarterfinal finish in 2012 and a Sonoran Region championship this past fall.
Thank You Coach Bam (@BamMcRae) for everything you did for this program, the players, staff, family, friends, and everybody in between!

Once a Mountain Lion, Always a Mountain Lion. #LionPride pic.twitter.com/W1w5WOV245

— The View Football (@MtnLionFootball) December 21, 2018
Flowing Wells head coach Mark Brunenkant announced his promotion to the Athletic Director position yesterday, January 9. Brunenkant leaves behind a well-respected career that began as a head coach at Douglas from 1995 to 1997 then Catalina Foothills from 1998 to 2006 then as an assistant at Flowing Wells to Mario Piña in 2007 before taking over the top spot with the Caballeros in 2009.
Brunenkant built his program around neighborhood kids in the Flowing Wells district, making the playoffs four of the last five years with a 9-2 record in 2015. His 2015 season broke a 14-year playoff drought. Former Sunnyside head coach Glenn Posey led the Caballeros to eight wins and a playoff appearance in 2001.
Brunenkant also led Catalina Foothills to the first three playoff berths in program history in 2001, 2002 and 2005. His 9 wins with the Falcons in 2001 was the program's best finish until Jeff Scurran recorded nine wins in 2015.
Lessons in our programs have not only been about first downs or goal line https://t.co/HLYH6NXJrD has been about growing as young adults. I love it and embrace it, and I will always be proud to be a part of the Flowing Wells community. Excited and inspired for the next chapter.

— Cab Football (@CabFootball) January 10, 2019
"The move will be bittersweet," Brunenkant said. "This has been a long-term goal of mine and you can say it's in my blood because my father also went from coach to administration but I'll still be close to the program and will we continue to do things the right way and serve our students and athletes."
His father, Carl Brunenkant, passed away in 2014 at the age of 81. He had a lengthy coaching and administrative career that began at Salpointe in the 1950s.
Brunenkant will replace longtime wrestling coach and current athletic director Pat Weber, who will be retiring this spring. Flowing Wells hosts one of the biggest wrestling tournaments in the southwest and the biggest midseason girls' basketball tournament in Southern Arizona.
It is with a very sad heart that we announce the resignation of our amazing head Coach Matt Johnson. Thank you coach for everything you have done for our young men, we will miss you more than you know. You will always be a Nighthawk to us. Good luck in your future endeavors. pic.twitter.com/qMwXkEajbl

— IRHS Nighthawk Football (@irhsfbbooster) January 10, 2019
Matt Johnson announced his leave from Ironwood Ridge early this morning. More on Johnson's lengthy playing and coaching career can be found HERE.
James Fitzgerald announced he was leaving Douglas Thursday afternoon after leading the Bulldogs for two years. Fitzgerald will be an assistant coach at Brevard College in North Carolina.
Fitzgerald helped lead Valley Christian to a state championship as a player in 2009, served as an assistant coach at Pusch Ridge from 2013 to 2015 and then became a graduate assistant at NAU for a year after that before taking an assistant coaching position at Scottsdale Community College.
With all of that being said I'm blessed to announce I will be joining the staff at @BrevardF5 as an assistant football coach! pic.twitter.com/OEKLt93BMw

— James Fitzgerald (@CoachJFitz) January 10, 2019
---