Girls hoops: Hamilton grinds out road victory
January 10, 2019 by Jose Garcia, AZPreps365
---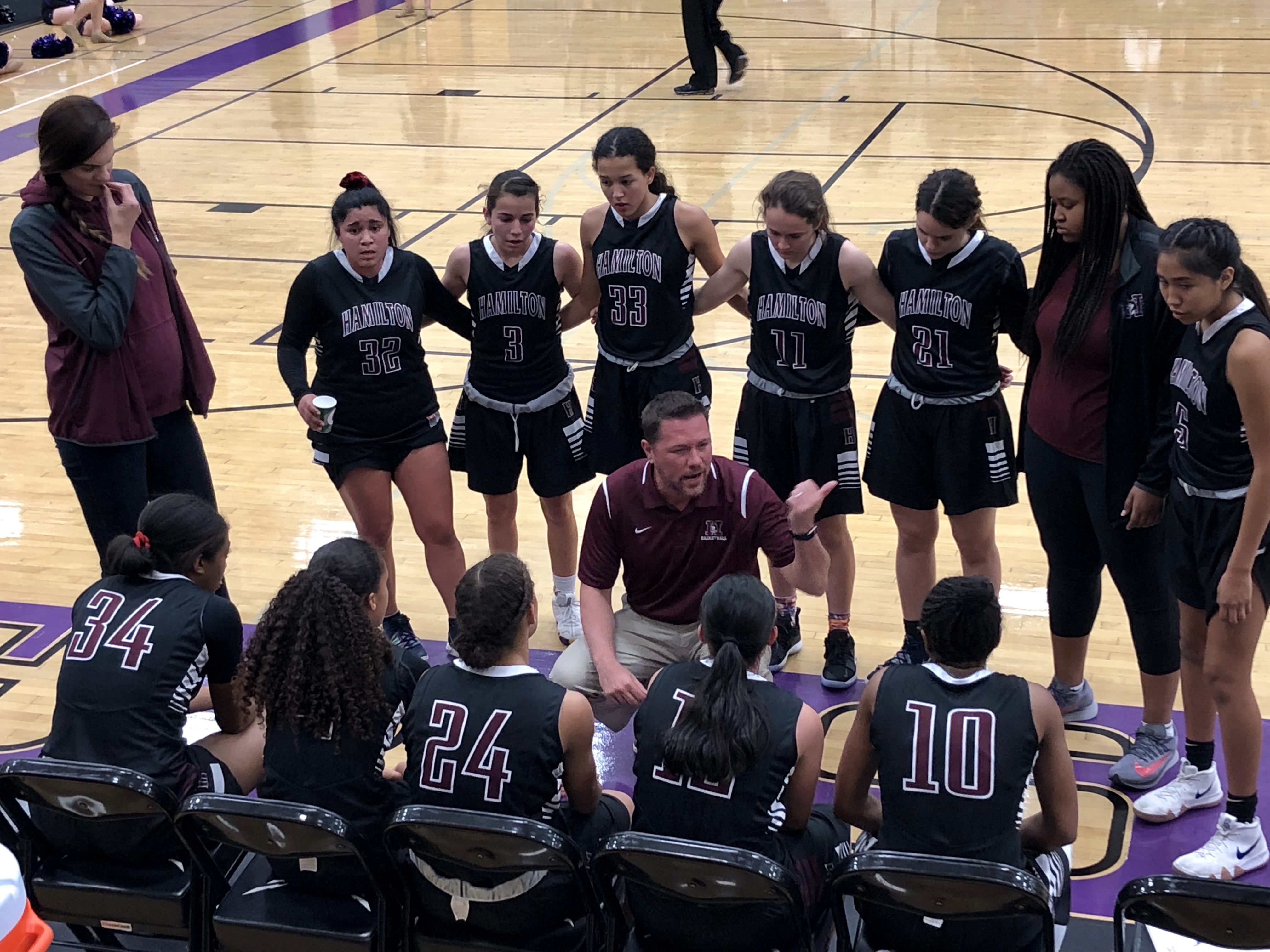 Arizona high school girls basketball fans got a glimpse this week of just how tight the race in the 6A Conference is.
Fourth-ranked Perry clipped the state runner up from last year, No. 3 Xavier, on Tuesday, and on Thursday night Hamilton got by two-time defending champ Valley Vista in another 6A slugfest.
"We made some good decisions, took care of the ball and hit some shots," said Hamilton coach Trevor Neider after his team's 41-38 road victory. "We were proud of just making some plays down the stretch."
Along with executing in the final seconds, Hamilton also took a page out of Valley Vista's defensive book to help flip the outcome in its favor.
Trailing 36-34 with 1:38 left after Alanis Delgado's hoop in the lane, Hamilton senior Raelin Denning dribbled her way to the first of her three big plays in the waning seconds. After a backcourt violation by Valley Vista, Denning converted an and 1 to give Hamilton a three-point lead.
But Valley Vista responded with two Jennah Isai free throws to go up 38-37.
Back came Denning, who dished off to Samara Curry for a lay in off an inbounds play. Finally, with 26.2 left, Denning added her 13th and 14th point of the game after making two free throws.
The lead traded hands four times in the final 90 seconds. Valley Vista had a chance to tie it and send the game to overtime but missed a three.
In the first half, Hamilton (15-4) utilized its press, which Valley Vista (14-3) is known for, to even things out by halftime after trailing 10-5 at the end of the first quarter.
"We knew they (Valley Vista) were going to get out and pressure us, and you just have to attack it, or they were going to eat you up," Neider said. "We got a couple of big ones at the end, and the girls made some big plays."
Valley Vista was without the services of one of its three captains, sophomore Marisa Davis, who had a tooth pulled Thursday.
It also started two talented freshmen, Isai and Saniyah Neverson. The squad carries only one senior and returned just one starter this season.
But despite its youth and no Davis, Valley Vista didn't use that as excuses for dropping a very important power ranking game. In fact, Valley Vista's coach Rachel Matakas didn't mince words while answering why her team lost.
"Undisciplined. Un-coachable," she said of her team. "And played like individuals. That simple."
Hard fought game and he Huskies get the 41-38 win.! Improve to 10-0 powerpoint games. Finish the night with PJs on bus ride home. pic.twitter.com/pmz2oiM8yg

— Hamilton Girls Hoops (@HamiltonHoops) January 11, 2019
---