Mountain View softball ready to compete in Dorado Classic
February 18, 2019 by Claudia Faust, Arizona State University
---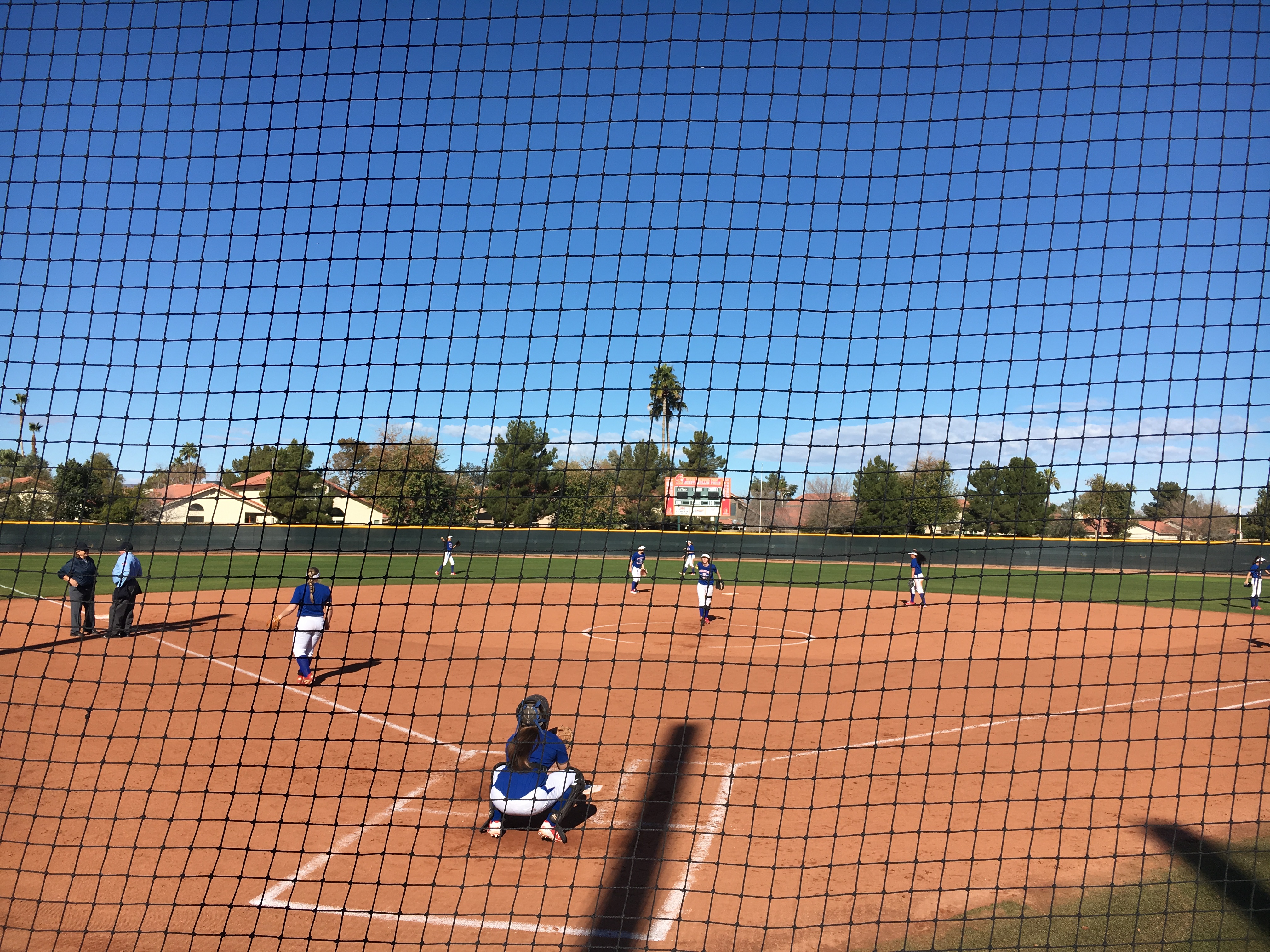 Softball season is back in full swing and Mountain View Toros head coach Joe Goodman says the team should have a very reliable rotation this year.
Last season, the Toros were 13-15 overall but were 7-3 in their league. The Toros are returning a lot of their players from last season but will have two freshmen on this year's varsity squad.
The team played a scrimmage on Saturday against Seton Catholic with the Toros winning, 12-3.
The scrimmage served as an opportunity for Goodman to get a grasp of his starting lineup for the Dorado Classic this upcoming weekend.
"We had ideas going into the scrimmage of what the lineup might look like," Goodman said. "It's an evolving process. You expect girls to perform on a daily basis and earn their spots daily."
Sophomore catcher Kennedy Newton has been working on her hitting over the off-season. She said this year she is expecting more out of herself.
Newton looks up to her senior leaders for guidance, which is highly encouraged by Goodman.
"Kenzie (Fox) and Afton (Brown) would definitely be my seniors I look up to because they just impact everybody so much and they're just such a great example to everybody," Newton said. "They just play hard."
After the scrimmage, team captain Kenzie Fox said she is hopeful the Toros will have a successful season.
"I think it was awesome how we all came together and performed to our best ability because it's the first game, so you never know how it is going to go," Fox said.
Fox takes her role on the team seriously and hopes to continue to be a positive influence on her teammates. She plans to keep her teammates motivated by cheering as loud as she can from the dugout.
Both Fox and Goodman were impressed with freshman pitcher Hina Huber in her start on Saturday.
"I love Hina," Fox said. "The new freshman on our team. She is going to be an awesome new piece of this team."
Goodman was impressed with Huber's performance despite her having some nerves in her first outing.
"She is a freshman, but she carries herself like she's been at it a long time, so we don't worry about her too much," Goodman said. "I think she did have some nerves though, especially hitting the ball."
The only pitcher that will be returning this season is Jaiden Randle, who is recovering from an ACL tear from last year.
Goodman says despite the lack of returning pitchers the rotation will have a lot of depth this season.
The girls are most excited to face Toros rival, Red Mountain, later this season but they said they are excited to compete every week.
Goodman compared the competition this season to Seton Catholic saying he has high expectations.
"Coach Mullen does a pretty good job coaching those kids up," Goodman said. "They are always fundamentally sound and have a good pitching staff so they're a good example of a good quality playoff team that hopefully we can beat."
The Toros will play in the Dorado Classic this upcoming weekend at Lincoln Park. Thirty teams will compete in the tournament.
Mountain View will play their first home game against Copper Canyon on Feb. 26.
---