Perry cheer closer than ever after first state title win
February 19, 2019 by Jose Solis, Arizona State University
---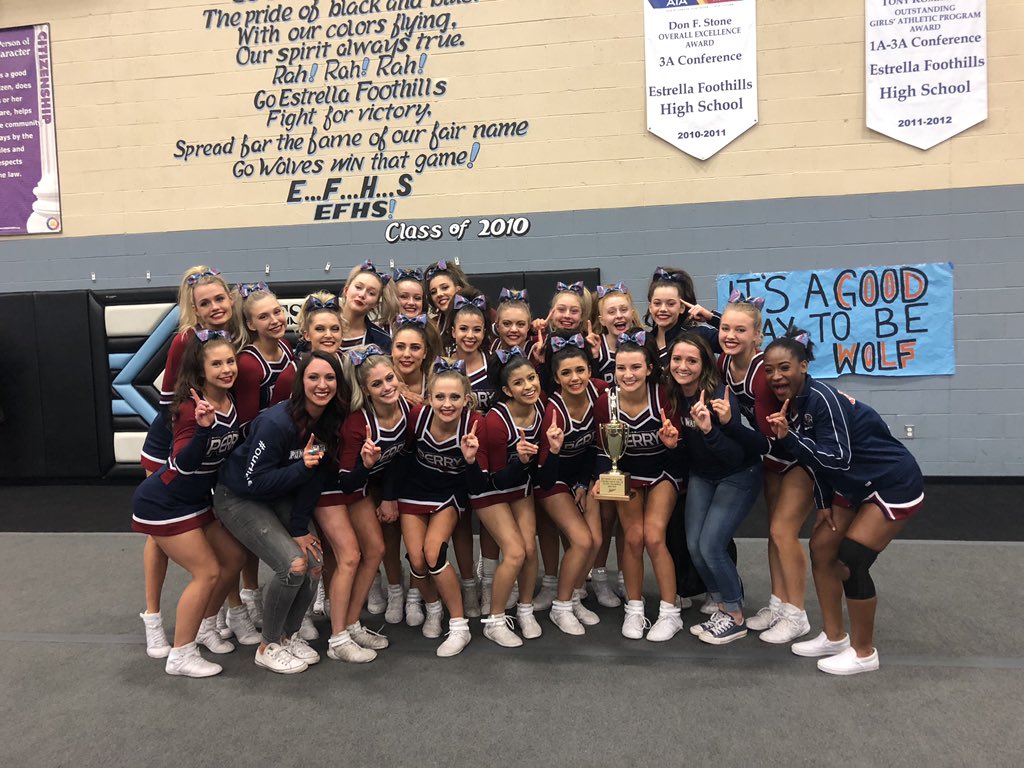 When the Perry cheer team walked off the floor at the state championships Feb. 9, its members felt they had performed below their expectations and were nowhere close to a top-three finish. The judges at Estrella Foothills High School, however, felt differently.
"We were all a little upset with each other because we didn't perform our best routine that we have ever performed," senior Alex Blaisdell said. "Once they said the second-place team, I think we were all shocked and excited and happy all the hard work we had done and all the long practices that we thought we were going to die were actually worth it."
When junior Marnie Olson realized Perry had won, she fell to the floor. "It was the most shocking moment of my life," she said.
Are more shocks ahead? The Pumas will represent Arizona at the USA Nationals in Anaheim, California this weekend.
In what has been a breakout year for head coach Desiree Stinnett's Pumas, the cheer team's first-ever state title has been the metaphorical cherry on top after a season that saw instability envelop the team early on.
"I think at the beginning of the season, we still had some growing to do, we went through a lot of tough times," Stinnett said. "Then, come December, we just had [basically] a sit-down, and we talked about what our goals were and what needed to happen going forward to be successful. They really just pulled it together for a lack of better words."
Those hardships brought them closer, and the bonds formed became the team's motivation and drive for success. Even when they're tired or sick, Stinnett said, she stills expect full effort from her students to each other and the program.
"There's not one individual that has stood out, because we are all so close and all we want is to do our best and look perfect and win," Olson said. "We all carry each other."
Blaisdell, one of five seniors on the team, emphasized how embracing her teammates helped her mature throughout the cheer team's four-win season.
"I think just looking around and being a senior and seeing my other seniors work just as hard for what we all want has really pushed me," Blaisdell said. "[Seeing] how hard they work for the rest of us has motivated me and just the whole team in general because we don't let each other slack off. We push each other to be our best selves."
As the camaraderie grew, so did the confidence of the team. Blaisdell said that they initially believed Perry's first two wins were flukes. But the state title wasn't.
"This team has been able to figure out what works for them and that has led them to a [really successful] 2019," Stinnett said. "I think that they have a really good chance at bringing home a national title."
No matter the outcome, Perry's cheer program believes its first state title is an achievement in its own right.
"I will never forget this season after winning State, that was the greatest thing that's happened to me," Olson said. "Even just being a state champion if we don't win nationals, that's still a great accomplishment."
In the end, Stinnett hopes the teamwork she has seen from her athletes will be the most crucial experience they learn from the program's most triumphant season to date.
"It takes all of the girls on the mat to be successful," Stinnett said. "Having a team that is willing to work as hard as this team is, that's a success in itself as well."
---