Gilbert Christian looks to youth to make post-season appearance
February 28, 2019 by Paul Helmers, Arizona State University
---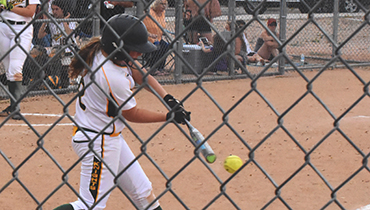 Gilbert Christian enters the season on a long playoff drought. This year they have one goal in mind: "Make it Happen."
"I feel that this year we have a lot of new talent, a lot of younger players," said coach Tina French. "But they come with a lot more softball knowledge, a lot more experience, a lot more talent. So, we're hoping to be able to use that."
The Knights lost some key players, including First Team All-Region Maiya Cruz and Hallie Searles. Cruz was a catcher, Searles was the No. 1 pitcher. But the younger players are picking up where they left off.
"Losing our No. 1 pitcher from last year is going to be tough," said assistant coach Larry Fleischer. "We have our firs team catcher that's gone but we're really excited about the catcher we have this year, and our shortstop from last year is going to be our pitcher."
That is junior Ciara Hoffman.
French and Fleischer both believe in Hoffman, who they call a "very good leader." They also said freshman Addisyn Mayfield is one of the most talented and knowledgeable players on the team.
The Knights will be facing an uphill battle this season after changing from 2A to 3A, but they feel confident with their depth.
"I think our floor has gone up," said Fleischer. "I think the quality of the people coming in have raised the bottom some, but we need some of them to evolve into the top players."
One problem Gilbert Christian has faced in the past is participation, leaving them with limited options in case of injury.
"Not this year!" said French. Seventeen players have come out to play, the largest number French and Fleischer have had.
"We've always had enough, but there has been a day or two during the season we've had to sneak by with nine players," said Fleischer.
"We always encourage everyone to come out and give it a try and have some fun. We find some of our most exciting moments of the year are when a person catches a fly ball for the first time in their life and we have had them literally jumping up and down…it's a different level of thing, but it means a lot to them and its neat to see."
The Knights began last season on a five-game win streak before finishing 8-10 overall. With the shifting of positions, Fleischer sees the team peaking later.
Gilbert Christian begins its battle for the playoffs Friday against American Leadership Academy – Ironwood at 4:15 pm.
---