Matea Suan leader of Perry's powerhouse volleyball program
February 28, 2019 by Brandon Genson, Arizona State University
---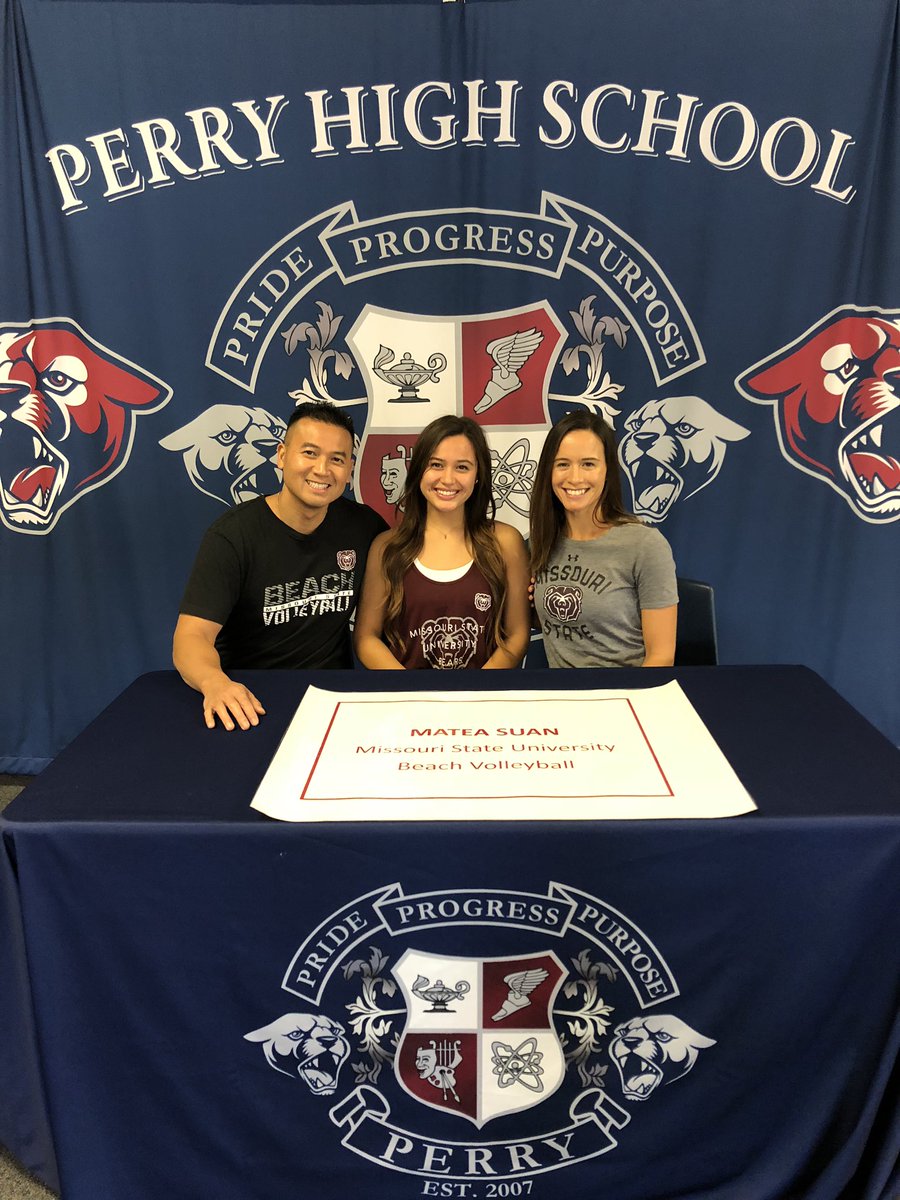 Coach Fred Mann wouldn't let his visitor go - not without touting Matea Suan. He walked from the weight room to the front office praising his star volleyball player at Perry.
"She's just a phenomenal kid," Mann said. "She's unselfish. You know, she thinks about others, she works hard. She's just one of those kids who I dream to have as a coach."
With her final beach season with Perry (1-0) underway, Suan's leadership skills may be put to the test more than ever this season. Perry is replacing five seniors from last season's team.
But Suan is ready for the challenge because she wasn't handed the title of captain; she earned it.
"Definitely, being a leader is a priority," Suan said. "I try to live a purposeful life- to just be an example, especially for the younger girls and everyone around me the best I can do, so I can, you know, inspire people to be better."
Suan's leadership skills are her chief quality in volleyball and in life, but her talent and passion are also cornerstones of her game.
Suan didn't start playing beach until her freshman year, about three years after she started playing indoor. But much of her reason for picking up the beach game was because she saw it as an opportunity for her to grow as a leader. "If you think about it, what kind of kid goes to play your sport because she's trying to improve her leadership skills?" Mann asked.
"I've had phenomenal kids and I've got phenomenal kids in our program. I've been a head coach for 26 years, so I've been a club coach, I've been a boys coach, I've been a girls coach, so I've probably coached over 100 teams and I would say that she's the best leader I've ever had."
Perry has established itself as a powerhouse on the AIA's volleyball scene. Last fall, its indoor team made a run to the 6A semifinals as the top seed, while the beach team is looking to repeat as state champions this May.
Suan, a Missouri State beach volleyball commit, was the starting libero on the indoor team last season. She capped off her Perry indoor career by more than quintupling her dig total from the previous season and posted career highs in kills, serving points and assists. She was also a captain on the indoor team.
Matea's mother, Teresa, played volleyball in high school and at the University of Michigan. She also helped foster Matea's love for the game.
Teresa said Matea was a gym rat from a young age and attended camps when Teresa used to coach high school volleyball. Matea joined drills with girls much older than her.
"My whole thinking was that I wanted to push her down this path, but I didn't want to burn her out, you know, by constantly telling her, 'You need to improve, you need to work, you need to get better,'" Teresa said. "I wanted her to have a love for the game, a passion for the game."
That approach paid off.
"For beach, I just remember, I wasn't that good, I was losing every game," Suan said. "But I was just having so much fun, so that's when I realized this was like, I'm passionate about this sport."
While players of Suan's stature often have a lock down approach to get them prepare themselves, Suan has a different, admirable approach.
"I like to stay loose," Suan said. "Usually, I tell myself beforehand it's important for you to respect your opponent, so you don't think higher of yourself and you don't and you don't think of them higher than you."
---