Harsh winds make for tough day at beach for Chandler
March 9, 2019 by Jason Cake, Arizona State University
---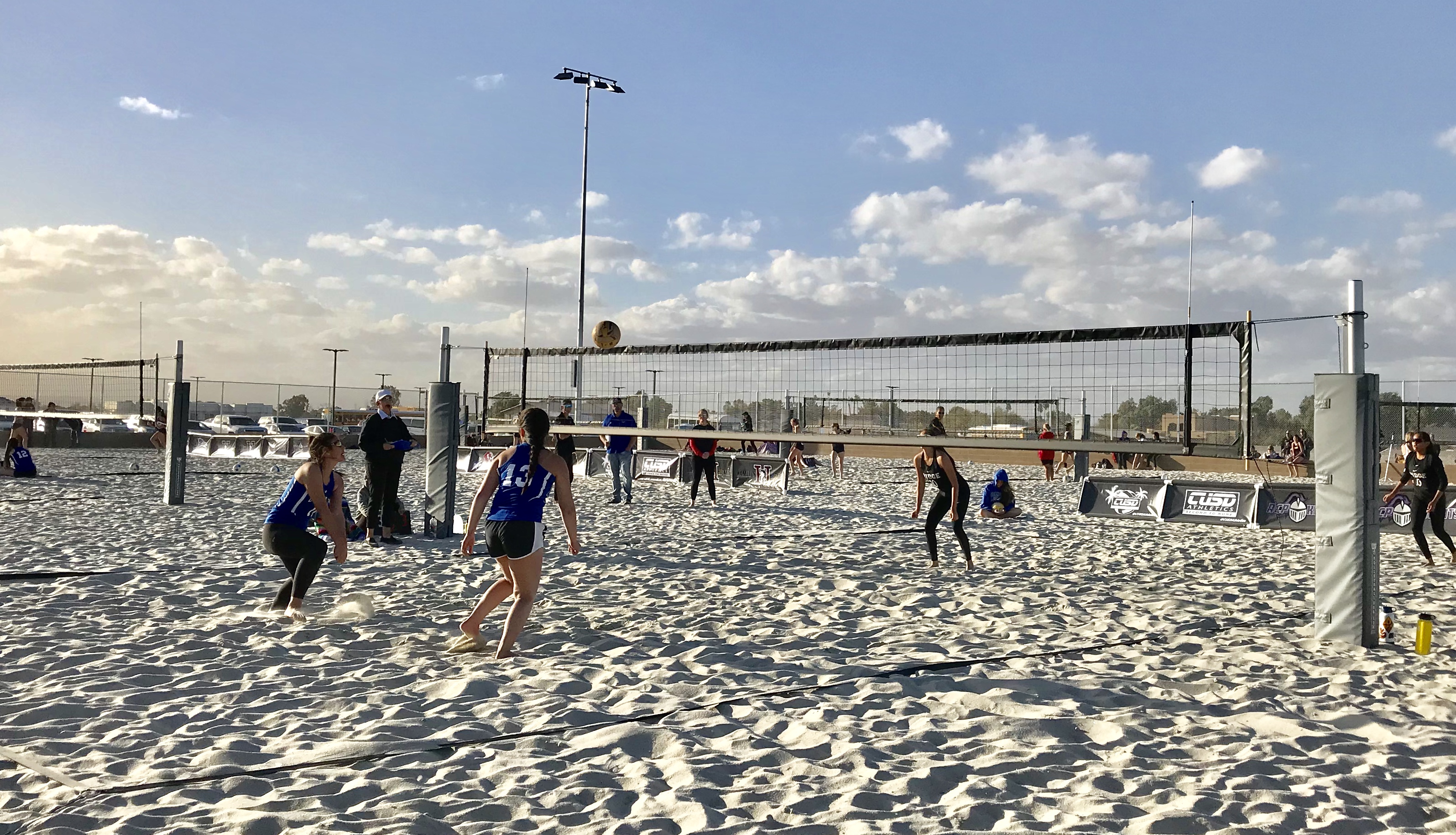 On a cold and windy night at the Casteel High School beach volleyball courts, Mother Nature proved again why she is undefeated, as Chandler fell to Desert Ridge, 4-1, in its third game of the year.
Bundled-up spectators were forced to turn their heads from the gusty winds, trying to prevent the sand from entering their eyes and mouths, as players from both teams struggled to control passes and keep their serves inside the lines.
Chandler got off to a strong start as sophomores Mikaela "Meeka" Contreras and Reece Denney won their match with gritty defense and powerful serves. Contreras' timely digs and well-placed second shots, combined with Denney's strong serve game, proved to be enough as they outlasted Desert Ridge (15-13) in the third set.
Junior Cierra Bevilockway, and sophomore Makenna Carrillo opened their early match in horrid fashion, falling 10-1 in their first set.
"We basically couldn't do anything to bring ourselves back up," said Bevilockway. "I thought we were going to give up, but we didn't."
Bevilockway and Carrillo fought back, winning the second set (21-15) to force a third. However, they fell behind early in the third set and could not regain the momentum, losing 15-8.
Missed serves, communication errors and poor passing were reoccurring themes all night.
"I think what got away from us was making similar mistakes," said Chandler High head coach Allen Alexander. "Focusing on getting that serve in rather than trying to serve too tough."
Chandler would not win another set as its final three teams lost its matches in straight sets.
In the final match of the night, the senior captain duo of Mikaila Williams and Rosa Alvarado looked overwhelmed, making simple communication errors, and showing a level of frustration seldom seen in a veteran team.
"I think we came unprepared to this game," said Alvarado. "We lost our momentum, and the score just got away from us."
There was a flicker of hope in the first set with Williams and Alvarado down 17-8. The duo won side out, on a well-placed cut shot by Alvarado, giving Williams service. Williams and Alvarado scored five straight points to cut the lead to 17-14, but Desert Ridge rallied to win the game 21-14.
"After that first set, going into the second, I didn't think we really lost bad," said Alvarado. "We started to figure it out, and I trusted Mikaila through the whole thing."
Chandler could not capitalize, losing the second and final set 21-6.
Alexander was visibly frustrated at the end of the game and searching for answers.
"My seniors usually give it all they got. They don't give up, even if we lost the match, they always play hard," said Alexander. "We're going to have to figure out how to get through these tough times."
Chandler High enters spring break next week, and Alexander thinks it could not have come at a better time.
"They get some time off, and they get to be a kid and not think about volleyball or school," said Alexander. "I think the number one thing is to reset our minds, forget about today and move on."
Chandler (1-2) will not play again until March 19 when the team faces Queen Creek (0-2) at Barney Sports Complex.
---