Boras Classic: Mountain Pointe's bats pour it on
March 13, 2019 by Jose Garcia, AZPreps365
---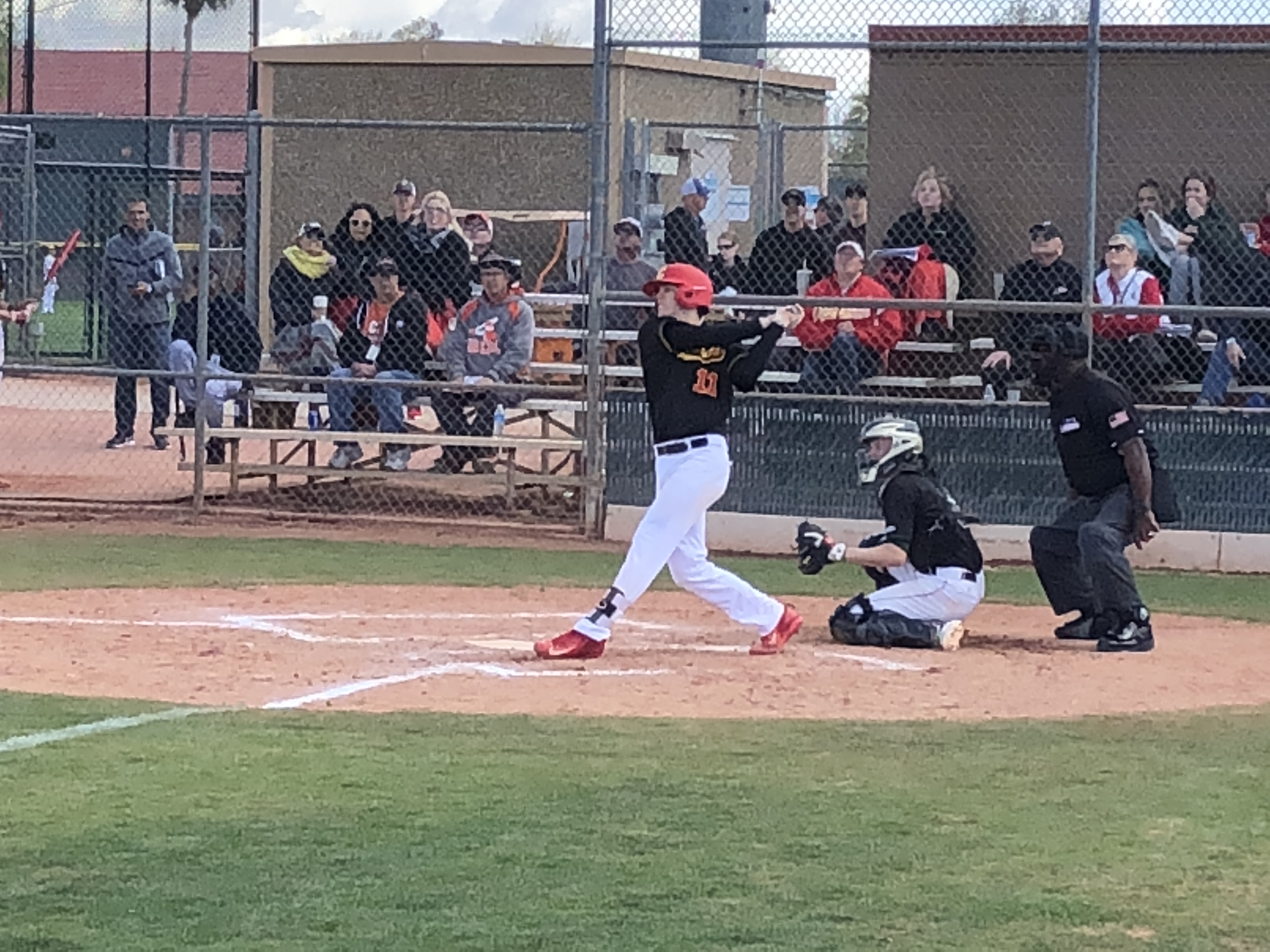 Mountain Pointe's lineup was pressing and not trusting each other during its first games of the season, baseball coach Matt Denny said.
On Wednesday, the Pride pressed the right buttons.
Their offense went into overdrive against a club that carried itself as the top-ranked team in the state to start the year. Nogales is a two-time defending champ and loaded with experience.
But Nogales, a new addition to the 5A Conference this season, was humbled by 6A's Mountain Pointe, 16-6 in six innings, during the opening day of the third annual Boras Classic of Arizona tournament. Mountain Pointe (4-3) handed Nogales (7-1) its first loss of the season in the process.
"It was really a big group effort," said Denny about his team's 15-hit performance at Arcadia High. "We didn't have too many lazy outs. We had quite a few guys who were doing some things right in the bottom of the order and stretching innings."
Every player in Denny's lineup had at least two hits except for catcher Cade Westerlund.
But Westerlund did get on base, albeit painfully. He was hit by a pitch three times.
The Mountain Pointe-Nogales matchup featured two of the state's aces, Nick Wallerstedt and German Fajardo. But the Division I signees struggled with their control and were replaced after the second inning.
Fajardo, a University of Arizona commit, committed three of Nogales' four balks. But despite his off day Nogales' bats kept their team in the game until the bottom of the third inning, when Mountain Pointe went from trailing 6-5 to leading 9-6.
Nogales' cleanup hitter, Jesus Lopez, staked his team to an early 3-0 lead after launching one over the tall and advertisement-filled left field fence of Arcadia. But a couple of pass balls then allowed Mountain Pointe to score three of its first five runs.
Wallerstedt didn't allow his subpar pitching performance to affect his hitting.
The ASU commit went 2 for 4 with a homer to start the fourth inning.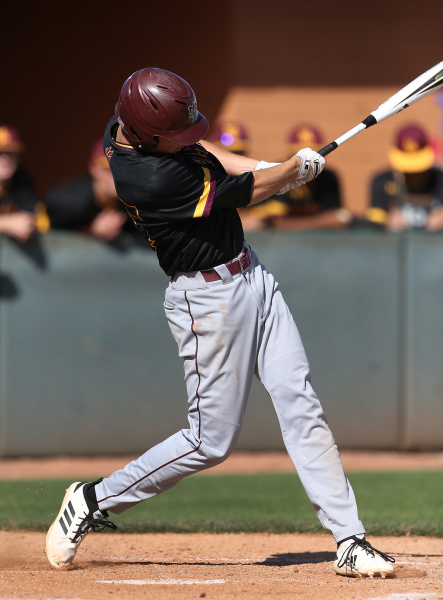 (Nick Wallerstedt hits a home run in the fourth inning. Photo by Alyson Boyer Rode/The Boras Foundation)Joey Cammarata followed Wallerstedt with a blast of his own, a 365-foot shot just over the centerfield fence.
Cammarata will get the start on the mound Thursday against Arcadia High.
"We're comfortable with our offense," said Mountain Pointe's leadoff hitter Carson Tucker, who went 3 for 4. "We didn't let their pitching fluster us. We just came back and did our own thing."
Tucker committed to the University of Texas before the season started and is the younger brother of former first round MLB pick Cole Tucker, a former Mountain Pointe player who will start this season in Triple-A.
The one pitcher who literally and figuratively stood out in Wednesday's game was Mountain Pointe's 6-feet-8 reliever Nathan Ward. The junior started his outing by loading the bases but struck Lopez out with three consecutive off speed pitches to end the jam.
He retired the next six batters he faced.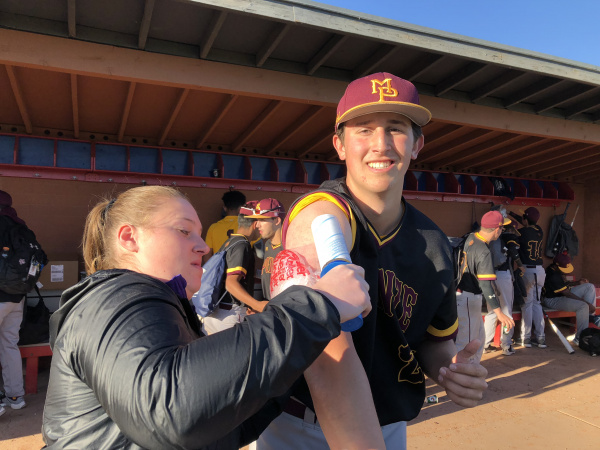 (Nathan Ward)
New but familiar face guiding Chaparral
Chaparral's baseball team is young this season, but its got a veteran coach guiding it this season.
Tom Abram is in his 24th season of service and is familiar with the expectations of one of the state's baseball jewels. So youngsters or not, Chaparral always expects the best from its baseball program.
But Chaparral's bats didn't deliver in the team's Boras Classic opener, dropping a 5-2 to Mountain Vista Colorado at Corona del Sol.
"We are young and scrappy," Abram said. "We just made a couple of key mistakes, but we never controlled the game with our bats. We need to get our bats going. We are a little sluggish right now."
The team also is recovering from a flu bout that hit a lot of the players.
A lot of juniors and some sophomores have spent time in Chaparral's starting lineup this season. Abram brings a lot of experience, but this is his first season coaching at the varsity level.
He knows his players well, however, having coached them at the freshman level. Because of some unexpected varsity head coaching turnover, Abram was thrust into action this season.
"I would have been perfectly happy staying at the freshman level," he said. "I loved it, but we were in a situation where we lost the head coach. I just felt I had to step up and do this. We'll see how long it goes. Every year is a one year commitment. That's what I ask out of the kids, and that's what I ask out of my coaches. If my health holds up, I'll be here 10 years I hope."
Abram has experienced his share of championship seasons and coached future MLB talent at Chaparral under hall of fame coach Jerry Dawson.
Chaparral also holds a special place in his heart, because he had three sons who went through the program.
"(Chaparral) means everything to me," he said. "I bleed Chaparral. I love Chaparral. I believe in what we do. It's very important, so I'll do whatever it takes."
---