SCA softball team calls football field its home
April 17, 2019 by Allie Krusniak, Arizona State University
---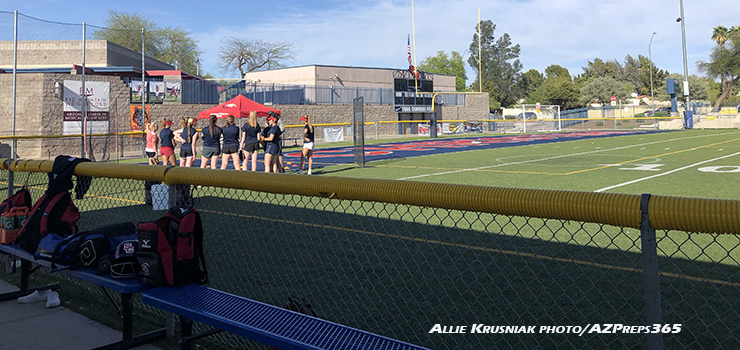 It was a cloudy day for softball when the Scottsdale Christian Academy Eagles faced off against ASU Prep in a conference matchup recently. The umpires took a look around and one said, "I need to get situated," as head coach Steve Hoffman walked out to the field to explain the first and third baseline.
This is a normal routine for the coach, but the field itself is a little out of the ordinary.
The softball team plays on the northwest corner of the school's football field, entirely made out of turf with netting as the outfield fence. Setting up and taking down the field is part of the team's warmup and cooldown.
The field wasn't turf until 2007, said athletic director Eric Dall, but the softball team has always called that corner of field its home since the program's start.
Talk of acquiring an actual softball field has taken place, according to Dall, but the transition isn't as easy as just building a field. It's not funding that's the problem but the space of the school's campus.
"We're somewhat landlocked," said Dall, "but we're always exploring opportunities to find a place for them."
And it's true. The campus was built between residential areas and street without any space for a possible expansion.
Their absence of a field could also stem from the size of the softball program, according to head coach Steve Hoffman.
"If we can develop the program and get more girls interested every year," he said, "then I think we'd have a commitment from the school to improve our playing facility."
Finding a plot of land close by with potential to become a softball field could become an impossible task. Even still, it may not feel like a home field, so everyone agrees that this is the best solution for now.
"The kids like playing here," said Dall. "They like playing on campus."
The team has found ways to make the most out of its situation. After asking whether it affects their performance, everyone agreed that it actually gave the team a home-field advantage because no one else's field is as unique as theirs.
Junior captain and starting pitcher Tiegan Hoffman said it's odd coming from club ball to play on a field entirely made of turf, but she believes that SCA has the upper hand because of it.
"I definitely think that when we go to other fields and when other teams come to us you have to be able to adjust," she said. "And some teams can't do that."
At first, it was even an adjustment for players and coaches, to say the least. The ball reacts differently on the turf and sliding into a base might not be the most comfortable, but the Eagles have a winning record at home.
That isn't to say the program doesn't hope for a field in the future, or that its winning record makes its lack of a field less apparent, but it is more obvious to the players in certain situations.
"It is always really cool when we go to an away game and someone has a really nice softball field," said Steve. "You actually feel like you're really playing at a higher level."
And it's getting over that subconscious worry that they don't have a field that has been his biggest concern for his players, but hopes for the team to have that feeling on their home field have only grown with Steve's first season as head coach.
The Eagles continue to compete and push on, and if they're able to frustrate some teams with their home-field advantage in the process, then there won't be too many complaints for now.
---