The keys to Perry's athletic success
April 24, 2019 by Brandon Genson, Arizona State University
---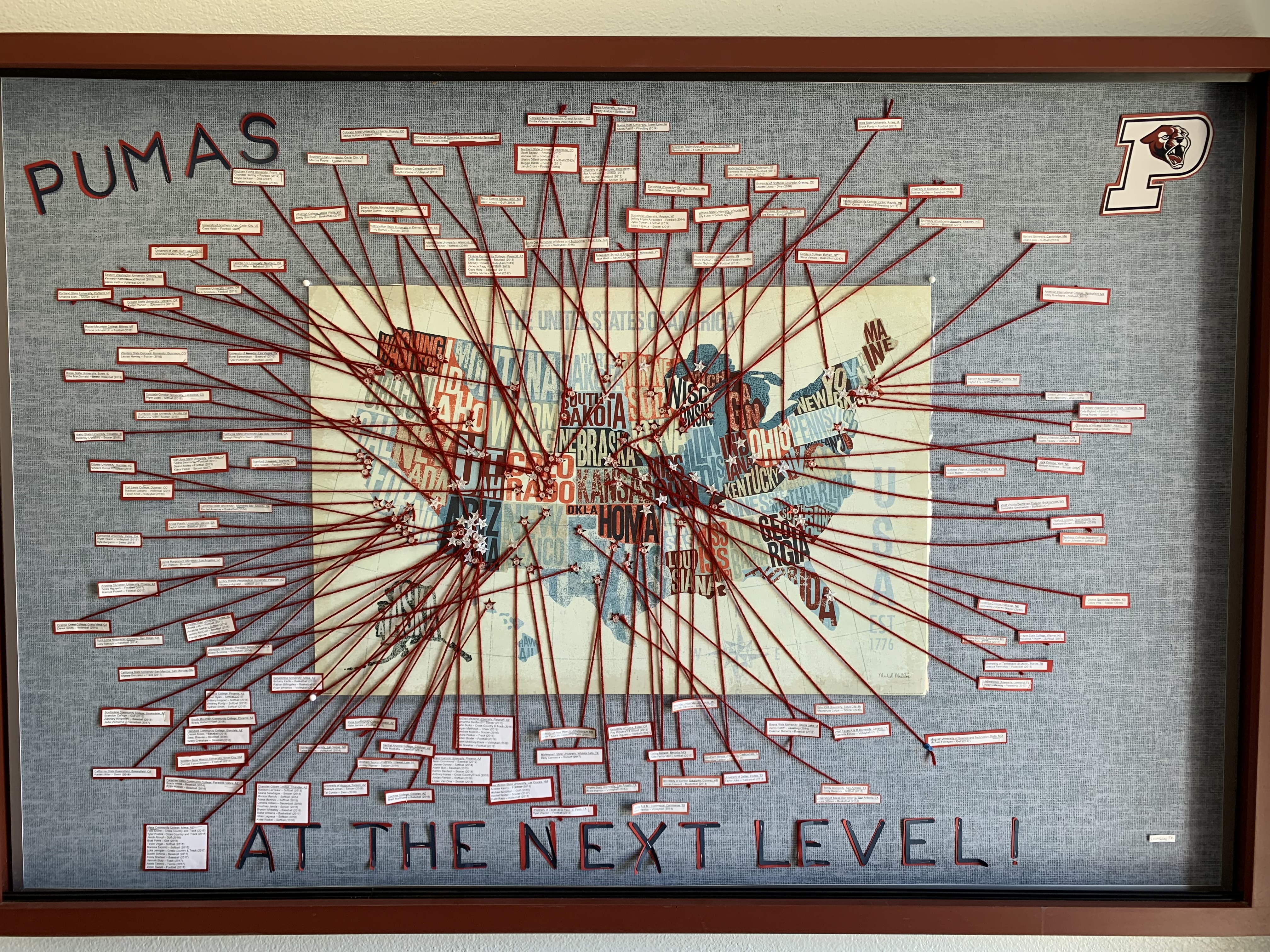 When you visit Perry High School, you'll find two trophy cases. One is in the gym and filled to the brim with awards from Perry's early days.
The other trophy case is in the front office. While it boasts fewer trophies, it shines brighter and features an array of trophies that tell the story of the massive strides Perry athletics has made in just 12 years of existence.
Among the awards: badminton's back-to-back state championship wins, football's back-to-back state runner-up finishes and beach volleyball's run to becoming the AIA's inaugural champions.
It's rare at any level of sports for a team or school to see the kind of success Perry had in just over a decade, but the Pumas have made themselves a force to be reckoned with in Arizona's high school sports landscape.
But becoming a legitimate threat to other schools took time. On Queen Creek Road, just east of Val Vista Drive, Perry neighbors athletic powerhouses Chandler, Hamilton and Basha.
"When we opened up, Chandler and Hamilton were obviously really big schools," head football coach Preston Jones said. "Basha was a big school and they all three were so hot in the football area, it was hard to pull any kids from the high school age or even junior high school toward Perry High School because it's been a really successful program, so why wouldn't you go there?"
Fast forward to September of 2018 and Perry went toe-to-toe in the 6A state football championship game with Chandler for the second year in a row.
Football aside, it's difficult to find a sport that the Pumas aren't excelling at.
Boys and girls tennis had breakout seasons. Both entered the playoffs ranked sixth in the state.
Girls basketball also had a breakout season as they went from missing last season's playoffs to finishing this season in third place, their highest finish ever in 6A. Guards Madison Conner and Tatyanna Clayburne received AIA Premiere Region 1st Team and 2nd Team honors respectively, while Grace Oken and Shayla O'Neil were given honorable mentions.
In boys basketball, guard Jalen Williams was named All-Premiere Region Player of the Year, while three teammates were named to the All-Premiere 1st, 2nd or honorable mention team. The team made a run to the state semifinals before losing to top ranked Pinnacle.
Golfer Caden Christopherson was the highest finisher for Perry at the state tournament at third place. He was also named All-Premier Region Player of the Year and is nominated for AZCentral Boys Golf Player of the Year. Three of this teammates placed in the top 75 at state, while the Pumas placed fourth as a team.
Mariah Gramza made history by qualifying for the AIA's first ever girls wrestling state tournament where she won her first match by pin. On the boys side, Travis Calloway was the state runner-up.
Girls soccer made a run to the state championship with 10 players receiving All-Premiere or AIA Honors.
Girls volleyball went 16-1 before coming up short in the state championship match. Some players from the indoor team are looking forward to defending Perry's beach volleyball championship this May.
Badminton continued its dominance by winning its second straight state championship in team play. Nikhita Jayaraj and Ashley Rodarte won the doubles championship and Julia Mumme was the singles runner-up.
Cheer also went the distance as it brought home the state title and went on to take fourth place at USA Nationals.
So far this year, all of Perry's teams have finished in the top 15 in the state. Girls soccer coach John Roberts and wrestling coach Darren Johnson were both named All-Premiere Region Coach of the Year, while badminton coach Lerina Johnson is up for a national award.
Their success across the board this season is difficult to match, but for Perry, it's not just about sports. It's about creating individuals who are successful in everything they do.
"We know first and foremost, academics need support and then we just wanna have a great, well-rounded school, which I think is what we have here and is probably the best school in the state of Arizona," Jones said.
Perry had 347 student-athletes and 17 varsity teams that earned the AIA Scholar Athlete Award for maintaining a 3.5 GPA or higher.
The NCAA estimates that of nearly 8 million high school student-athletes, only 495,000 will play collegiately.
"When these kids go to college, I tell all of our girls, the college is using you to perform, but you need to use them to get where you need to be in life and that is to get a college degree on them," Roberts said.
But Perry hasn't let those negative odds get in the way of sending dozens of its athletes to the next level.
In Perry's front office outside athletic director Jennifer Burks' office, there is a map of the United States with strings connecting athletes names with the location of the university they committed.
Burks recalled that at her first signing days in 2012, maybe six or seven students signed letters of intent. It would take place twice a year with family, friends and administration crammed into the front office that now houses their more illustrious trophy case.
Now, signing day takes place four times a year in their auditorium to fit in the 30-60 students who sign on every year.
"I talk at our parent meetings, there's a reason you sent your kid to Perry," Burks said. "It is usually because the reputation is we do have high academic standards, that we do have high standards for behavior and we do have high expectations for our athletics teams to perform and to be that well-rounded athlete.
Burks said that achieving that success starts with teachers who have rigorous standards and don't let students slide because they're athletes. But, the students hold themselves and their peers to those high standards as well.
"I think our kids push each other because of the expectations [at Perry]. The other kids are like "What are you doing? What aren't you listening to your teachers? Why aren't you doing your homework?"" Burks said.
They also stress the importance of having high character and citizenship. In 2017, the Chandler Unified School District implemented a Character Matters program across all of the district's athletic teams. The district is also supportive of the students' community service.
For Perry, the key to success is coupling its high standards and expectations with support.
From day one at Perry, principal Dan Serrano has made a point to support every team at Perry as if no team is more important than another.
"One of the things that makes Perry great is that everybody feels that way, that everything is important," Burks said. "All of our sports are important, all of our teachers are important, all of our individuals are important, our coaches are important."
Perry athletics' Twitter feeds are active and constantly the achievements and highlights of its athletes. But the support for Perry athletes doesn't only come from administration. It comes from their peers as well.
"Another thing our team is trying to do is take their teams to support each other," assistant athletic director Trisha Stall said. "The other day, we had a softball game and our wrestling team had an off-season workout and the coach brought them all over to watch the softball game. Our girls basketball goes to a ton of games. Boys basketball came and supported badminton in their postseason as well."
The Pumas are as competitive as anybody when it comes to athletics, but Perry realizes that life is more important than sports. Their success in sports has been fostered by years of support and expectations of excellence, which translates to winning games and creating well-rounded people who thrive in everything they do.
---