South Mountain coach making a name for himself
April 25, 2019 by Zach Galman, Arizona State University
---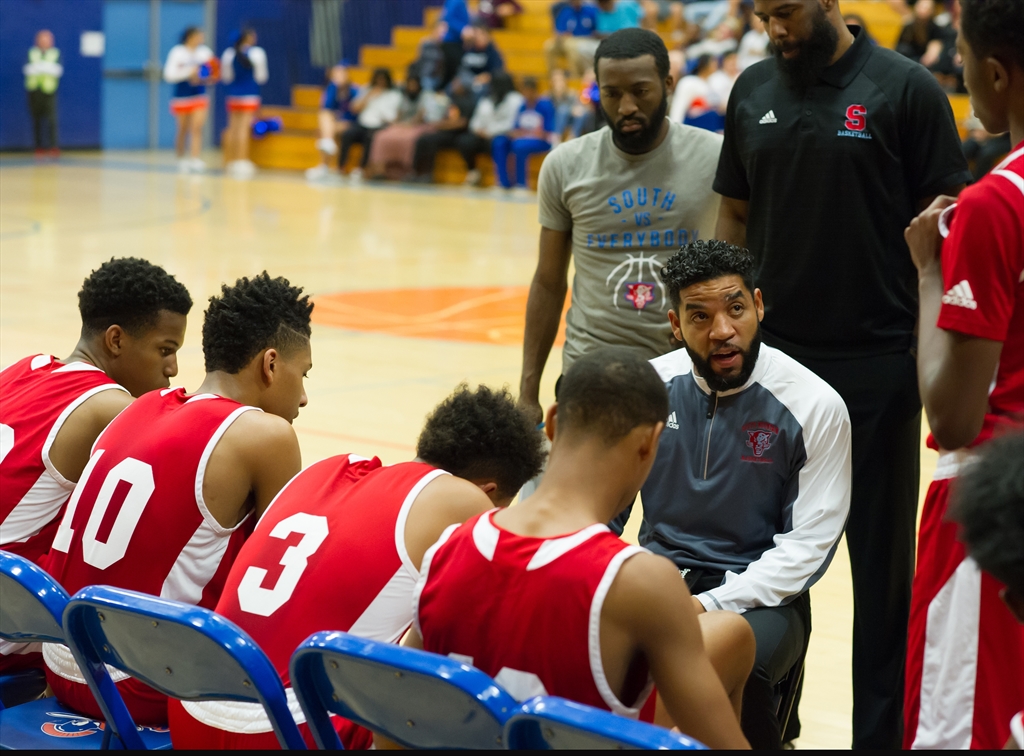 The son of a major college basketball coach is making a name for himself in Southern Phoenix. Jeremy Soria is not only the face of South Mountain's basketball program but a catalyst for the Jaguars culture.
Since taking over as the head coach of South Mountain in 2013, the program has developed and grown over the years, culminating in a 25-12 record the last two years, including a playoff appearance.
"He's just done so much in that short amount of time from being an assistant varsity coach, junior varsity head coach to taking over the program himself," athletic director Brian Fair said. "He's really taking on the challenge to providing South Mountain, and the South Phoenix community with a quality basketball program."
Assistant coach De'Rahn Stinson agrees.
"If it wasn't for him grinding, we wouldn't be where we are right now," Stinson said. "He went out and he did put South on the map again."
He has made an impact with his players.
"He brings good energy," South Mountain guard Kyree Ware said. Everybody loves having him around."
Soria, from a single-parent household with only his brother and mom, has used those life experiences as motivation.
Soria's parents were high school sweethearts but spilt when Soria was young. His father, LSU coach Tony Benford, reentered Soria's life at a later age but the bond between them is special.
"When I met him, it was just instant. We hit it off right away," Soria said. " kind of made up of lost time and really turned into that mentor. That father figure I was looking for while growing up."
They talk every day.
"He's always helping me with whatever I need in not only in my coaching career but with my personal life."
Soria said he used his experience with his father for motivation.
"I used it as fuel for me in my life to always be there for my kids at the jump."
Soria is married with two sons and a daughter.
"I'm just really family oriented," Soria said. "I love to hang out with my kids. We try to travel as much as we can. Anytime I have any time off I try to take my kids somewhere."
Soria, 36, a native from Hobbs, New Mexico has played basketball all his life. Soria went to Hobbs High School where he played on a varsity team that won two state titles with a record of 72-6. After graduating Soria received a scholarship to play basketball at Chandler-Gilbert Community College.
"I went to Chandler-Gilbert which ended up being the best thing for me," Soria said. "It was good and bad at the same time. I was obviously from a small town. Ended up in the city."
Though at first it was difficult getting focused, Soria said playing with starting two-guard Davin White, the leading scorer in the country was a bonus.
"Being able to go against him in practice everyday really help mold my game," Soria said. "Kind of adjust me from only being a defensive player in high school. It was able to help me expand my game. Kind of mold me into who I became."
Soria was named team captain and made honorable mention. His one season at Chandler-Gilbert Soria earned a scholarship to play at a Division II school in Connecticut called Teikyo Post University but that summer the coaching staff ended up leaving and Soria looked at other schools.
Soria eventually accepted a scholarship to go to New Mexico Highlands, calling it a "blessing."
"They also say everything happens for a reason and I truly believe that," Soria said. "Because there the coach allowed me to be who I was. Allowed me to play my game."
During Soria's time with the Cowboys he was named All Conference and led the conference in assists. Soria also led the nation in assist to turnover ratio.
After playing at New Mexico Highlands, Soria eventually decided to make the transition from player to coach.
"I didn't see myself getting to be where I wanted to be," Soria said. I had a passion for coaching and I knew that was probably going to end up being my calling."
Soria started his career as a freshmen coach for Albuquerque High School and showed promise producing a winning record in his first season.
"It was a great experience for me. It let me know, 'This is what I wanted to do'," Soria said.
While preparing for his second season, Soria was offered an assistant coach position at his alma mater New Mexico Highlands. As an assistant coach, the Cowboys went from a 1-26 record the previous year to 20-7.
That broke an all-time NCAA record for biggest turnaround in a season.
"It kind of took off from there. A lot of those kids on the team I either knew or recruited," Soria said. "My name kind of got out there and I've been in love with the high and the rush ever since."
Soria was an assistant coach for the cowboys for three years and played a part in producing 20-win seasons in each.
South Mountain caught wind of Soria's reputation and eventually offered him a coaching opportunity.
The rest is history.
---