Delani Wilson: "Nothing can keep me down"
April 26, 2019 by Kassy Resendiz, Arizona State University
---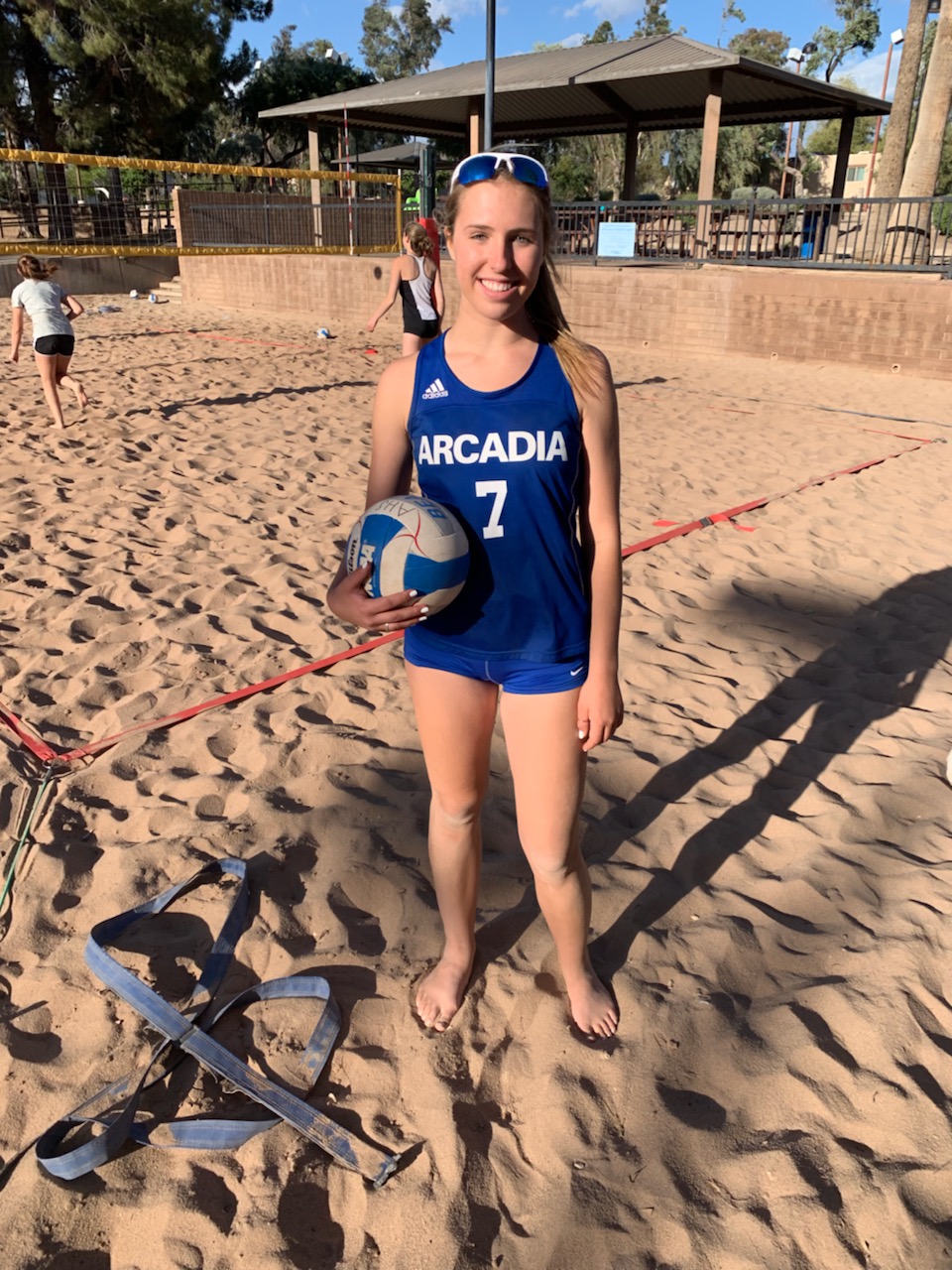 Delani Wilson is a 17-year-old junior at Arcadia High and captain of the school's beach volleyball team.
Wilson's family has always inspired and encouraged her to try new things and new sports, which brought her to volleyball seven years ago.
Wilson prefers beach volleyball over indoor volleyball because she feels that she gets more playing time and opportunity to practice new skills and improve herself as an athlete.
Her favorite part about playing beach volleyball is the comraderie with her teammates, including her partner, Hannah Walker.
"Hannah is such a good friend of mine and makes me very comfortable," Wilson said. "She makes playing very positive and drives me to be more confident when it comes to playing in the games with her."
After high school, Wilson wants to continue playing beach volleyball by joining an intramural team in college.
Her greatest mentor is her coach, Jackie Bunker, who is always giving her great advice and constantly pushing her to be the best she can be as an athlete.
This year her team chose her to be sand captain. To fulfill her duties as a captain, she makes sure the team is held responsible for being on time and regularly encourages them in the game and in practices to keep a positive mindset. Wilson tries her best to sets a good example for her team.
Wilson says It can be a lot of pressure because a lot of the younger teammates look up to her.
"I think Delani does a great job for setting an awesome example of what a sand captain should look like," said teammate Jaden Smith.
Wilson's biggest challenge during her volleyball career was tearing her ACL. She overcame it by staying involved in the volleyball program as the team manager and working hard in physical therapy to gain back her strength.
"I look up to Delanie as a friend and a mentor, because she showed me one little bump in the road can't stop you from success," teammate Melissa Hannay said. "When Delanie came back from a torn ACL she worked hard and end up being captain."
The best advice she has gotten was, "Take an obstacle in your life and turn it into an opportunity for something better."
That's how Wilson kept her energy when she tore her ACL.
"I was distressed, but It wasn't going to keep me down," she said.
Wilson saw the positive side of her ACL being torn because it made her work harder than she did before and she became more patient, which helped lead her to be sand captain.
She balances sports and school and tries to limit procrastination as much as possible.
"I'm constantly learning from mistakes and never to give up because one can become better," she said. "I try and constantly push myself towards my next goal."
---