Arcadia beach volleyball captain Hart thriving
April 26, 2019 by Kassy Resendiz, Arizona State University
---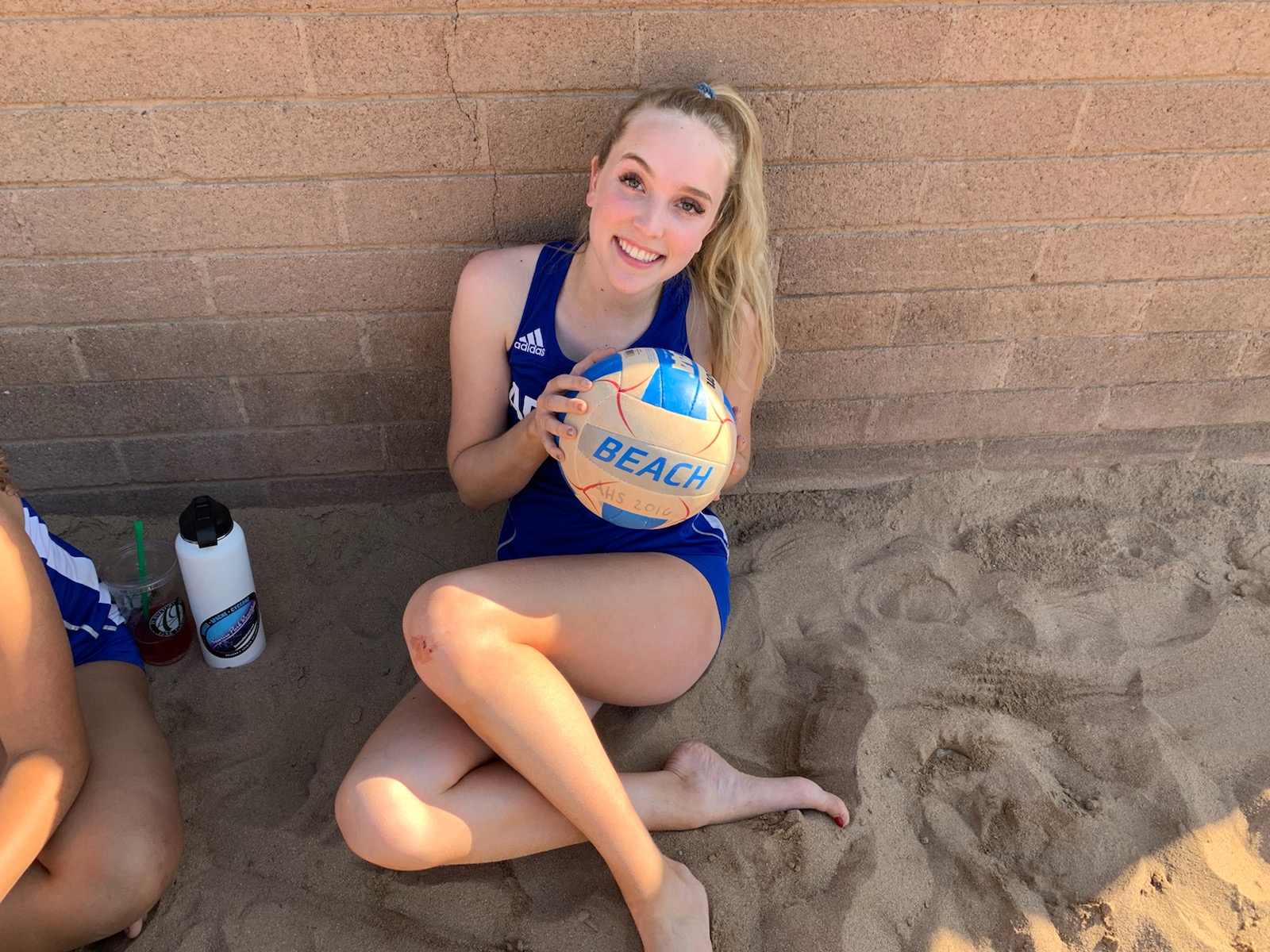 When the sun kissed her skin as she dove into the sand, Helene Hart fell in love with volleyball in the fourth grade.
The 18-year-old Arcadia senior grew up playing both indoor and beach volleyball, but she always has enjoyed the independence that beach volleyball gives her. She especially loves the feeling of the cool sand under her feet during her first serve.
"Playing on the beach I feel more freedom because I can pass and do everything," Hart said.
When beach volleyball is not in season, Hart keeps herself active by working out and practicing on the sand court. Hot yoga, spin class, and tennis are other ways she keeps herself in shape and prepares for volleyball season.
Hart's teammates and coach notice the devotion and hard work she puts into practices and matches. It's the reason she was chosen to be a volleyball captain.
"She is always the one to hype up every teammate during games and practices, and it's good to know she is always there for us as a captain and a friend," said teammate Delaney Wilson.
Over the past four years at Arcadia, Hart became a better team captain by learning how to work with various personalities and various skill sets. Being a team captain, she must know how to position her teammates and unique strategies to win the game. She always does her best to be a great model to her teammates, because she knows many of them to look up to her.
"Whenever the team is down, I am the mediator, getting in between and making sure everyone is having a good time, and on their feet," said Hart.
Hart loves the benefits of leading a team from bonding, character building, and learning basic mental and physical skills. The advice and friendship she's gained through volleyball not only helps her when she is on the sand court, but it benefits her in everyday life, too.
"She brings an element of fun to the game and dedicates herself to the sport. That's important to me. She always finds a way to make any situation fun for the team and knows how to make any negative situation positive," said coach Jackie Bunker.
The biggest challenge Hart faced was mastering skills that are not in her comfort zone. Hart used to avoid the passer position, but after continuously working on her technique, she built confidence in herself as a player. She eventually became the strongest passer on the team.
For over nine years, Hart has been devoting her time and energy not only to the sport she loves but to her academics as well.
"Being a full-time student is hard enough, but incorporating sport in your daily routine? Now that's a challenge," she said.
Hart always makes sure she can balance both school and sports. Even though academics are her focus, she will continue to touch passes every chance she gets, to never lose touch of the game.
If Hart decides to change her mind and pursue volleyball in college, she wants to move to California to continue her athletic career.
---