Beach VB: Xavier and Mesquite collect titles
May 2, 2019 by Les Willsey, AZPreps365
---
Mesquite and Xavier Prep took different paths to their beach volleyball titles on Thursday night.
Mesquite preferred to take away the suspense in its victory over two-time D-II champ Fountain Hills. Xavier opted to keep fans on the edge of their seats in edging defending champ Perry in the D-I championship.
Mesquite won the first three pairs of the five matches played so its 3-0 advantage gave the Wildcats the title. Fountain HIlls kept playing and won the final two pairs, but wound up on the short end of a 3-2 final.
Xavier, down 2-1 after the 3s, 4s and 5s played, had to win the 2s 2-1 to force the 1s to decide the outcome. The 1s -- Shannon Shields and Trinity Kavanaugh - battled back from an opening set loss to claim the final two. Scores of the decisive match were 18-21, 21-17, 15-8.
"The lynch pin for us was the 2s," Xavier coach Tim McHale said. "They won the first set to help us try to even the match. Then lost big in the second. I told them when they were down 18-3 in the set, "This is not who you are." They bounced back and passed it on to the 1s. Trinity is the best beach volleyball player on the team, and Shannon is Shannon."
In the decisive third set of the final pairs, Xavier never trailed. Perry pulled within 12-8, but Xavier produced the next three points with Shields ending it with a powerful kill. Shields, who is headed to Louisville in the fall, capped her senior year with an indoor and beach title.
Scores of the other pairs in the Xavier-Perry match:
5s: Xavier's Analy Carbine and Katie Anthony defeated Perry's Morgan Mann and Jillian Hatch, 21-19, 21-5; 4s: Perry's Tatum Stall and Ella Rud defeated Xavier's Shea Sciarappo and Grace Lincoln, 21-19, 21-17; 3s: Perry's Morgyn Seibel and Kylee Brinkerhoff defeated Xavier's Lydia Rush and Tori Burton, 22-20, 21-17. 2s: Xavier's Abby Converse and Serena Turner defeated Perry's Matea Suan and Canon Bogard, 21-19, 7-21, 15-7.
Mesquite opened fast in its match. The Wildcats 5s and 4s -- Lauren Anderson and Hailey Hanna and Keilyn Wollangk and Marie Yontezanez, respectively, won 2-0 and 2-1. With the 3s and 2s following it was the 2s -- supplying the dagger. Daniyah Jehangir and Emma Hedeen topped Fountain Hills team of Ainsley Boersman and Corrin Schulze, 21-7, 21-12.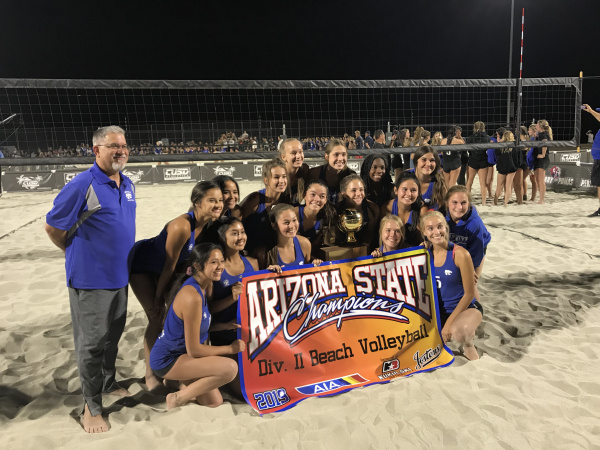 Mesquite won its first Beach VB title with mostly underclassmen touching the sand in its 3-2 victory over Fountain Hills. (AzPreps365 photo).
"I couldn't be prouder of this team," Mesquite coach Carlos Flys said. "It's a young group and the young ones played very well. But this team starts with the two seniors (Layni Rodriguez and Jen Jacot). They starte the program four years ago. They are our captains and without them helping me bring the others along with their leadership. It's very important to what we accomplished."
The scores of the D-2 pairs:
5s: Mesquite's Lauren Anderson and Hailey Hanna defeated Fountain Hills Meghan Bearer and Mia Renner, 24-22, 21-15; 4s: Mesquite's Keilyn Wollangk and Marie Yontez defeated Fountain HIlls defeated Ashley Beck and Anya Feyrer-Melk, 21-14, 17-21, 15-8. 3s: Fountain Hills Andi Bohlman and Alyssa Barbagallo defeated Mesquite's Annika Wallace and Elli Cano, 14-21, 21-14, 15-8. 2s: Mesquite's Daniyah Jehangir and Emma Hedeen defeated Fountain Hills Ainsley Boersman and Corrin Schulze, 21-7, 21-12; 1s: Fountain Hills Grace Abrams and Jelina Lynch defeated Mesquite's Layni Rodriguez and Jen Jacot, 21-11, 21-13.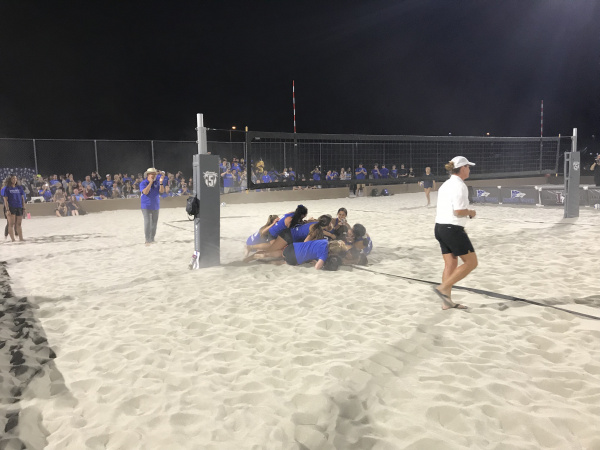 Mesquite dogpiles on the sand after knowing they'd won the D-2 title as coach Carlos Flys celebrates from afar. (AzPreps365 photo).
---