6A volleyball: Redeem Team gets its prize
May 12, 2019 by Jose Garcia, AZPreps365
---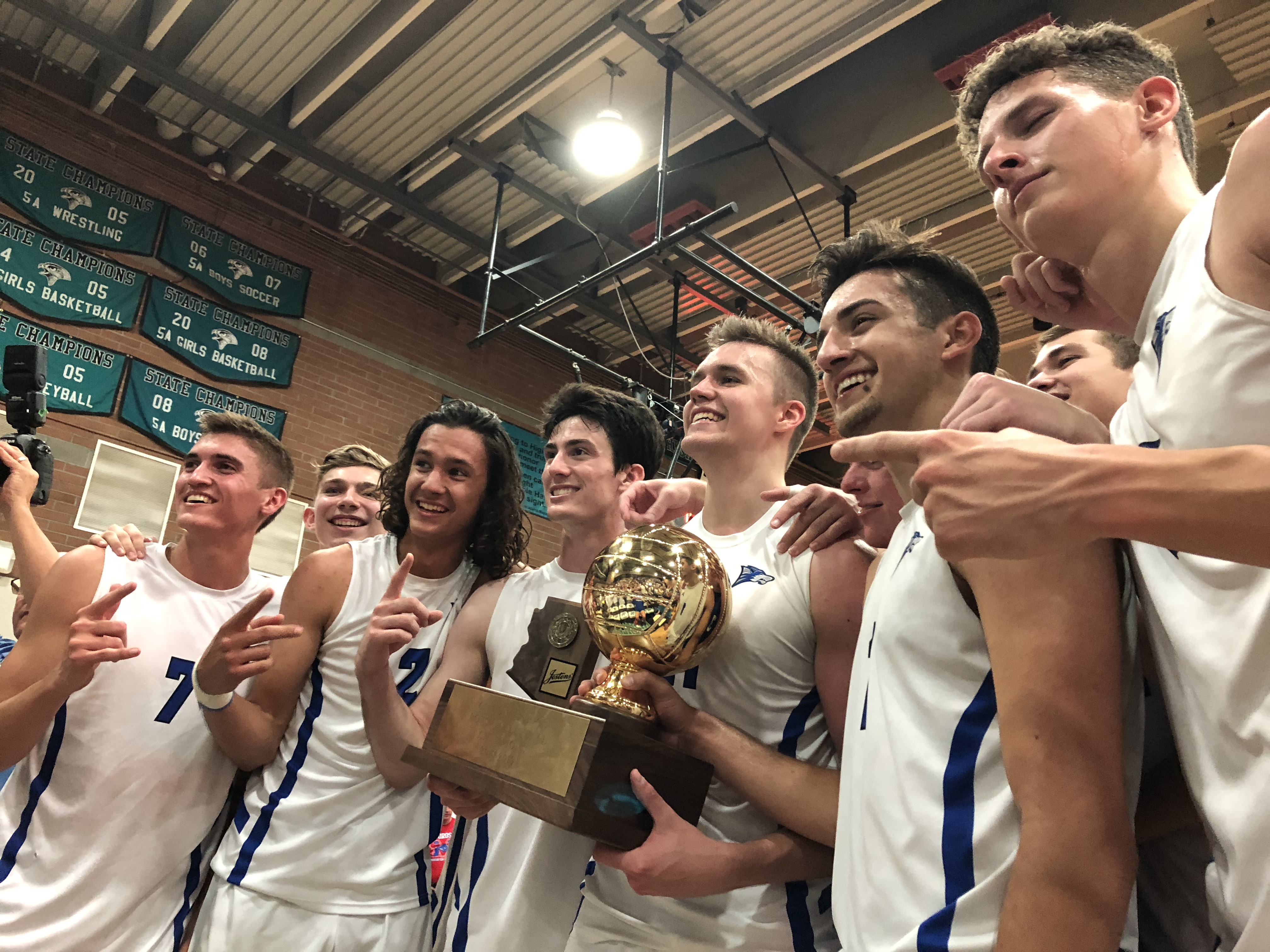 Highland coach Jeff Grover was asked before Saturday's 6A boys volleyball championship match at his gym to give a scouting report on the two finalists.
Chandler starts a pair of consistent-hitting outsides, but it'll come down to which team makes the least amount of mistakes during the final points of each game, he said. He was spot on.
About the only thing he left out was that the highly-competitive match would go five sets and be played in front of an electric atmosphere. The match didn't end the way Mountain View wanted, but there's a lot to be proud of.
Chandler outlasted its worthy opponent by the scores of 26-24, 20-25, 23-25, 25-19, 16-14. The loud student sections never took their seats.
They were liable to miss some great action if they did. The close match grew tighter in the final set, when the largest lead was just two points.
Chandler didn't close it out until its second championship point. In its first opportunity to end the match, leading 14-13, Adam Ray's serve found the net.
But a kill from the left side off the block gave Chandler point No. 15 and its second championship point. It also led Mountain View to call its second timeout in the game.
When play resumed, Braxton Bradbeer ended a rally with a cross court kill.
The knockout punch, Bradbeer's final kill of his high school career, clinched the first boys volleyball championship trophy for Chandler.
"I was confident in the team," Bradbeer said. "I knew that we were going to pull it out. Whatever was going to happen, I was going to be happy with the result. I think we did well as a team this year, and man it feels good to win."
When Chandler was down 2-1, Bradbeer stepped up.
In the early going, it was Chandler's other big threat on the outside, Ray, who was pounding sets down consistently. But in the fourth set, Bradbeer took over.
The senior unloaded eight kills in that set to help send the match to a fifth set.
"Braxton is a winner" Chandler coach Bobby Robson said. "That kid makes everybody on the court better. He's our hardest worker. I would adopt the kid if I could. I can't express enough what this group of seniors mean to me and hopefully what they mean to each other."
Chandler finished the season with a 26-6-4 record, but it never lost a match this season when it started setter Trey Weinstein, middle blocker Tyler Castellani, outside hitter/opposite Tyler Spurngman, Bradbeer, middle Shawn Roberts, Ray and libero Tim Boyd.
Every one of those players, with the exception of Sprungman, are seniors. Two years ago, Chandler lost the title match. Last year, Chandler lost in the state quarterfinals as the No. 1 seed.
"Redeemed," Robson said. "We were here two years ago, when were just happy to be here with a lot of young kids. Last year, that was the dream team with three D-I kids and everybody coming back from a (runner-up) team. That was meant to be and didn't happen. These kids have certainly thought about that for the last 12 months."
Mountain View had a chance to win the first game but failed to close it out.
Chandler was leading Game 1 23-20 when Mountain View called a timeout. Mountain View then rattled off four points, forcing Chandler to call a timeout of its own.
With Mountain View a point away from winning the game, Chandler responded with a Bradbeer kill out of the timeout. Mountain View then made a hitting error, and Ray closed out Game 1 with a kill.
But Mountain View didn't allow the next two games to escape their grasp, as Chandler's passing game began to sputter, and Mountain View's blocking zeroed in on Ray. With its passing game on track, Mountain View's offense worked the ball to multiple targets when it won its two games.
"(Mountain View) won the serve and pass game," said Bradbeer about the two games Mountain View won. "In the second and third set our serve and pass, to be honest, fell apart. We missed four serves. In a game this tight, missing four serves, that gives them the game."
Chandler won the fifth set 16-14. One of the best volleyball finals ever played in the state. Nothing but respect for the way Chandler and Mesa Mt. View performed. On its second championship point, Chandler adds the exclamation point: pic.twitter.com/0GUMQq2tQc

— Jose E. Garcia (@AZPreps365Jose) May 12, 2019
---