Chinle High School presented AIA's 3A Glen Treadaway Sportsmanship Award
May 23, 2019 by Oree Foster, AZPreps365
---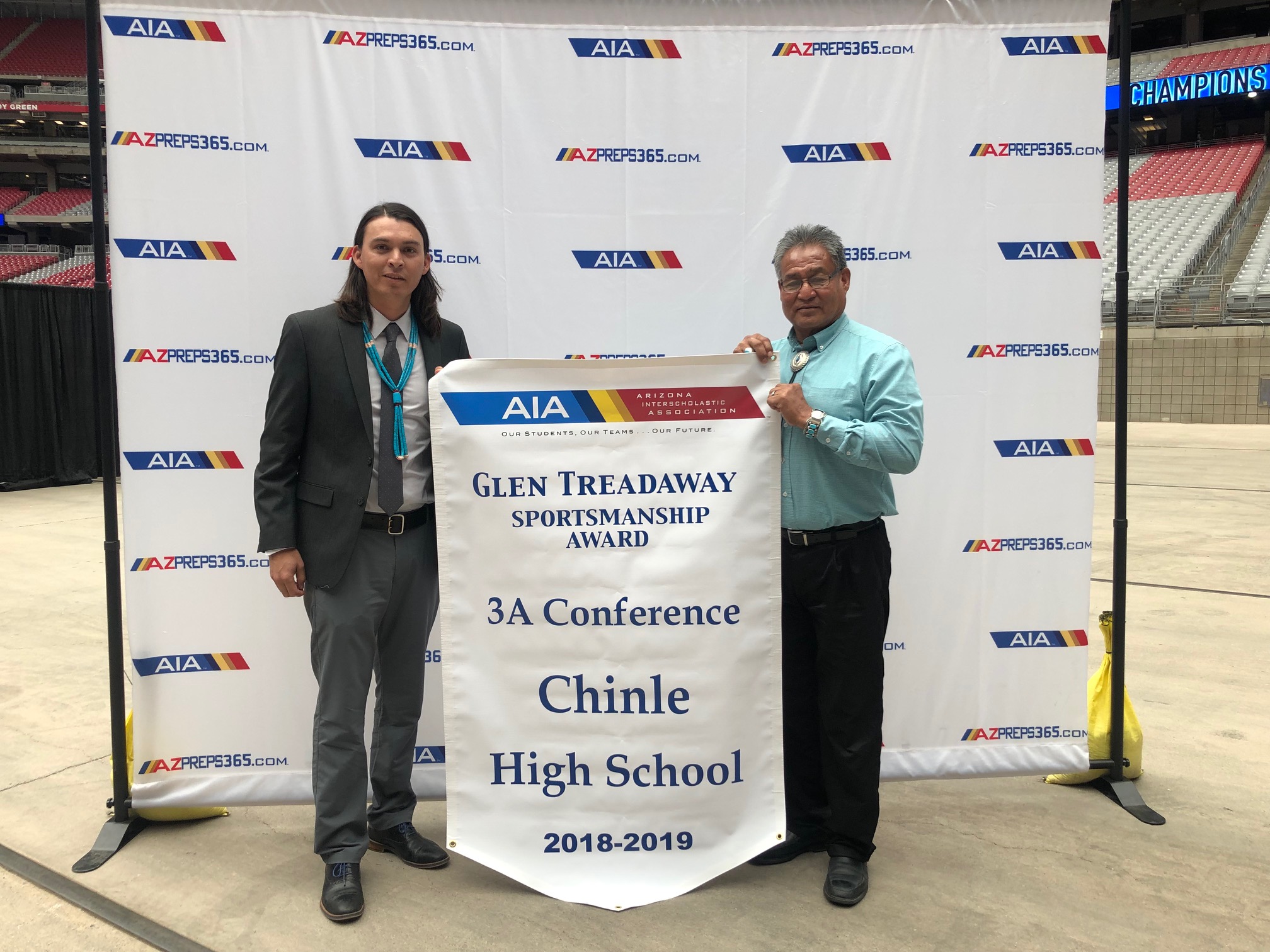 A bright light is shining directly on the Chinle High School students as the Arizona Interscholastic Association presented its 3A Conference Glen Treadaway Sportsmanship Award to the school during the annual Champions Luncheon at State Farm Stadium in Glendale, Arizona before a large crowd on May 17.
The AIA presented a banner to Chinle School District officials during the Champions Luncheon.
Accepting the banner on behalf of the Chinle School District were Athletic Director Shaun Martin and Governing School Board President Paul Guy, Jr. Martin and Guy went on stage to accept the sportsmanship award.
Martin said the sportsmanship award is very meaningful.
"The sportsmanship award goes far beyond just one single boys or girls program," Martin joyfully said. "It is shared by all our teams, coaches, staff and community members. Most directly, this award has shined a bright light on our students. Our students have displayed a full understanding of sportsmanship and have showned joy of the game/sport, fairness, ethics, respect and a sense of fellowship with their competitors. Because of the students actions, our coaching staff, school, administration and community is very proud. Because it incorporates the Wildcat Nation in its entirety, we are very proud."
University of New Mexico men's head basketball coach Mike Weir said, "our community is our team.."
Martin said the school district believes coach Weir's words.
"We are excited to share this award as proof that the greater community of the Chinle valley is understanding," Martin explained.
Martin said he does not know who nominated Chinle High School for the sportsmanship award.
"I do understand that this (sportsmanship award) is peer nominated and selected award, bringing even more value to the honor as our fellow competitors have observed our students, staff and community members acting upon the pillars of sportsmanship," Martin said.
Martin acknowledged he was informed of the school's sportsmanship honor in an email sent to him by AIA Executive Assistant Jessica Garcia on April 29.
"In first reading the email, I was immediately taken back and felt an enormous sense of pride in our students," Martin said. "As I shared the news with our administration, coaches, students and community, the sense of pride only grew. On behalf of the Wildcat Nation, the students and all the individuals who make our system work, (Chinle School District Governining School Board) President (Paul) Guy, Jr. and I were humbled to accept this (sportsmanship) award."
---