Mountain View loses home opener
September 5, 2019 by Maddyn Johnstone-Thomas, Arizona State University
---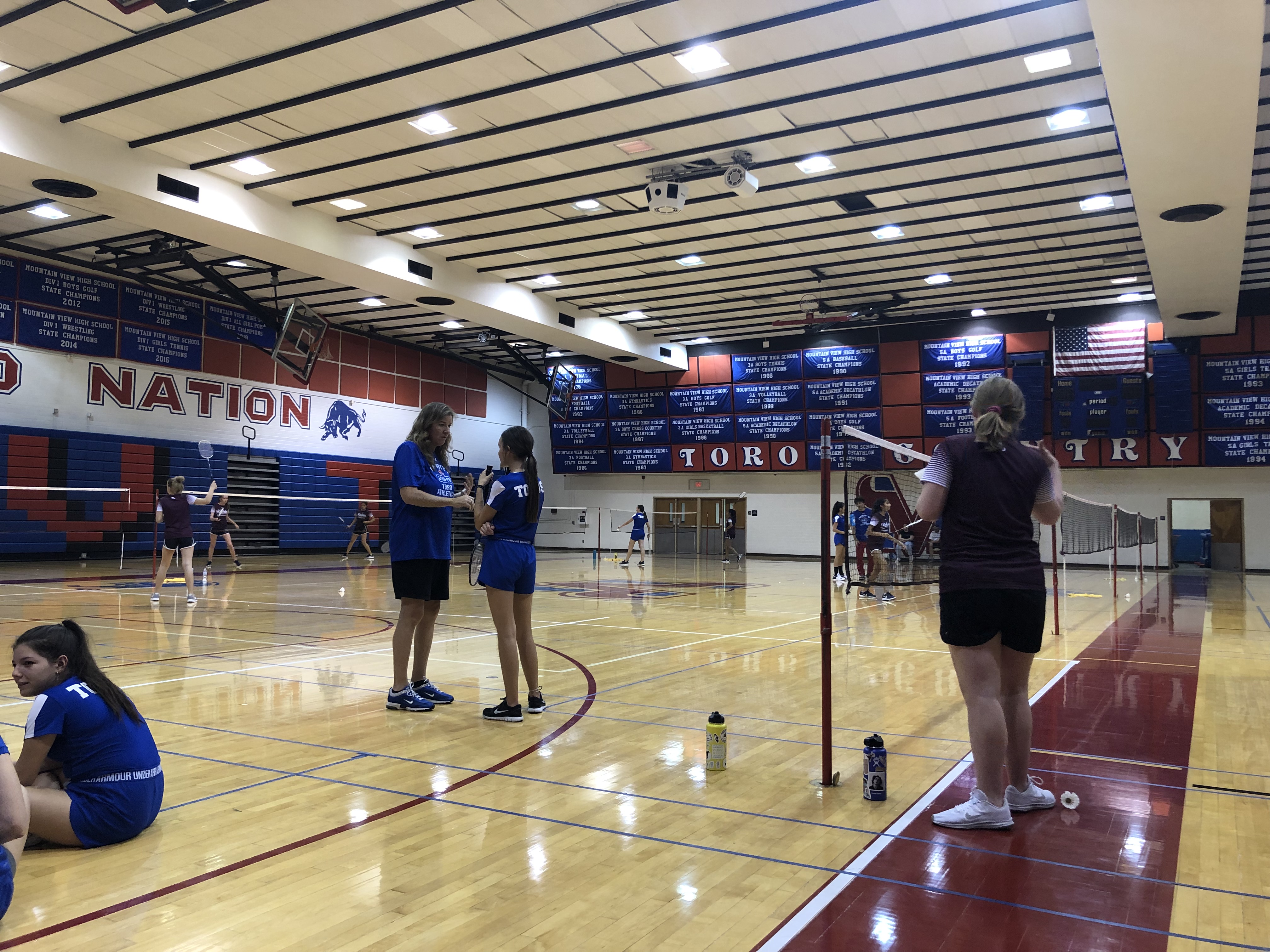 Maddyn Johnstone-Thomas is an ASU Cronkite School of Journalism Student assigned to cover Mountain View High School for AZPreps365.com.
Before their home opener against the Mountain Ridge Mountain Lions on Thursday night, head coach Trisha Ellsworth, who sported her Mountain View badminton shirt with the hashtag "WeNotMe" on it, gave her team a pre-game talk. The words "Campus of Champions' and "Toros Nations" sat painted on the wall behind her.
"The big thing for us was to focus and play your own game," Ellsworth said. "Sometimes it's easy to play to the level and style of your opponent, even if it's not what's best for you.''
But the Toros played into that trap.
The final score was 5-4. The singles were split even 3-3, while the Mountain Lions beat the Toros 2-1 during doubles.
After ending as the No. 2 seed in their section last season, the Toros have lost two in a row after winning their season opener and are now sitting at 1-2.
"You never can tell what is going to happen because high school girls can have great days or bad days," Ellsworth said. "It was a very close match and it could've gone either way. I think we are two very well-matched teams and of course I'm sad that we lost the varsity match, but we did a lot of good things."
Senior Megan Welch was one of those "good things." Welch, along with her teammate Ellie Clarkson, are the only two players who have won all three of their single matches so far.
Welch came in ranked No. 4. After being down 14-21 in the first set against sophomore Ali Roskelley, Welch came back and won the next two sets 21-11 and 23-21.
"Sometimes it (the rankings) does get me a little nervous that I'm playing their number four best player," Welch said. "Normally I just like to think of them as another person and that we're pretty similar in skill and rank. I just think that I can beat them hopefully because we are similar in skill set."
Ellsworth was pleased with Welch's performance in the first three games. She is becoming one of the team's top stars.
"Megan has improved of the last three years," Ellsworth said. "She was our middle-JV player last year, so for her to make it to up to varsity four is a huge jump and I'm very proud of the work she's put in the last few years. It's showing now the hard work and continuous practice and play will make a difference."
While some Toros are rising, some are falling. No. 1 ranked Danae Peters has lost back-to-back single matches. In their second game against the Chandler Wolves, Peters lost both sets 21-10 and in the game versus the Mountain Lions lost 21-10 and 21-18.
"I feel like I'm just not as strong as I want to be," Peters said. "But I feel like I'm not as good as I could be, but I think that with more practice I can get where I need to be."
Ellsworth isn't concerned with the losses.
"The hard part about playing No. 1 is that you are matched against everyone's best player," Ellsworth said. "I think she's doing very well. The girl she played from Mountain Ridge was very killed, strong player. I thought she fought back and played very well in the second game. She played all the way to the end."
The Toros are headed to the Shadow Mountain Badminton Invitational in Phoenix this weekend and will face the Desert Ridge Jaguars on Tuesday. Ellsworth wants to the team to continue to grow.
"I hope to see us continue to push each other and keep on improving and not ever be happy with 'We're as good as we can be,' "she said. "Keep pushing each other to improve whether it's in a shot, placement, strategy or mental attitude. Everyone needs to push themselves to find something to work on. Never be happy."
---