Ed Doherty Award Watch List
September 10, 2019 by Andy Morales, AZPreps365
---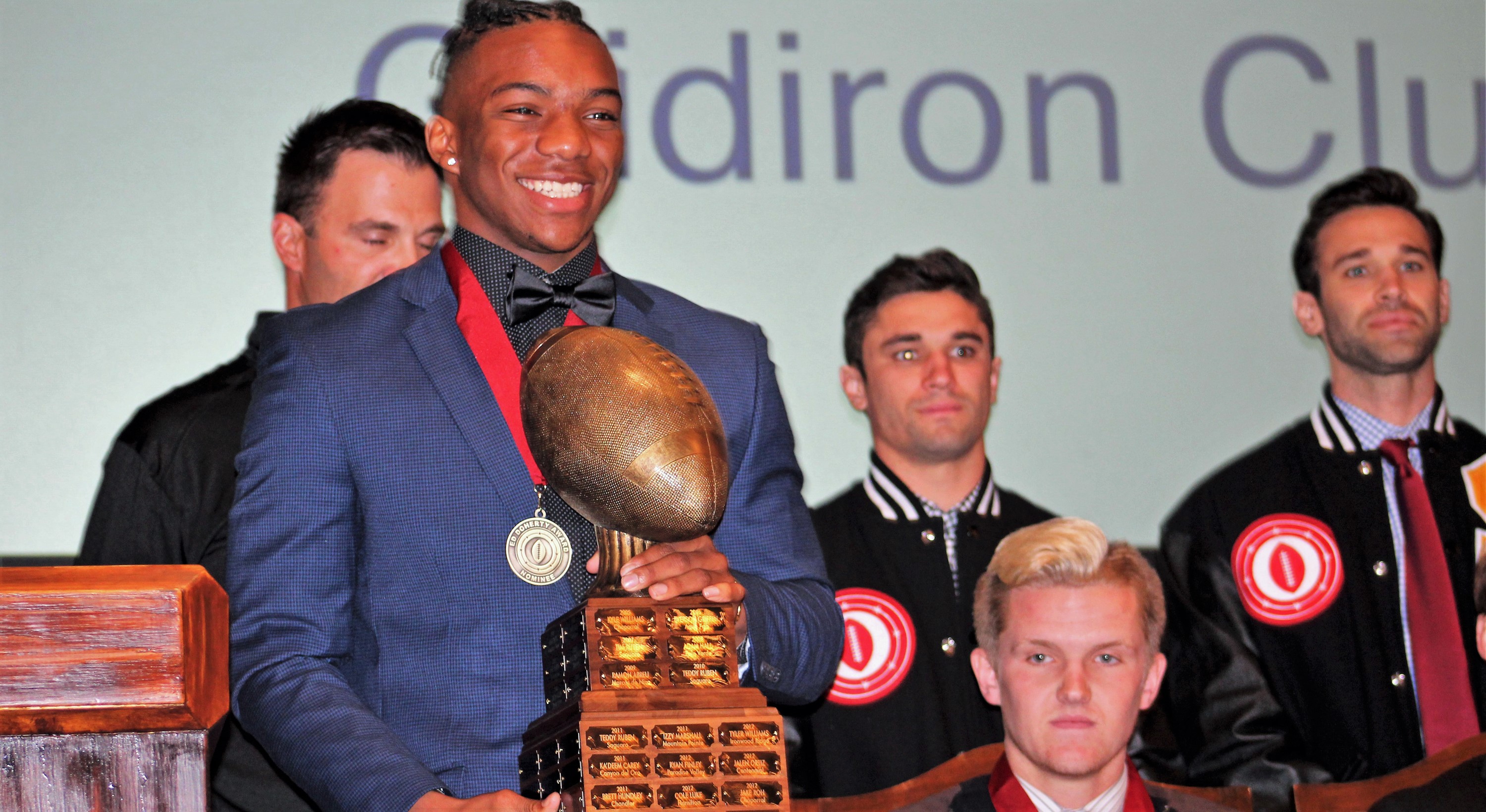 The Grand Canyon State Gridiron Club (GCSGC) released the 2019 Ed Doherty Award Week 3 Watch List™ for the current Arizona high school football season on Tuesday. The watch list is comprised of 56 players from 35 high schools from across the state.
To be eligible, a player must have participated during the first three weeks of the current season, recorded an exceptional performance and be in good academic standing. Each week, a Selection Committee made up of members of Arizona high school sports media will officially award nomination medallions to players across the state. The 2019 Ed Doherty Award winner will be selected at the Ed Doherty Award Luncheon on Dec. 14, 2019 at the Scottsdale Resort at McCormick Ranch.
"The Ed Doherty Award represents all that is great about high school football in Arizona," said Selection Committee chairman, Rob Yowell in a release. "The increased profile of football talent in our state warrants highlighting the accomplishments of athletes vying for this award throughout the season. The goal of the Week Three Watch List™ is to focus on how players perform exclusively in the first three weeks of the current season. The Selection Committee fully expects players who are not currently on the list to rise up during the season to earn nomination medallions," said Yowell.
| | | | | |
| --- | --- | --- | --- | --- |
| FIRST | LAST | SCHOOL | POS | YR |
| Cameron | Adams | NW Christian | ATH | SR |
| Nick | Arvay | Hamilton | QB | SR |
| Kaden | Belar | Arcadia | QB | SR |
| Isaiah | Benjamin | Saguaro | RB | SR |
| Cade | Bennett | Notre Dame | OL | SR |
| Jacobe | Covington | Saguaro | DB | SR |
| Deavon | Crawford | Caesar Chavez | WR | SR |
| Kevin | Daniels | Glendale | RB | SR |
| Cooper | Darling | Williams Field | OL | SR |
| Paxton | Earl | Arcadia | RB | SR |
| Jalen | Early | Millennium | QB | JR |
| Tommy | Ellis | Mountain Ridge | LB | SR |
| Bruno | Fina | Salpointe | OL | SR |
| Ben | Finley | Paradise Valley | QB/K | SR |
| Man Man | Freeman | Phoenix Christian | ATH | SR |
| Gabe | Friend | Basha | QB | SR |
| Logan | Gingg | Verrado | RB | JR |
| Devon | Grubbs | Desert Vista | RB | SO |
| Teddy | Grubbs | Desert Vista | RB | SR |
| Nico | Haen | Sunnyslope | QB | SR |
| David | Haen | Sunnyslope | WR | SR |
| Micah | Harper | Basha | DB | SR |
| Will | Haskell | Ironwood | QB | JR |
| Darvon | Hubbard | Willow Canyon | RB | SR |
| Dae Dae | Hunter | Chandler | RB | SR |
| JD | Johnson | Pinnacle | QB | SR |
| Mikey | Keene | Chandler | QB | JR |
| Conner | Lewis | Boulder Creek | DB | SR |
| Parker | Lewis | Saguaro | K | SR |
| Marcus | Libman | Pinnacle | WR | SR |
| Alex | Lines | Higley | TE | SR |
| Brock | Locnikar | Notre Dame | LB | SR |
| PJ | London | Blue Ridge | QB | JR |
| Gunnar | Maldonado | Chandler | ATH | SR |
| Jake | Martinelli | Horizon | QB | SR |
| Dominick | Mastro | Notre Dame | RB | SR |
| Andrew | Milek | Brophy | OL | SR |
| Jack | Miller | Chaparral | QB | SR |
| Steven | Ortiz | Desert Edge | DB | JR |
| Will | Plummer | Gilbert | QB | SR |
| Joquarri | Price | Desert Ridge | DL | SR |
| Chubba | Purdy | Perry | QB | SR |
| Lathan | Ransom | Salpointe | LB | SR |
| Malik | Reed | Chandler | LB | SR |
| Gage | Reese | Yuma Catholic | QB | SR |
| Brendan | Rice | Hamilton | WR | SR |
| Kelee | Ringo | Saguaro | DB | SR |
| Bijan | Robinson | Salpointe | RB | SR |
| Stevie | Rocker | Canyon del Oro | RB | SR |
| Jay | Rudolph | Horizon | TE | SR |
| Will | Schafer | Saguaro | LB/TE | SR |
| Quinton | Sommerville | Saguaro | DL | JR |
| Regan | Terry | Florence | DE | SR |
| Jeremiah | Trojan | Hamilton | LB | SR |
| Jared | Williams | Chaparral | RB | JR |
| Jaydin | Young | Centennial | S/RB | SR |
---