Ironwood maintains playoff spot with victory against Apollo
October 16, 2019 by Savannah Nugent, Arizona State University
---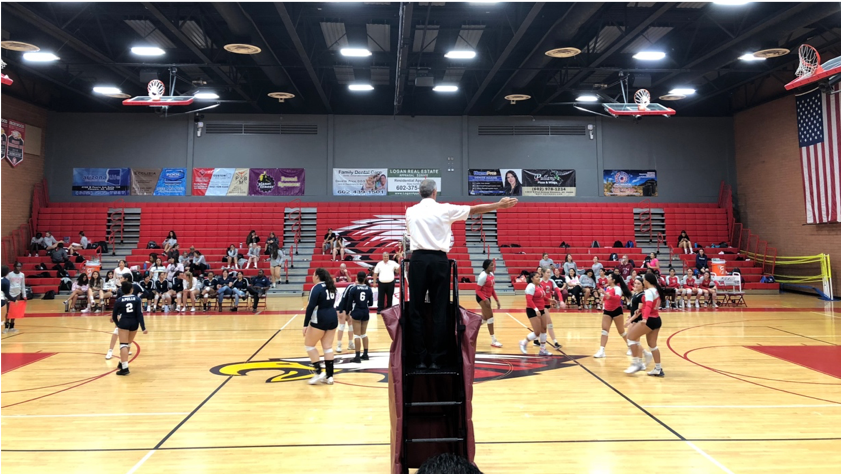 The Ironwood girls volleyball team's consistency and scrappiness resulted in a home victory over Apollo on Tuesday night, keeping the Eagles in the playoff race.
Opposite hitter Mckenzie Omoruyi said Tuesday's game was "a reminder of how [the team] should be playing against some of [their] tougher competition."
"I definitely think our attacking was the most consistent that it's been in a while," said Omoruyi. "Just reading the court better was an overall success for us."
The Eagles swept the Hawks, 3-0, with a total of 63 attacks and 30 kills.
Nine of those 30 kills were by Omoruyi, and what may have had a huge factor in her game was the fact that she sang the national anthem beforehand.
Omoruyi said she was a little nervous but believes doing that gave her stamina coming into the game.
The Eagles were also consistent with their serving and tallied 15 aces. What was once a weakness appeared to be a strength Tuesday.
"We have definitely been working on our serving a lot in practice and its showing on the court," Omoruyi said.
"Every practice we spend a good amount of time, not just serving but serving to make it more difficult for the receiving team," head coach Lisa Lopez added.
The Eagles did, however, admittedly lack some energy.
"We went into this game thinking we were probably going to win, so I feel like we got a little cocky just at the beginning of set one," libero Mallory Rich said.
"We need to overcome that mental toughness no matter what gym we walk into or who comes into our gym, we need to play our game," added Lopez. "We have to have the same energy no matter if we are up or down."
Ironwood is going to need that mental toughness as they wrap up their season. The Eagles are in a playoff spot, but their final four region games are extremely crucial.
"The good thing is we have seen all those teams already," Lopez said.
They will face Centennial, Sunnyslope, Apollo, and Raymond S. Kellis.
Lopez said that although these final games will be tough, she knows "the girls are ready."
Rich said her mindset entering these last four games is to either "go all in or go out."
Omoruyi agreed and said, "We have to give it our all."
"These next four [games] for us … are the games that qualify us for state and being at the next level of success for championships," Omoruyi said. "We just need to bring the intensity with us."
---