Volleyball Playoffs: Notre Dame advances with 3-1 win at Ironwood Ridge
November 6, 2019 by Andy Morales, AZPreps365
---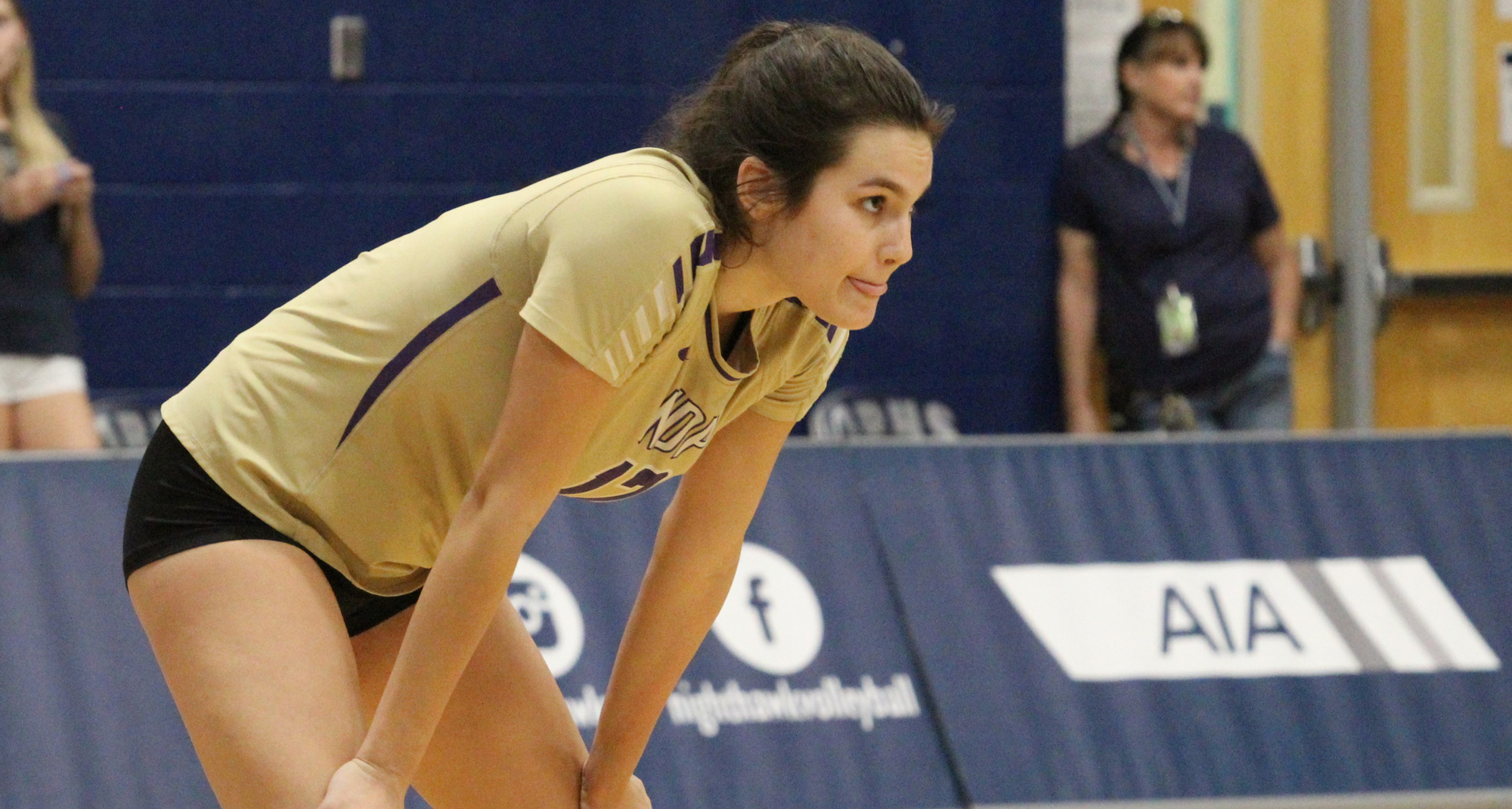 Notre Dame Prep outside hitter Jessica Terlizzi was only a freshman in 2016. It was a year after the Saints clinched the D-II state championship and the team was still stacked with collegiate standouts and she only connected on 34 of the team's 1,242 kills. Now a senior, Terlizzi has a school-record 1,270 kills, including an unofficial 17 in a 3-1 win at Ironwood Ridge in the first round of the 5A playoffs Tuesday night.
"I looked up to those girls and I wanted to be just like them," Terlizzi explained. "I wanted to be just like them or better and I want people to be impressed with my team so it was my job to push the younger players we have now."
Notre Dame (21-15) started the season out with a 2-8 record including a 3-0 loss to Ironwood Ridge in the second match of the year. Terlizzi only had nine kills in that loss and Ironwood Ridge (26-13) standout Alyssa Feltman recorded a match-high 11.
The Nighthawks went on to earn a No. 7 seed and the Saints earned a No. 10 seed after beating Buena in the 5A Play-In Tournament.
"We started out rough but we started to bond and felt we had nothing to lose and everything to gain," Terlizzi added.
(Alyssa Feltman goes up for a kill over Kandace Kramer (14) and Emily Brummer. (Andy Morales/AZPreps365.com)
The Saints jumped out to a 10-3 lead in the first set but the Nighthawks battled back with Kianna Swingle fueling a major run with four aces to put Ironwood Ridge up 20-17. Andrea Vigil made it 21-17 and she connected on another kill later in the match to make it 23-20 but back-to-back violations cut the lead down to 23-22.
Morgan Smith put Ironwood Ridge up 24-22 with a block but a service error followed and Jessica Skemp tied things up 24-24. The Nighthawks were unable to return the ball twice and Notre Dame took a 1-0 lead after taking the set 26-24.
The teams played even in the second set until Terlizzi put her team up 24-21. Feltman responded with one of her team-high 17 kills but another service error gave the Saints a 25-22 win to go up 2-0.
The Nighthawks flew out to a 21-13 lead in the third set but seven of the Notre Dame points came on service errors. The Saints were able to cut the lead down to 22-18 but Ironwood Ridge held on for the 25-19 win.
McKenna Douglas recorded three straight aces to help Notre Dame build an 8-1 lead in the deciding set and the Saints pulled away for a 25-16 win.
The Saints will visit No. 2 Cactus Shadows (23-9-1) in the quarterfinal round on Thursday.
The Nighthawks lose six players to graduation including Vigil, the team leader in kills and digs, Hannah Ford, the team leader in blocks, and Swingle, the team leader in assists.
---