Week 2 Football Playoffs Walk Through - games Nov. 15-16
November 12, 2019 by Les Willsey, AZPreps365
---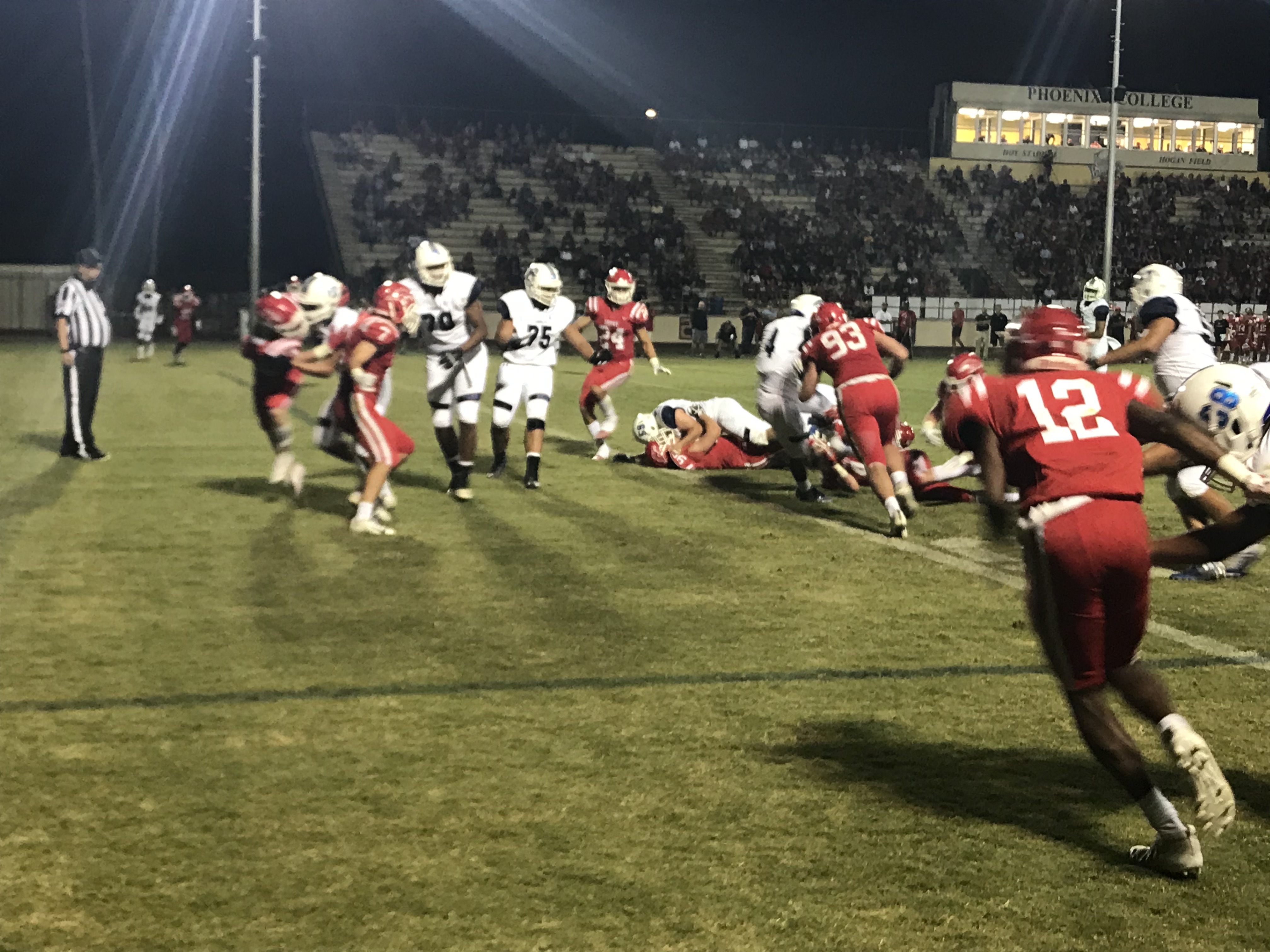 Obervations for each game as the Open Division football playoffs debut, 6A through 2A continue and 1A wraps up its season this week:
All playoff games Friday Nov. 15 unless noted
Open Division first round
#8 Chaparral (8-2) at #1 Chandler (10-0) - Chandler's defense has handled offensively-challenged teams with shutouts and single-digit final totals. Against above average offenses the unit hasn't been so stingy. Chaparral may be able to score points as it's done all year, just not enough to stick with Chandler due to the Firebirds' deficiency on defense particularly vs. the run.
#5 Pinnacle (8-2) at #4 Salpointe (9-0) - Would have given Pinnacle the edge with JJ Johnson at the controls, but the youth and inexperience at QB favors Bijan Robinson and Co.
#6 Horizon (9-1) at #3 Saguaro (9-1) - Saguaro would have outlasted Horizon with the Huskies healthy at QB. Question now is how long can Horizon make it a game.
#7 Hamilton (8-2) at #2 Centennial (9-1) - Best game of the first round. They've met before and split four meetings in the past decade or so. Like Hamilton by a smidge.
6A quarterfinals
#8 Desert Ridge (7-4) at #1 Red Mountain (10-1) - Red Mountain is favored, but one reservation is its schedule featured only three teams with winning records- all faced before Labor Day. Desert Ridge was one of those and the Mountain Lions won decisively. The Jaguars faced a steady diet of playoff teams in September and October and seek revenge. They have a shot if their physical play of late continues.
#5 Highland (8-3) at #4 Queen Creek (8-3) - After a mid-October funk, Queen Creek recovered some life the last two weeks. The Bulldogs will have to play better than they did three last time they faced Highland on October 25 and were drubbed, 38-3.
#6 Desert Vista (8-3) at #3 Perry (7-4) - Get out your calculators. Shootout city here. Both teams averaging nearly 40 points a game. Perry allowing nearly 40 points a game. Chubba Purdy vs. Parker Navarro and the Grubbs' boys.
#15 Mesa Mountain View (6-5) at #7 Liberty (7-4) - Upsetting Brophy is a big lift for Mountain View's program, which was without a playoff win for a decade. The Toros face a better offensive opponent this week and they've had trouble stopping high-scoring foes like Red Mountain, Perry and Liberty. Plus Liberty now knows not to take the Toros lightly.
5A quarterfinals
#8 Sunrise Mountain (8-3) at #1 Williams Field (9-2) - Sunrise Mountain was the last team to beat Williams Field, 38-35, In August. The Black Hawks have won nine straight since. They're not losing this time.
#5 Millennium (9-2) at #4 Casteel (8-3) - This will be the fourth San Tan Region opponent Millennium has faced this season. The Tigers beat the bottom two teams in the region, Maricopa and Gilbert and were blasted by the second-best team Higley. Casteel ranks closer to ability to Higley than Gilbert and Maricopa. My Monopoly money is on Casteel.
#6 Campo Verde (8-3) at #3 Higley (8--3) - You know Campo Verde wants desparately to scratch that Higley-Williams Field-Casteel itch that's plagued it this decade. They get another try, but Higley is hot winning eight of its last nine games.
#7 Cienega (9-2) at #2 Notre Dame Prep (10-1) - Nine Southern Arizona schools qualified for postseason (Open, 5A and 4A). Six lost last week (Marana Mountain View, Ironwood Ridge, Canyon del Oro, Walden Grove, Buena and Pueblo. Salpointe didn't play. Cienega is the lone 5A survivor, but only for one more week.
4A quarterfinals
#9 Gila Ridge (10-1) at #1 Sahuaro (9-2) - Kudos to Gila Ridge for ending the football playoff win drought for the the Yuma district. Bad thing is Gila Ridge knocked my alma mater, Coconino, out of the playoffs last week. Likely Gila Ridge won't enjoy the long bus ride home from Tucson this week as it did to Flagstaff last week.
#12 Casa Grande (7-4) at #4 Desert Edge (8-3) - More kudos to Casa Grande for its playoff breakthrough ending a 26-year dry spell. Unfotrunately, the Cougars face the best team remaining in the 4A playoffs this week in the Scorpions.
#14 Marcos de Niza (6-5) at #6 Mesquite (8-3) - Can Marcos de Niza pull off another upset? Wouldn't put it past the Padres. Don't think so, but the Padres shouldn't be taken lightly even though Mesquite tamed them, 28-14, a couple weeks ago.
#7 Peoria (9-2) at #2 Cactus (9-2) - These longtime Peoria district rivals will go at it one more time. Call it a toss up. Cactus prevailed, 20-14, when they met Nov. 1.
3A quarterfinals
#9 American Leadership Gilbert North (7-4) at #1 Benjamin Franklin (10-1) - Rematch from earlier this year with Benjamin Franklin winning, 35-17.
#5 Blue Ridge (9-2) at #4 Snowflake (9-2) - Another rematch from earlier this year. Snowflake won the battle of the White Mountain rivals, 29-17.
#11 Yuma Catholic (7-4) at #3 Northwest Christian (9-1) - You guessed it. Another rematch from this year and every year seemingly for the last decade. NWC won, 45-17, in early September. This will be a mind-boggling 18th meeting between the schools since 2009. NWC owns the series lead, 10-7.
#10 Sabino (8-3) at #2 American Leadership Queen Creek (10-1) - And another rematch... Just kidding. These schools, however, have played recently, including for the 3A title in 2016 - won by ALA-QC, 31-14. They split regular-season meetings in 2016 and 2017. Edge to the host Patriots.
2A quarterfinals
#9 Benson (8-3) at #1 Round Valley (8-2) - Got to like Round Valley to reach the semis for the sixth time in the last seven years. Seven of the nine teams the Elks played in the regular season qualified for the 2A or 3A playoffs. They own win over Benson from a month ago, 42-28.
#5 Parker (10-1) at #4 Santa Cruz Valley (9-2) - Santa Cruz Valley has been prominent in the 2A postseason the three of the last four years with a runner-up finish in 2017 to Thatcher. The Dust Devils are the pick over the upstart Broncs, who've enjoyed their best season since 2014 (7-4).
#11 St. Johns (9-2) at #3 Phoenix Christian (10-1) - St. Johns coach Mike Morgan can become the winningest coach in Arizon history (looking for win No. 337) if the Redskins pull off the upset. Think PC is a touch better and will put off the record-breaking win to next season behind running back Man-Man Freeman.
#7 Thatcher (7-4) at #2 Trivium Prep (10-0) - Not Thatcher's best team of the last four years, but expect the Eagles to get back to the semis if they slow Minotaurs' running back David Marquez, who is 31 yards shy of 2,000 for the season. Thatcher more battle tested than Trivium despite the difference in records.
1A championship
Saturday Nov. 16 at 6 p.m.
#3 Superior (9-1) vs. #1 Williams (9-1) at Coronado HS - Have to believe Williams upends defending champ Superior and reclaims the title it won in 2017. Williams warmed up the last two weeks by allowing one touchdown combined in wins over Arete Prep and Hayden.
---