6A football: First one to 70 wins - Desert Vista tops Perry
November 15, 2019 by Les Willsey, AZPreps365
---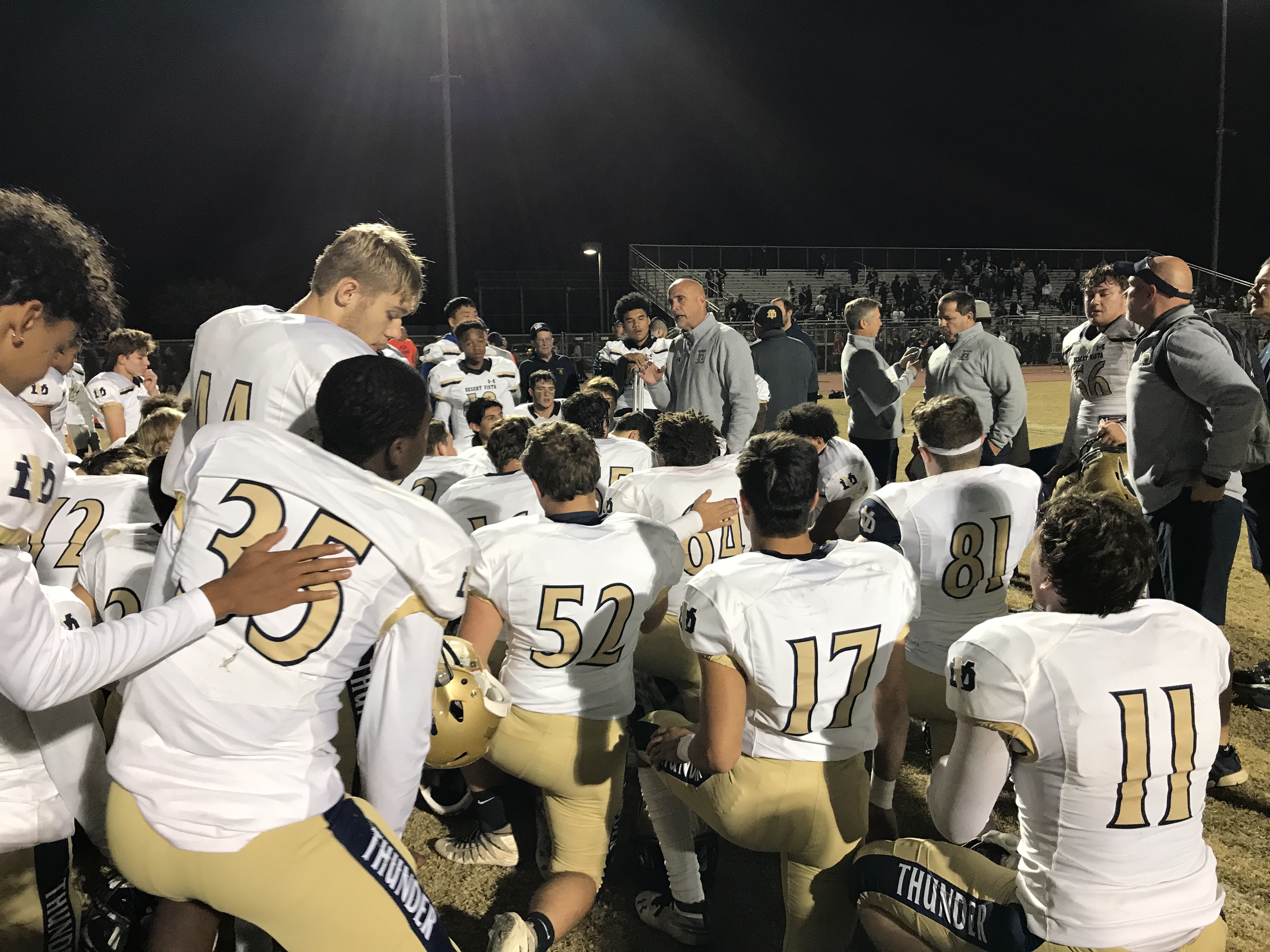 Desert Vista and Perry didn't set out to play first one to 70 wins.But that's what happened Friday night in their first-round 6A playoff game at Perry's John Wrenn Stadium.
#6 Desert Vista turned the momentum in the final five minutes with a long TD pass to tie and an onside kick recovery that set up the game-winning score with 19 seconds left to edge #3 Perry, 70-63. The 133 combined points is likely a playoff record, regardless of conference.
Desert Vista (9-3) advances to host a neutral site semifinal next Friday against #7 Liberty, which eliminated #15 Mesa Mountain View, 45-28. Perry finished up the year 7-5.
The official numbers will be posted by the teams this weekend, but it's safe to say they combined for at least 1,250 yards in the this high-octane shootout.
The senior quarterbacks for both teams were outstanding to noone's surprise -- Desert Vista's Parker Navarro and Perry's Chubba Purdy. Navarro got the ball last just seconds after Desert Vista recovered an onside kick after tying the game 63-63 on Navarro's seventh touchdown pass of the game and fourth to fellow senior Elijah Ervin (eight catches for 254 yards).
Navarro engineered a four-minute drive from Perry's 45 after the onside recovery working runs between himself and senior Tyson Grubbs (31 rushes for 160 yards), two TDs) that moved the ball to the Perry 5. Desert Vista overcame an intentional grounding penalty on Navarro, who atoned by throwing a 23-yard completion to Colton Grover that turned a third-and-27 to a manageable fourth-and-4. Navarro converted the first down with a nine-yard run.
Navarro reluctantly ended up scoring on a 5-yard run leaving 19 seconds for Perry, acknowledging the Thunder was trying to set up for a short field goal and leave no time for the Pumas.
"It was a weird spot to be in," Navarro said. "But at the end it was our run game that separates us. ...
"This was by far the craziest game I've been a part of."
Desert Vista coach Dan Hinds expected a high-scoring game although wasn't thinking of something approaching 70 points to win.
"I knew we had it in us to win," Hinds said. "We finally put together four quarters, Noone had seen us put four quarters together yet."
Navarro's numbers were impressive. He completed 19 of 24 passes for 435 yards and seven TDs and added 108 yards rushing on 19 attempts and that game-winning run.
Perry, which trailed all game with the exception of a 7-0 lead in the first quarter, got its second lead (63-56) with 4:52 to play on Purdy's sixth TD pass and third of the second half to Jorden Young. That came after Perry managed a fourth-down stop of Navarro at midfield.
Just prior to that stop Perry scored consecutive TDs in the final quarter to tie the game at 56. The Pumas recovered an onside kick of their own that led to the tying score.
The momentum swing contined as it took Purdy two plays to eat up the 50 yards. A 33-yard catch and run by wide out Bryce Holdridge (seven catches for 222 yards) and a 17-yard scoring strike to Young had Perry fans sensing a favorable outcome with the final-quarter surge.
Purdy finished up his career another amazing night. Purdy was 21 of 26 for 469 yards and 6 TDs. He also rushed for two.
"We knew we had to slow down their quarterback," Perry coach Preston Jones said. "He's a tough kid, at ough runner. He made a bunch of good throws....
"I think Chubba did all he could. It was a great battle between two great leaders of their football teams. Chubba went out with his boots on.'

---