D1 XC: Highland boys, Desert Vista girls prevail
November 16, 2019 by Les Willsey, AZPreps365
---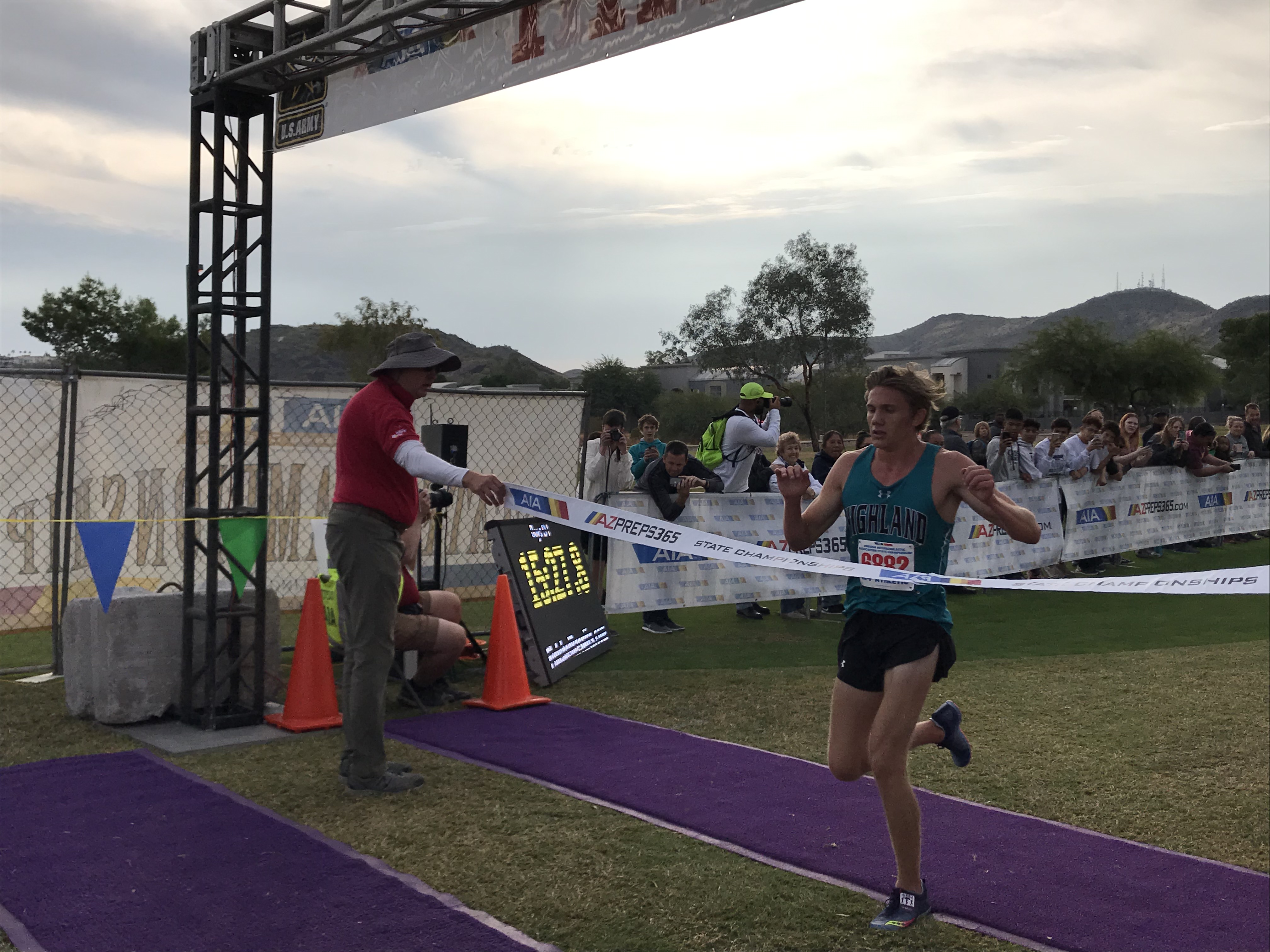 Highland cross country coach Dave "Monty" Montgomery is always cautious on state meet race day as to what can transpire no matter how talented a team is. Montgomery awoke waiting to see if the state's top boys cross country runner would be able to run.
After going through pre-race prep early Saturday morning at the state meet site Cave Creek Golf Course, senior Leo Daschbach made his intention known.
"He told me he could go," Montgomery said. "He said if it helps us win a state championship I'm going. Even if it means the end of my season."
With Daschbach leading the way and not 100 percent, the Hawks turned in as good an effort as Montgomery could have hoped for to win the Division I boys state meet. It's Highland's second boys title, the previous title captured in 2011.
The Hawks posted a 1-5-7-9-17 scoring line -- good for 39 points -- to best five-time defending champion Desert Vista, who was second with 65. Brophy Prep (69) finished third. The Hawks scorers behind Daschbach were Caden Resendez, Ernest Green, Sam Green and Jagger Zlotoff. Their combined time of 1:20:05 was the second best all-time at a state meet. All five earned medals by finishing in the top 21.
Daschbach's title is his second (he won in 2017) and he was runner-up last year. He skipped last week's sectional meet to try and restore health to a hamstring issue.That injury likely prevented him from challenging the course record of 15:03 set in 2010 by Tuba City's Billy Orman.
"I think if he was totally healthy he had a shot at breaking it,' Montgomery said. "He had been shooting for something around 14:50. To have him run period today was good enough for me."
"All I've wanted for four years is to win the team championship," Daschbach said. "That was reason to run."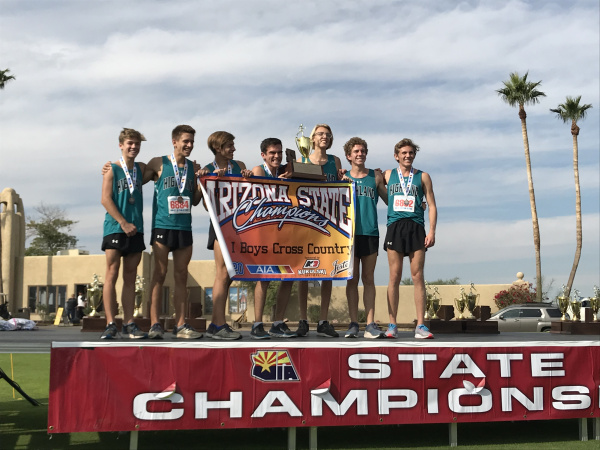 Daschbach stayed with a tight pack for the first two-miles plus . He made the break for the lead with about 1,000 meters to go. His winning time of 15:27 was the 10th best all-time on the course. Runnerup was Brophy Prep's Xander Black (15:37) and third was Mountain Ridge's Hunter Krasa (15:41).
Runner-up Desert Vista had all five of its top runners medal - Demetris Love (7th), last year's champ Sammy Van Alstine, Noah Jodon, Ethan Bukowksi and Johnathan Estrada. Brophy had four of its top five runners medal - Black, Marcos Gonzalez (8th), Jose Acuna and Jackson Moran.
Also finishing in the top 10 were Mesa Mountain View's Matthew Judd (4th) and Mountain Ridge's Austin Clayton (10th).
DI GIRLS
A pair of Desert Vista newcomers to Arizona, but not new to state meet competition, were the top finishers helping the Thunder claim the girls team title.
Freshman Lauren Ping and sister Grace Ping, a junior, finished 1-2 as the Thunder grabbed team honors with a score of 49. Highland (99) took second thanks to a courageous effort by senior Caroline McLeskey and Xavier Prep was third (106).
"We hit the last mile hard," Lauren Ping, who along with Grace moved to Arizona from Minnesota in the offseason, said. "Where we came from you could compete in high school meets in seventh and eighth grade. Running against that kind of competition in the past was helpful."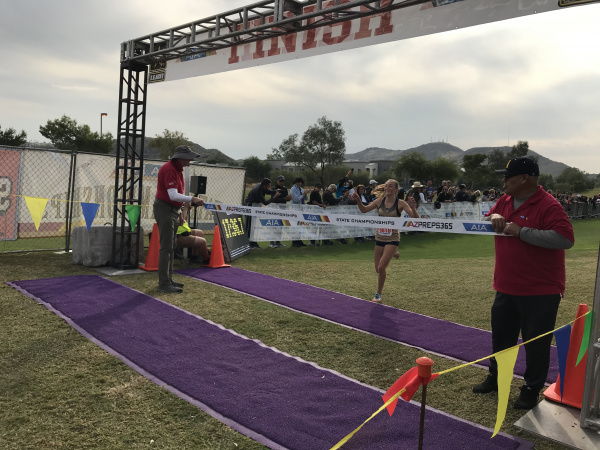 Desert Vista freshman Lauren Ping finishes first in her Arizona state XC meet debut for the team champion Thunder. (AzPreps365 photo).
Lauren Ping's time in her Arizona state meet debut was 17:36. That placed her sixth alltime on the course record sheet. Grace Ping's time of 17:57 put her 10th on the alltime list. The Thunder's other three scoring finishers earned medals - Emily Littlefield (9th), Olvia Thatcher (16th) and Bailee Christofis (21st). None of Desert Vista's top five are seniors. Littlefield, Christofis are freshman and Thatcher is a junior. The team title was Desert Vista's fourth this decade as it comes to a close tying it with Xavier for the most between 2010-2019.
Highland's team runner-up finish was of note. Senior Caroline McLeskey, who was solidly in third place coming down to the final 50-75 meters, collasped. She summoned enough strength to crawl across the finish and earn 13th place. Had she not completed the race, the Hawks would not have come home with a runner-up trophy.
Rounding out the top 10 finishers in the girls race were Perry's Taylor Lovell (3rd), Hamilton's Rujuta Sane (4th), Pinnacle's Cami Merickel (5th), Xavier Prep's Mia Olsen (6th) and Jamie Stelnik (7th), Red Mountain's Niki Hemmerlin (8th) and Highland's Emma Finchem (10th).
---