Football: Chandler holds on against Salpointe to advance to championship game
November 24, 2019 by Andy Morales, AZPreps365
---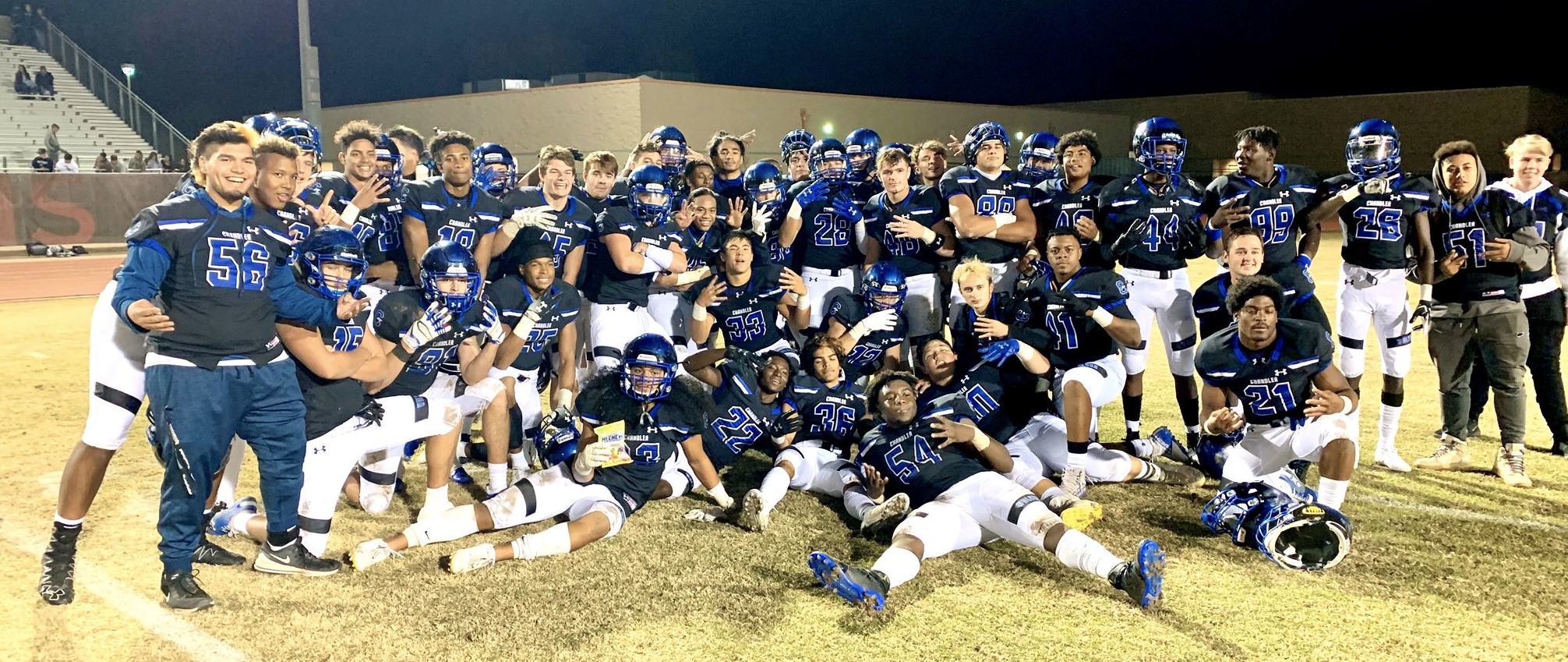 Chandler held on to defeat Salpointe 24-16 Saturday night to advance to the championship of the Open Division, to be played Saturday, Dec. 7, at Sun Devil Stadium against Saguaro. Chandler (12-0) will be working on the fifth state championship in program history since 2014 and the fourth in a row at the state's highest level under first-year head coach Rick Garretson.
Current ASU running backs coach Shaun Aguano led the wolves to state championships in 2014, 2016, 2017 and 2018 at the 6A level with an incredible run that included a 61-4 record against teams from Arizona. With the win against the No. 4 Lancers, Garretson is undefeated in his short career and he will be guiding the top-ranked Wolves against No. 3 Saguaro (11-1) in a game that will attempt to settle an ongoing battle of words between the two programs that have not met on the field since the Sabercats beat Chandler 15-7 in 1992. (Saguaro holds a 5-3-1 advantage over Chandler since 1967).
(Chandler DE Zion Magalei celebrates after recovering a bad snap for a TD to clinch the victory/Andy Morales/AZPreps365.com)
Salpointe (10-1) came into the Open Division semifinals after defeating No. 5 Pinnacle 48-10 in the quarterfinals last week. Chandler was the top-seed out of the 6A Conference and Pinnacle came in right behind the Wolves while, as 4A programs, Saguaro was ranked No. 1 and Salpointe No. 2. On paper, this was not supposed to be a battle and the Lancers defied the odds and came within one or two plays from advancing to the Open Division championship over nationally-ranked Chandler but the Lancers knew coming in a mistake-free game was required for the upset.
Dae Dae Hunter was nursing an ankle injury and the Colorado transfer was unavailable to the Wolves and the team had to go without his 1,465 yards rushing (11.5) and 31 touchdowns and his absence was felt almost immediately after Salpointe standout Luke Regina came up with a fumble recovery four minutes into the game.
The initial Lancer drive stalled on a fourth-and-goal after the turnover, but the opening sequence proved this was not going to be an easy task for either team. There was not going to be blowout, run-the-clock, victory. Salpointe's vaunted defense would not allow that to happen.
For Salpointe, a "mistake free" game was hindered by five turnovers. There were three interceptions, with two coming in the red zone, a fumble and a bad snap on a punt that was gathered up by Chandler Jr. DE Zion Magalei for a touchdown to give the Wolves a 24-16 lead with 7:46 left.
That lead would hold up the rest of the way but the final moments proved to be some of the most entertaining seven minutes of football this season. Gunner Maldonado picked up his second interception of the game with 6:34 left to end another Lancer threat but even that was not enough to end the game.
"We knew this was going to be a tough game," Maldonado said. "There's lots of talent on that side of the field. Our defense had to pick it up and we knew we had to do our jobs and we did it."
The safety ended his senior season with six interceptions and nine for his career.
The Lancers got the ball back but a dropped pass, on what many feel would have been a touchdown grab for Salpointe, gave the Wolves the ball on downs with 1:48 left but the team inexplicably ran wide and gave the Lancers extra life on another fumble of their own with 1:11 left.
The Chandler defense held the explosive Lancer offense in check for most of the game but Bijan Robinson still managed 119 yards rushing on carries and 63 yards receiving on four catches. His 50-yard dash to give Salpointe a 13-10 lead pushed the Texas commit over the 7,000 career rushing mark.
In the history of Arizona football, only three runners have passed that milestone. Casey Jahn graduated from 2A Northwest Christian in 2012 with 7,544 yards rushing and current 3A Odyssey Institute senior Chris Weaver ended his career with 7,018 yards. Robinson entered his final game with 6,917 yards and he ended with 7,036.
Robinson's 7,036 yards puts him well ahead of former Tolleson standout Marcus Thomas (5,878) for tops in the "big school" 4A-6A category. Robinson also holds the state's career TD mark with 114 and his 103 TDs rushing puts him 14 ahead of Glendale senior Kevin Daniels. Daniels will keep the state scoring record over Robinson 692 to 684.
Lathan Ransom finished the night with 105 yards receiving that included a 68-yard catch that put the Lancers up 6-3 in the first quarter. So. QB Treyson Bourguet ended the game with 229 yards passing but the Chandler defense came alive in the final moments with four sacks for a total of 31 yards to preserve the 24-16 victory.
Hunter made one appearance in the game but the Wolves are deep in the backfield and Sr. Quaron Adams finished with 57 yards rushing with runs of 21 and 31 thrown in the mix. Sr. Jaheim Brown-Taylor added 47, Jr. Eli Sanders had 43 and Jr. Nicolas Nesbitt added 38, including a 37-yard dash.
Jr. QB Mikey Keene finished with 201 yards with two TDs. So. Kyion Grayes pulled in 113 yards, Jr. Jalen Richmond had 89 with a 16-yard TD catch and Sr. Jay McEuen ended with 52 with a 13-yard score. The trio account for over 2,000 yards of receiving on the year.
The game marked the end of an incredible 19-year career for Salpointe head coach Dennis Bene. He finishes with 184 wins, 14 region titles and a championship on three trips to the state final. His 2013 undefeated campaign, that resulted in a 46-20 win over Chaparral to take the Division II (4A) championship, will remain as one of the top teams in Arizona history but his run from 2016 through Saturday night will be just as legendary and may never be matched from a team from Southern Arizona.
The Lancers lost in the semifinal round to Saguaro in 2016 and then back-to-back losses to the Sabercats in championship games. The Lancers came within one or two plays to set up a fourth battle with the Sabercats but it was not to be. There are no regrets, as it should be.
As mentioned before, Chandler will be going up against Jason Mohns and Saguaro for the first time in a generation. Mohns (97-11) is going for his seventh state championship in a row and the 13th in program history. The Sabercats haven't lost to a team from Arizona since Sept. 4, 2015. That 57-0 mark was put to the test against No. 7 Hamilton in the other Open Division semifinal Saturday night at Coronado High School.
The Sabercats came away with a 20-16 win to set up the final against Chandler. Let the frenzy begin.
NOTE: Mohns was 8-9 at Salt River from 2007 – 2008. He has 105 career wins.
---