ALA-QC tops Ben Franklin for 3A title
November 29, 2019 by Les Willsey, AZPreps365
---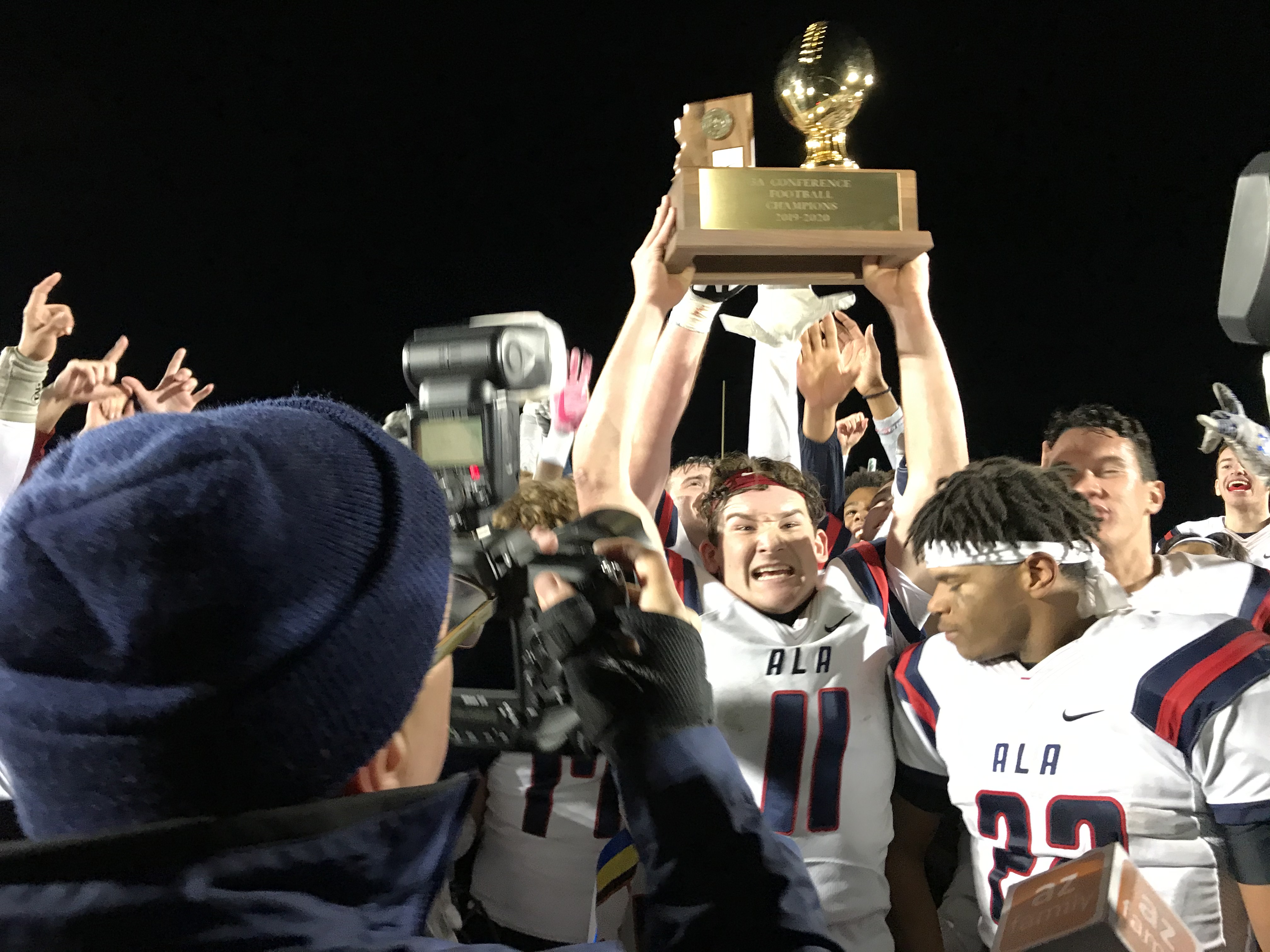 A steady diet of running back Aziya Jamison and a swarming defense allowed No. 2 seed American Leadership Queen Creek to notch the 3A football championship on Friday night with a decisive 24-6 victory over top-seed Benjamin Franklin at Campo Verde High School.
The 3A title was ALA-QC (13-1) second in the last four years (the other in 2016) with probation hampering the program last year. Benjamin Franklin finished up 12-2 in its first title game in school history since it opened five years ago under coach Dave Jefferies.
ALA-QC coach Rich Edwards, who has piloted the program since it opened earlier in the decade, wasn't about to fiddle with the Patriots' offense that churned out big yardge from its sophomore standout Aziya.
"Sometimes as coaches we're not very smart, but we were smart enough this time to give (Jamison) the ball a bunch," Edwards said. "Sometimes we gave him great holes, and other times he did a lot on his own."
Jamison followed up last week's 42-carry, 260-yard effort with 34 rushes for 302 yards and two of the Patriots' three touchdowns. It was very much a replay of his performance in the semis that sent Northwest Christian packing.
Just as impressive was ALA-QC's defense, which turned in five takeaways and limited Benjamin Franklin's double wing ground attack to very little. Very little as in unofficially 77 yards on 30 carries.
"Our defensive coaches put together a great game plan and the kids executed it," Edwards said.
Four of the five turnovers forced were interceptions -- three of those by safety Ethen Cluff. Cluff's first two picks set up the Patriots' two first-half touchdowns that led to a 14-6 advantage when the teams left for intermission.
Cluff wasn't the force he was the week before on the offensive side (receiver), but was a pass catcher on the other side of the ball instead.
"We knew they would just try to ground and pound," Cluff said. "They like to do a lot of trick plays, but we didn't get fooled much. The coaches wanted us to be disciplined, keep our composure and stop their best guys No. 12 (quarterback Danner Bowen) and No. 5 (Ammon Warby). We did a good job of that."
A five-play, 68-yard drive ensued after Cluff's first pick. Three runs by Jamison -- one of 33 yards - keyed the drive. Wide out Carter Taylor hauled in two receptions and Jamison finished it with a 10-yard TD run. The second Cluff pick at ALA-QC's 25 ended a four-yard TD pass from Rand Jensen to Taylor. A 66-yard run by Jamison set up the score.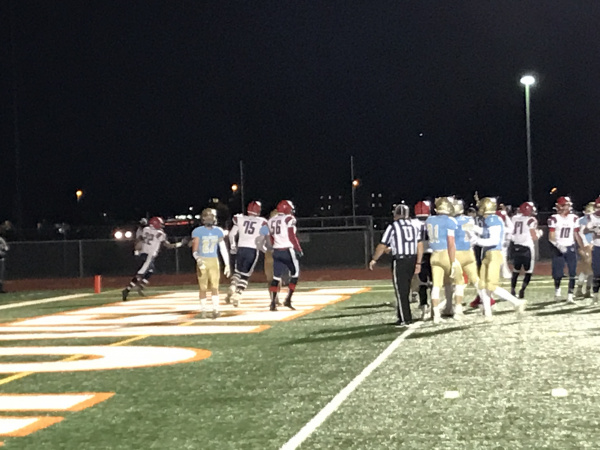 ALA-QC's Aziya Jamison (22) heads to his bench after scoring his first of two TDS in the Patriots' 3A title game victory. (AzPreps365 photo).
Benjamin Franklin pulled within 7-6, using their longest play of the game - a 55-yard pass completion from Danner Bowen to Chancin Loving - to set up the score. Warby did the scoring honors with a 2-yard run.
Despite ALA-QC's domination at the line of scrimmage, Ben Franklin was able to bend and not break until the game's final three minutes - staying within a score of the Patriots.
Ben Franklin had a play they wish they had back -- not because of the call - the execution. A double-pass three plays after recovering a fumble at its 25, the Chargers Cade Mcafee launched a pass for Ryan Graham, who had slipped behind defenders just across midfield. The ball was dropped allowing ALA-QC to dodge a potential big play/game-tying score.
"They have been a team of destiny all year," Edwards said of the Chargers. "When I saw the ball go up in the air and saw where it was going, I said "Uh, oh."
That play was the last gasp for Ben Franklin. ALA-QC forced a punt and then proceeded to drive 67 yards over a four-minute march to take a 21-6 lead on Jamison's 4-yard TD run with just more than three minutes left.
"We fought and battled for four quarters," Jefferies said. "We were desperate trying to make something happen late and then it got away from us. We have speed, but not the size and strength they do. We hung in there, but had our quarterback doing things he's not used to doing. I'm not sure five years ago when we started that we would be playing in a championship game. I'm really proud of these guys."
---