Boys basketball: Catalina Foothills over Cholla, 69-52
December 13, 2019 by Andy Morales, AZPreps365
---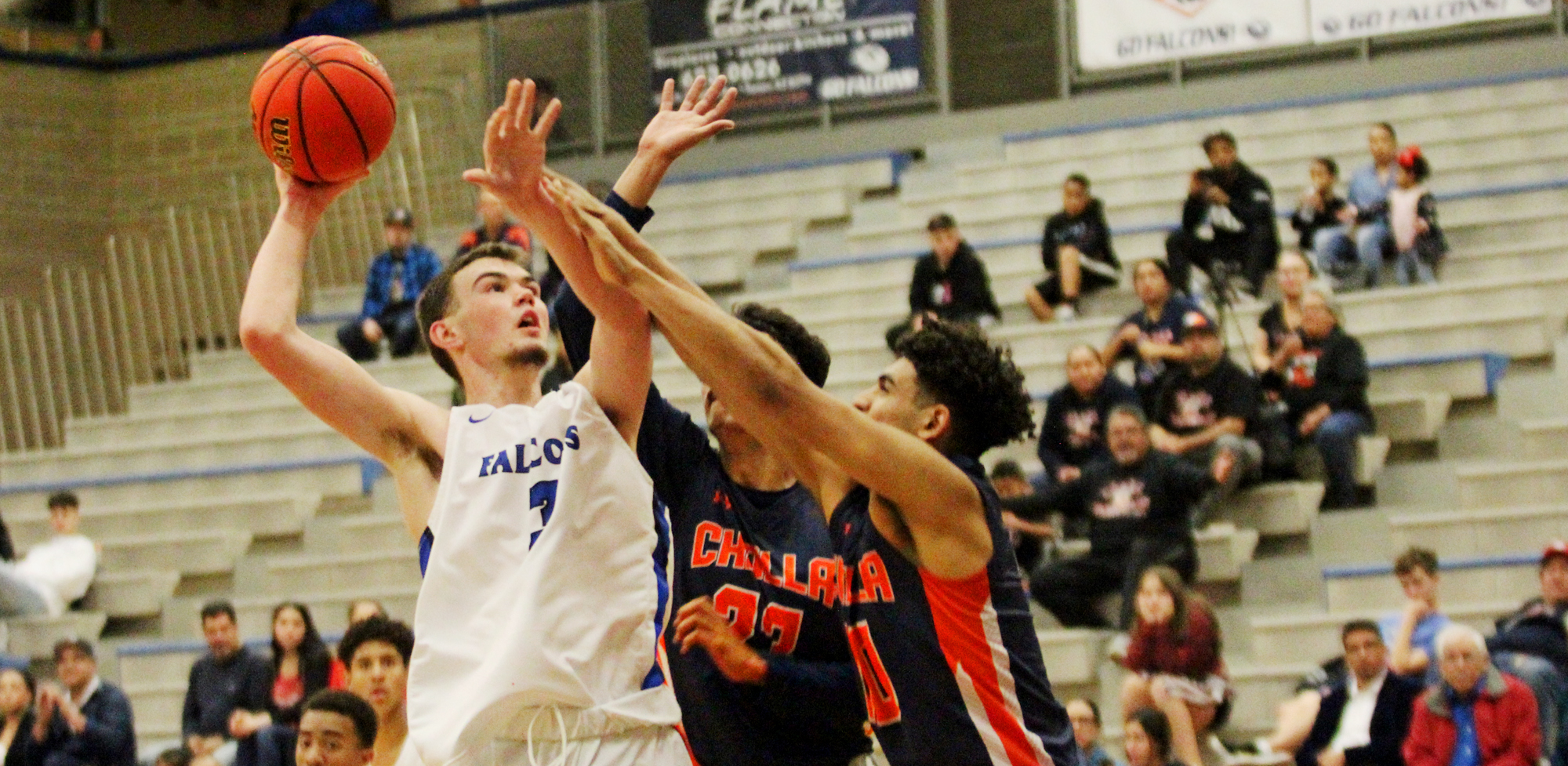 A higher-powered motion offense, run with speed and accurate shooting, is what awaits opponents of Catalina Foothills this year. Throw in a stifling defense with everyone knowing their role on the court, and close games become blowouts in a matter of moments. Such was the case Friday night when the Falcons defeated Cholla 69-52 to remain perfect at 9-0.
Cholla fell to 5-3 on the year but the Chargers matched Catalina Foothills almost shot for shot in the first period but a 10-8 deficit became a 24-12 gap in matter of minutes and the run was fueled in a flash by a 3-pointer from Charlie Curtis, a bucket from Cody Blumenthal, a 3 from Carson Peabody and a 3 from Blumenthal.
Cholla recovered and eventually cut the Falcon lead down to 36-29 with 41.6 seconds left in the first half but Peabody sank a couple of free throws after a turnover and Ben Pinckney hit a 3-pointer as time expired to give Catalina Foothills a 41-29 lead heading to the locker room.
Blumenthal finished with a game-high 19 points, Hayden Moser added 14, Peabody scored 10 and Trace Comeau scored 10 to lead the Falcons but the Chargers are also stocked with talent including sophomore Isaac Garcia.
Garcia was arguably the best freshman in Southern Arizona last year when he led the Chargers with 18.4 points a game and he is still a force, scoring 15 against the Falcons. Juan Esqivias added 13 and Myles Gantt scored 12 to round out the top scorers for Cholla.
The Falcons pulled away for good after Esqivias hit on a 3 to cut the lead down to 53-43 with 37.3 second left in the third by outscoring the Chargers 11-1 to build a 64-44 lead.
The Chargers are scheduled to host Canyon del Oro (4-7) on Tuesday before the winter break and Catalina Foothills is traveling to Sabino (8-1) on Monday before heading out to the Rancho Mirage Holiday Invitational in California.
The Falcons will be playing in the MaxPreps National Division along with six teams from California and a team from Washington. St. Mary's, Desert Vista and Sandra Day O'Connor will be at the Torrey Pines Holiday Classic over the break.
(Myles Gantt elevates - Andy Morales/AZPreps365.com)
---