Girls Hoops: Buena continues climb from the bottom with win at Ironwood Ridge
January 14, 2020 by Andy Morales, AZPreps365
---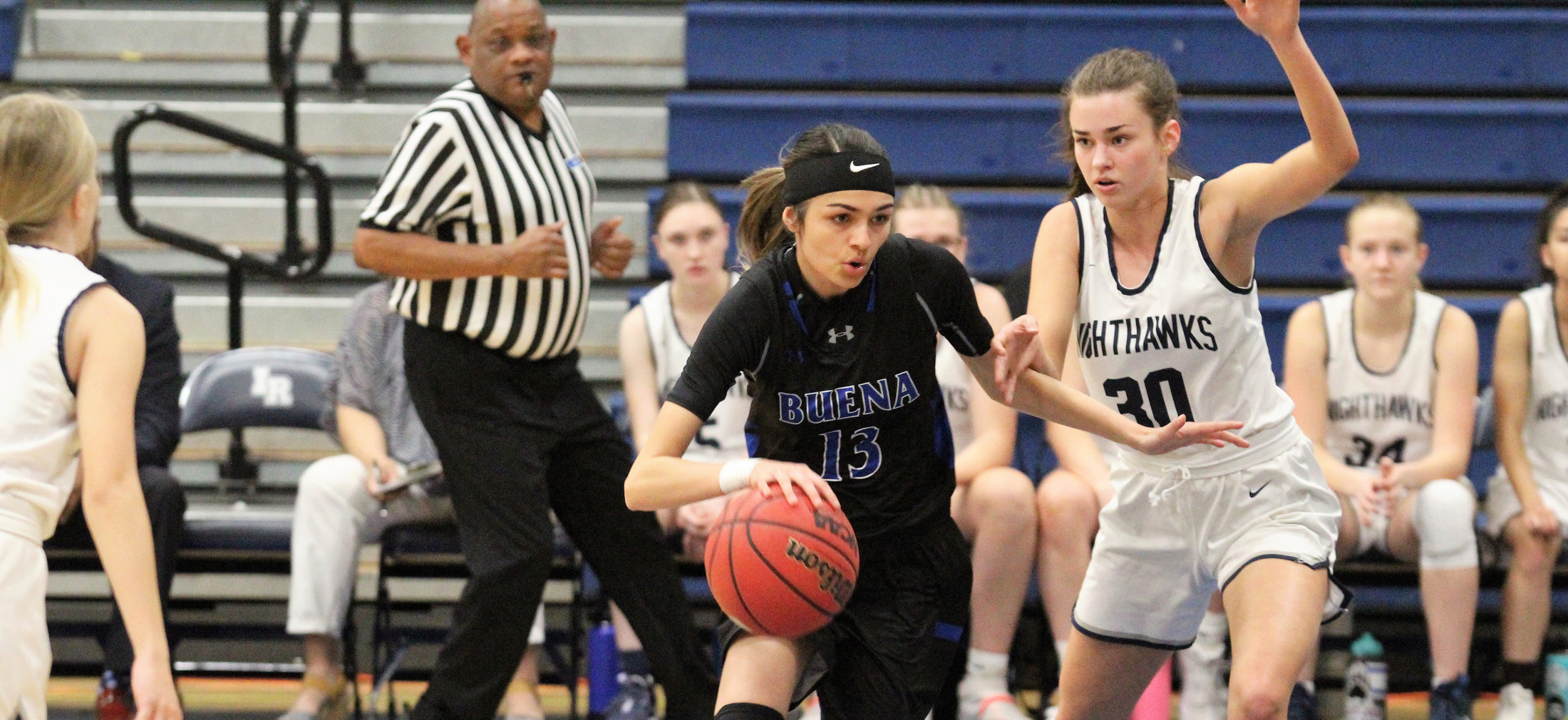 Buena went from 0-26 in 2016 to a serious contender in the 5A state race this spring and it was an impressive climb. The Colts finished that winless year ranked last at No. 53 under first-year coach Cole Colvin but the team made a huge jump to No. 27 in 2017 and a playoff spot came in 2018 with a No. 24 ranking. Then came 2019.
The Colts won the 5A Southern Region, finished with a 19-4 record and the team earned a No. 5 seed in the state playoffs. Team captain Inaaji Locklear was the sole remaining player from the 0-26 year and the team was on a roll with three players averaging double digits but No. 12 Casteel came in and upset Buena 48-31 in the first round of the 5A playoffs. Casteel went on to lose to eventual state champion Millennium in the semifinals and one has to wonder what might have been. That question could be answered this year.
"I think this turnout has a lot to do with the girls," Colvin said. "They believe in a system that we have here at Buena they understand that we are at a disadvantage not having travel teams or the things a city might have and honestly they really just play for each other at the end of the night they know hard work and a "we" mentality is what is going to make them successful."
Buena beat Ironwood Ridge 61-44 Tuesday night to move to 11-3 overall and 2-0 in region play. The Colts started the day with a No. 6 ranking and the win over No. 24 Ironwood Ridge should keep the team safely in the top ten. Nohema Romo and Alani Encinas led Buena with 14 points each, Jaslyn Booker scored 10 and Jadae Fehoko and Lydia Griffith scored eight each. It was a team win.
Ironwood Ridge fell to 6-12 on the year and 0-2 in region play. The team won a conference play-in game last year but that meant a difficult opponent in the first round of the playoffs and No. 2 Gilbert took care of the Nighthawks 66-31 in that game and the Tigers went on to lose to top-seeded Millennium in the state final.
Former Tucson High boys coach Daron Cross is in his first year with the Nighthawks and he has a team that could battle for a play-in spot down the stretch with experience at the top. Senior guard Leah Anderson led all scorers with 15 points including three 3-pointers, junior guard Keelie George added nine and senior forward Makayla Holthaus scored five. Freshman guard Amy Senkerik scored six.
No. 14 Sunnyside (9-8) visits Ironwood Ridge on Thursday and Buena will host No. 17 Marana (11-7) on Friday.
No. 1 Sunrise Mountain has a tight grip on the 5A top spot with a 10-0 record in power-ranking games with Gilbert (8-0), Cactus Shadows (10-0) and Millennium (7-0) taking up the next three positions. Gilbert hosts Millennium on Feb. 8 but that will be the only meeting between the top four teams in the regular season.
---