Centennial falls to Ironwood 69-55
January 31, 2020 by Kyle Hildebrand, Arizona State University
---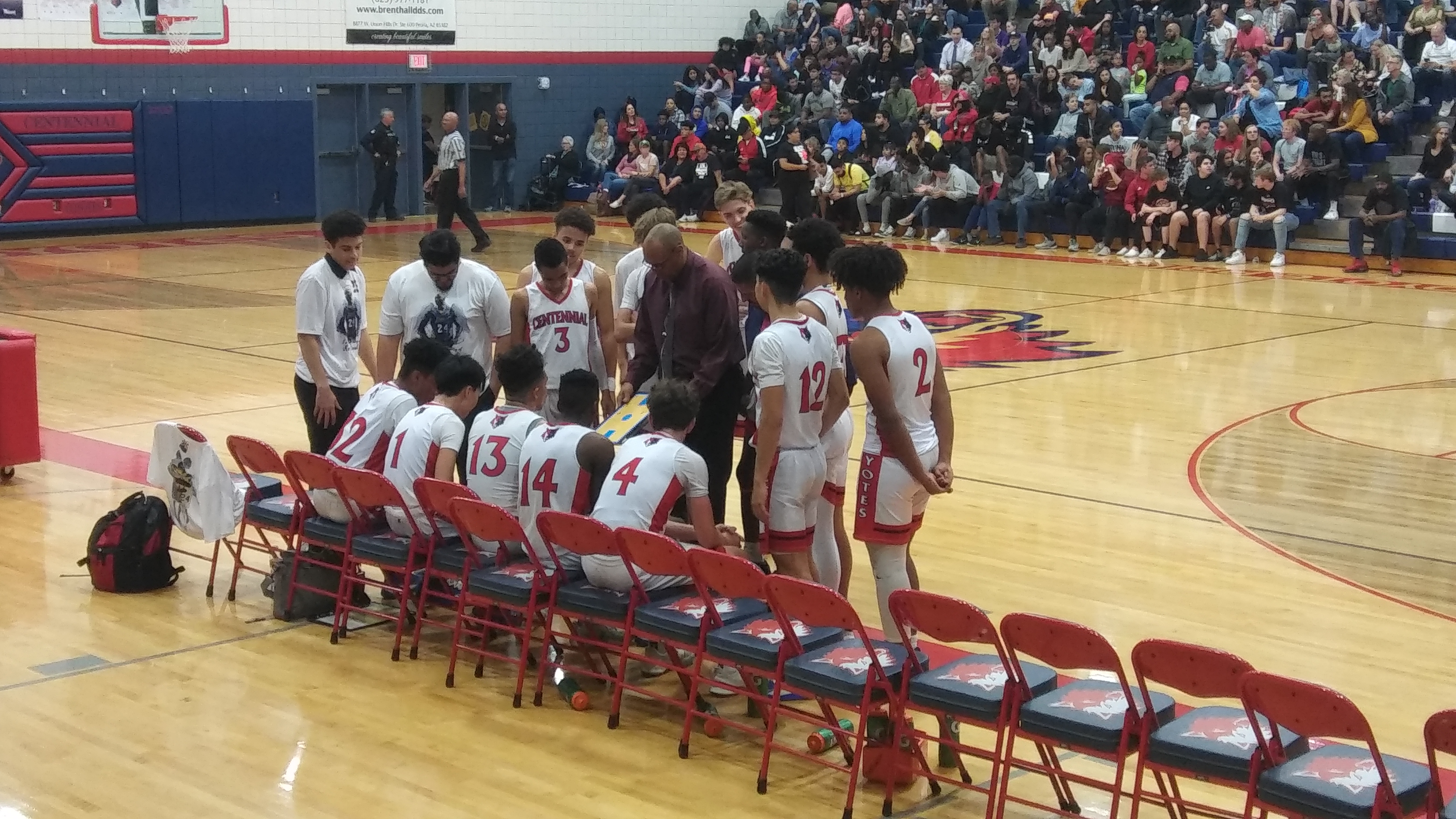 Kyle Hildebrand is an ASU Cronkite School of Journalism student assigned to cover Centennial High School for AZPreps365.com
Centennial's defense shined in the first half but crumbled in the second half of a 69-55 loss to Ironwood Friday.
"[We just have to] play like we did in the first half throughout the whole game," said sophomore guard Lifgren said. "[We] just have to keep fighting."
The Coyotes came out strong to take a 28-27 lead.
"[We had] great team play… great ball movement," sophomore forward Jayson Petty said on his team's start to the game.
Centennial's defense proved to be the difference maker in the first half. The Coyotes caused many defensive turnovers, which limited the Eagles offensive chances.
"We had great talking and switching on everything,'' Petty said.
But Ironwood began with a huge push offensively to regain the lead, roaring ahead 44-32 halfway through the third quarter.
On a positive note, Centennial found its fight and grit.
"The student section really got us going, but we were just playing together," Lifgren said. "It brought a lot of intensity."
Centennial (8-7) lost to Ironwood (15-1) 64-44 in their first meeting this season.
Head coach Randy Lavender wanted his team to focus on its fight in the game, something the team lacked in the previous matchup.
"One of the things I wanted to teach was that we didn't have enough intensity [in the first meeting]," Lavender said. "[We didn't have] enough fire and grit."
Centennial came into the game with good defensive numbers, allowing only 48.2 points a game.
"I wanted them to focus more defensively on getting rebounds and boxing out," Lavender said. "I don't think [in the last game against Ironwood] we had enough fight on the boards.""[We had] great talking and great switching on everything," Petty said on his team's defense.
Ironwood head coach Jordan Augustine had high praise for Lavender after the game.
"Honestly Randy had their guys very well prepared," Augustine said.
No. 3 Ironwood now rides an eight-game win streak while No. 20 Centennial is now 2-4 in its last six games.
The Coyotes take on the Mustangs at Sunrise Mountain onTuesday at 7 p.m.
---