Tambone's move to baseball pays off
February 10, 2020 by Obren Manjencich, Arizona State University
---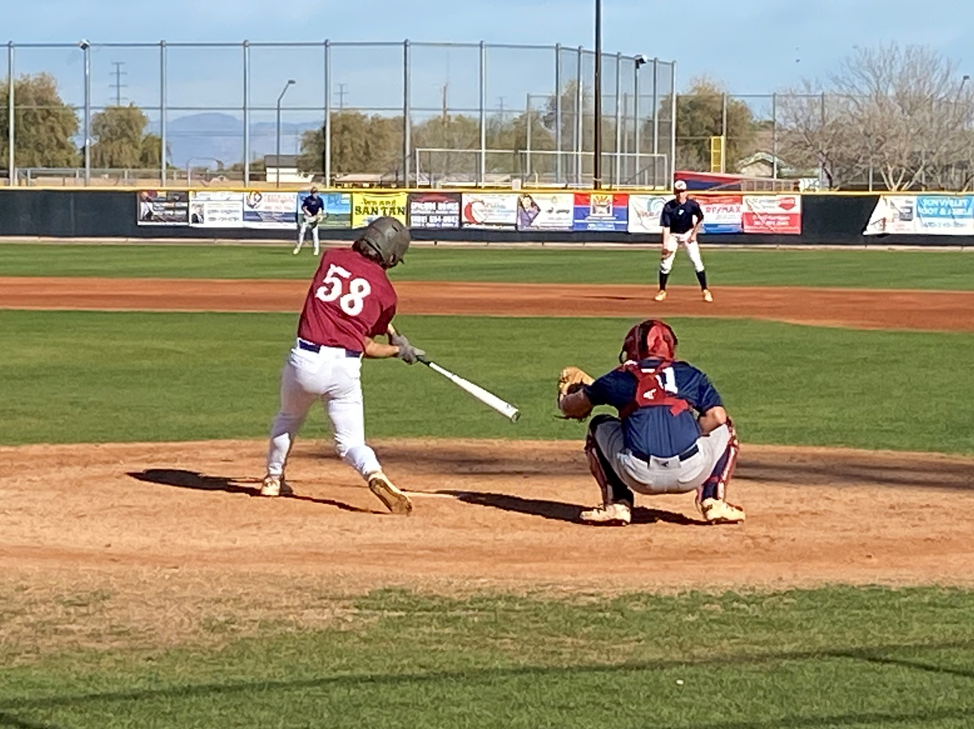 Obren Manjencich is an ASU student at the Cronkite School assigned to cover Perry High School for AZPreps365.com.
Brycen Tambone's decision to switch from football to baseball was difficult. But it paid off for the Perry senior centerfielder. He's headed for Yavapai College on scholarship next year.
"I got into (baseball) late, but it all ended out pretty good," said Tambone, who played football his freshman and sophomore seasons before moving to baseball last year.
As a junior, in his first season on varsity, Tambone put together a strong season, hitting .429 with three home runs and 27 RBIs.
He ended the season on a nine-game hitting streak, including a 4-for-4 performance in the first round of the state playoffs.
Tambone also tied the school record for doubles in a season, with 17, had the fourth highest slugging percentage in a season in school history at .785, and drove in 17 of his 27 RBIs with two outs.
Tambone keeps his approach with runners on simple.
"I try to drive the ball up the middle," Tambone said. "Scoring them will benefit the team and help us get a win."
He displayed a strong and accurate throwing arm. Tambone committed only two errors last season.
His remarkable season earned him college offers, eventually committing to Yavapai. The recruiting process was long but rewarding.
"He had a couple offers from other schools," Brycen's father Bryan said. "It's making me feel excited; it's a great program up there."
Bryan said that the decision was made based on a gut feeling.
"One day he just woke up and said, 'Dad I'm ready to commit,' and I said, 'Well, call the other coaches and say thank you,' " Bryan said. "And he called all the coaches before he called Yavapai to commit."
Tambone isn't concerned with expectations people have for him.
"I try to keep the pressure off me," Tambone said. "I have nothing to prove to anyone."
Tambone's effect on his teammates is evident.
"I think he loosens the vibes up; he keeps it loose," senior third baseman Ryan Lucero said. "He makes it fun to come here every day and play against each other."
Tambone's work ethic motivates his teammates to compete.
"He makes everybody work harder," Lucero said. "You wanna compete with each other and you don't want your teammate to beat you."
His competitiveness was highlighted during a freshman scrimmage.
"I was pitching, which I'm not a pitcher, and I struck him out," Lucero said. "Next inning, he starts pitching and he struck me out."
His relentless approach drives him to be a better player on a constant basis.
Tambone works on his craft outside of team practice, changing up what he works on based on what the team does that day.
"It depends…. if we hit at practice, I probably won't hit when I get home," Tambone said. "But if we don't, I'll probably go to the cages and hit."
He also lifts every day in the weight room.
Tambone's growth on and off the field has come from a line of good coaches and faith.
"He's grown; he's a good kid and that's all we can ask for as parents," Bryan said.
---