Sabino boys get past Page 53-50 thanks to late steal and bucket
February 28, 2020 by Andy Morales, AZPreps365
---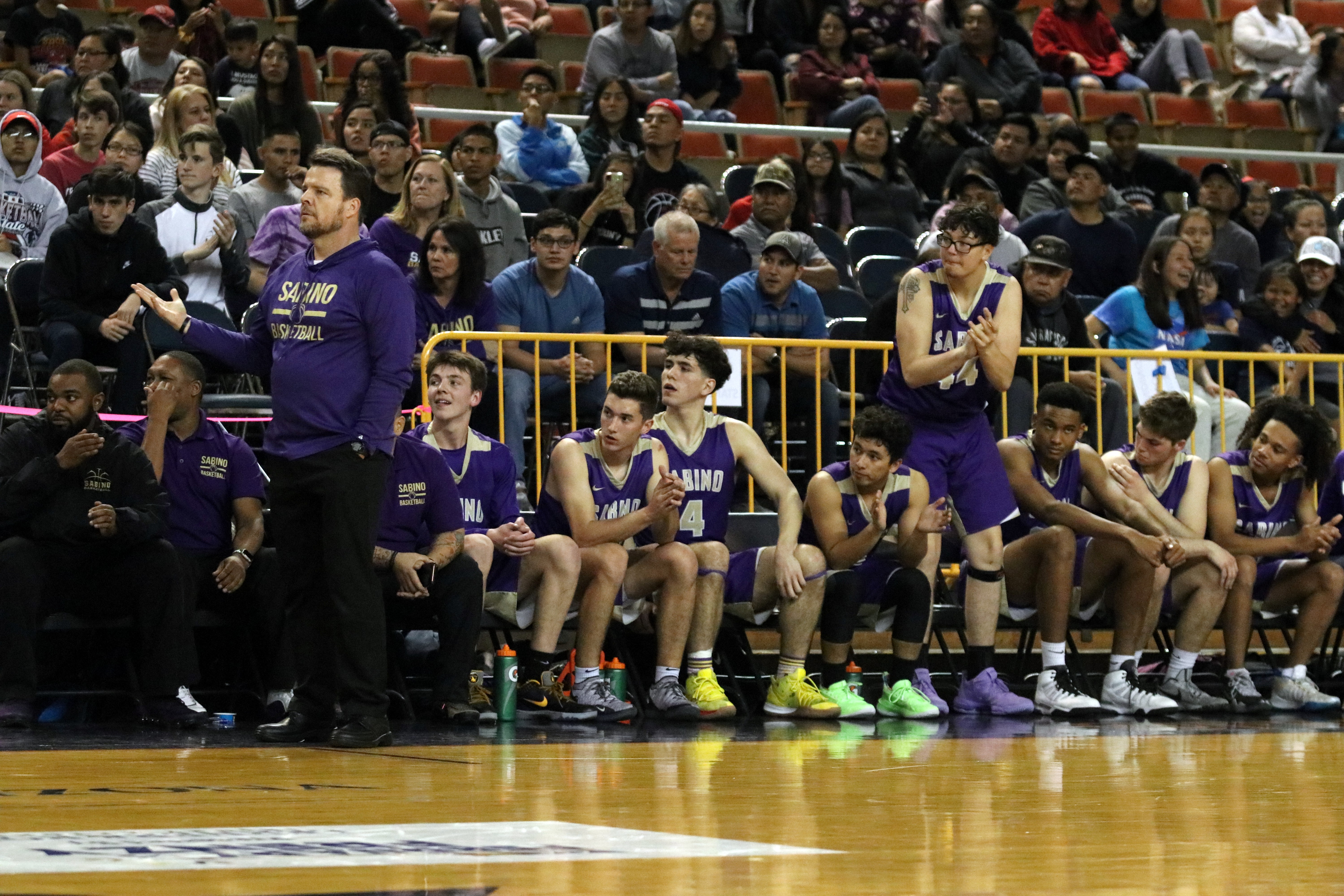 No. 3 ALA-Queen Creek beat No. 7 Gilbert Christian 62-39 Friday night to advance to the 3A state championship against No. 5 Sabino to be played Saturday night at 8 p.m. at the Vetertan's Memorial Coliseum.
ALA-QC took a 1-0 lead prior to the game due to a technical foul issued Gilbert Christian for dunking during warmups and the Patriots never really looked back. The one-point lead held up for almost three minutes and the Patriots eventually built a 6-0 lead and took a 17-5 lead after one and a 29-11 lead at the half and 47-29 after three.
This will be ALA-Queen Creek's first trip to the state final.
Dyson Lighthall finished with 22, Devon Brooke had 19 and Tyler Holmes had 15 for the Patriots. Matt Schillne led the Knights with 12 and Tyson Heyn had 10.
In the late 3A semifinal, down 17-14 with 4:35, the Sabino went on a 9-0 run to go up 23-17 and the Sabercats went into the half up 23-19. Both teams struggled to score early on and Sabino stalled at 11 points for over three minutes.
Both teams had a dominant scorer in the first half with Cesar Saenz scoring nine for Sabino and Robert Smith putting in eight for Page and the Sabercats picked up 10 fouls in the half with Jake Healy and Saenz hampered with three each.
Sabino holds off Page 53-50 to advance to the 3A championship. Here, Page needed a bucket to go up, down 51-50 with 22.5 seconds left #AZPreps365 Saenz blocks a 3-point attempt to seal the win pic.twitter.com/MUMB6sy5u8

— Andy Morales (@AZPreps365Andy) February 29, 2020
The Sand Devils opened up the second half with two quick buckets to tie things up but Elijah De Altonaga hit a 3 to put Sabino back up 26-23 with 6:45 in the third. The Sabercats built a 35-28 lead with 2:30 left in the third but the Sand Devils went on a 10-2 run to take a 38-37 lead with 6:50 left in the game.
Smith made a couple of free throws to put Page up 42-39 with 5:14 left and the San Devils led 44-43 with 2:58 left. Jonah Holiday made an old fashioned 3-point play to put Page up 49-43 and then Saenz hit a 3 to make it 49-46 Page with 56.4 seconds left in the game.
Pablo Gutierrez hit a running shot to cut the Page lead down to 50-48 with 41.4 seconds left and then Gutierrez stole the ball and scored. He was injured on the play so Nate Ryedola stepped up and put Sabino up 51-50 with 22.5 seconds left. The Sand Devils ran the game clock down and Saenz blocked a 3-point shot and then hit two free throws for the 53-50 win.
Saenz led Sabino with 19 points and Gutierrez added 17. For Page, Smith had 18 and Stuart Sandall scored 12.
This will be the second trip to the final for Sabino since losing to Sunnyside in overtime in 1993.
---