Seton dominates Sahuaro for 11th title, 70-40
February 29, 2020 by Les Willsey, AZPreps365
---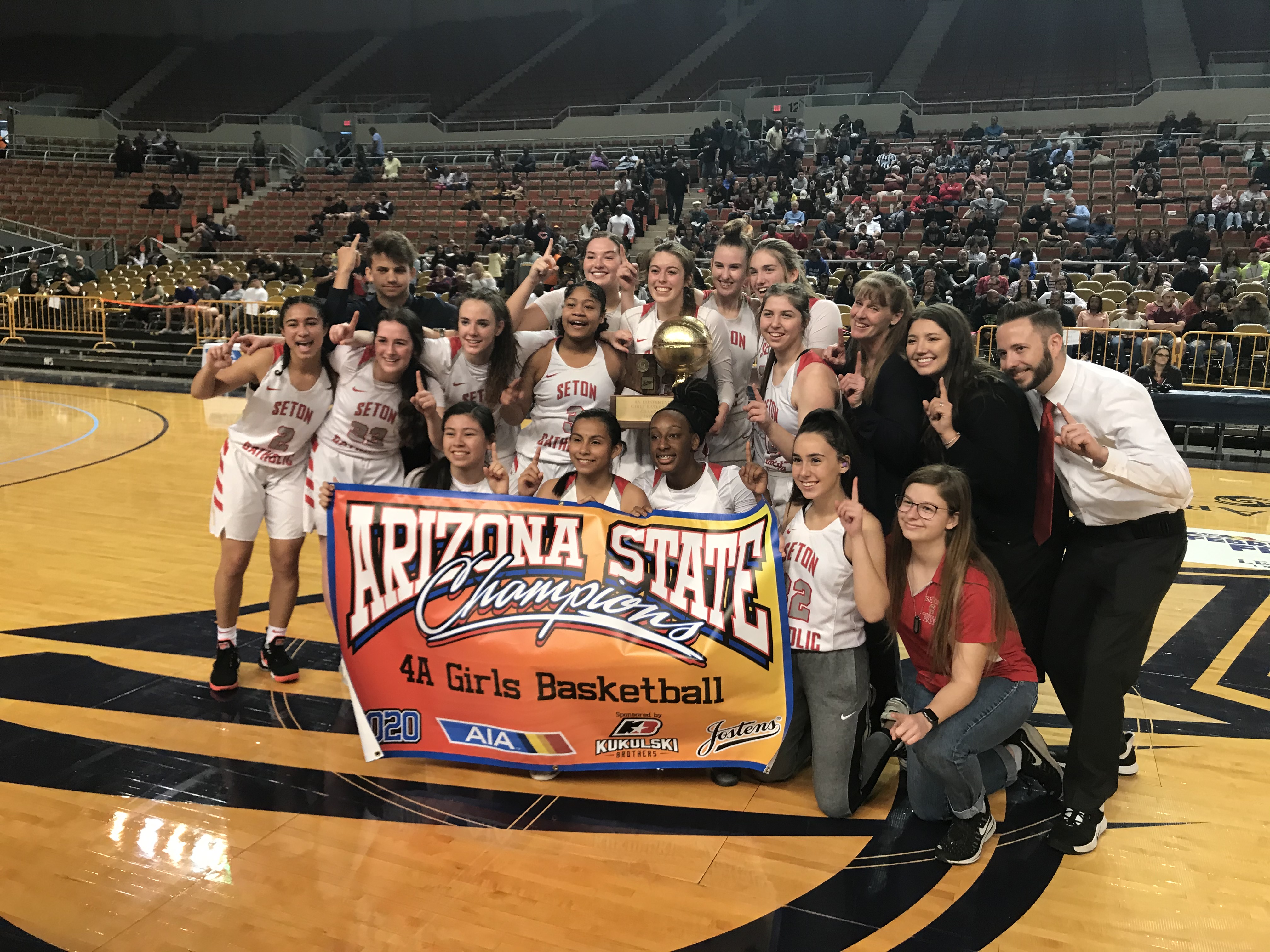 Top-seeded Seton Catholic had a whole array of weapons at its disposal in its clash with #3 Sahuaro in the 4A girls state championship game.
The Sentinels weren't afraid to use any and all of them. Foremost were its commitment to defense and its depth. Those factors paved the way to a 70-40 triumph over the Cougars on Saturday at Arizona Veterans Memorial Coliseum.
The championship was the 11th for Seton and its 16th title game all under the guidance of coach Karen Self. The Sentinels (26-3) finished the season with a 16-game winning streak and snapped Sahuaro's 10-game run. Sahuaro (28-2) suffered its only other loss to 3A title participant Sabino last month. The Cougars were bidding for their third state title and first since 1998 after dethroning last year's champ Shadow Mountain in the semifinals earlier in the week.
Seton coach Karen Self knew Sahuaro junior standout Alyssa Brown wasn't going to be neutralized. They paid feverish attention to her while making sure noone else went off.
"We knew we were going to use a lot of fouls,'" Self said. "When a team has one player that scores like she does you do your best to make them work. I borrowed that from Petro (Winslow legend Don Petronovich) when he beat us years ago. I know she got a bunch of points, but I think we tired her out some judging by her free-throw shooting. She doesn't miss as many free throws as she did today."
Brown, who averages 31 points a game, finished with 21. She scored 10 in the first half as Seton built a healthy 39-16 lead by halftime. Brown made 6 of 21 field goals and half her free throws (9 of 18). The Cougars Alyssa Franke made it to double figures scoring, finishig with 11, but only two of those points came in the first half when the game was pretty much decided.
Sahuaro's Alyssa Brown (dark jersey) tries to get past Seton defenders on a fast break in the first half of their 4A championship game. (AzPreps365 photo).
Seton's Amanda Barcello drew the defensive assignment and guarded Brown the bulk of the first half. Barcello left the in the first half a couple times after picking up her second foul and her third just before intermission. Barcello eventually fouled out with five minutes left in the game, but about that time Seton's lead reached 30 and put a running clock in motion to the finish.
"We wanted to tire them out and put as much pressure as we could on them," Barcello said.
Seton's starting lineup of Sasha Daniel, Barcello, Lexi McNabb, Bella DiGiovanni and LeeLee Willis scored 11, 11, 10, 8 and 8 points, respectively. Barcello and Willis grabbed eight rebounds apiece and Willis handed out 12 assists.The Sentinels primary subs Annemarie Trojanovich, Amelie Cartagena and Jamie Gillian combined for 21 points - Trojanovich tying for team high honors with Daniel and Barcello with 11 points.
"We are difficult to defend, no matter who is in the game," Self said. "All our players can shoot the three so it makes it tough on teams."
Seton shot 46 percent from the field and 39 percent from three-point range (7 of 18). Sahuaro was 0 for 11 beyond the arc.
Perhaps the scariest thought concerning Seton is its roster contains no seniors. They'll all be back for the chance at a repeat.
---