Xavier ready to chase another beach volleyball title
March 2, 2020 by Hadley Heck, Arizona State University
---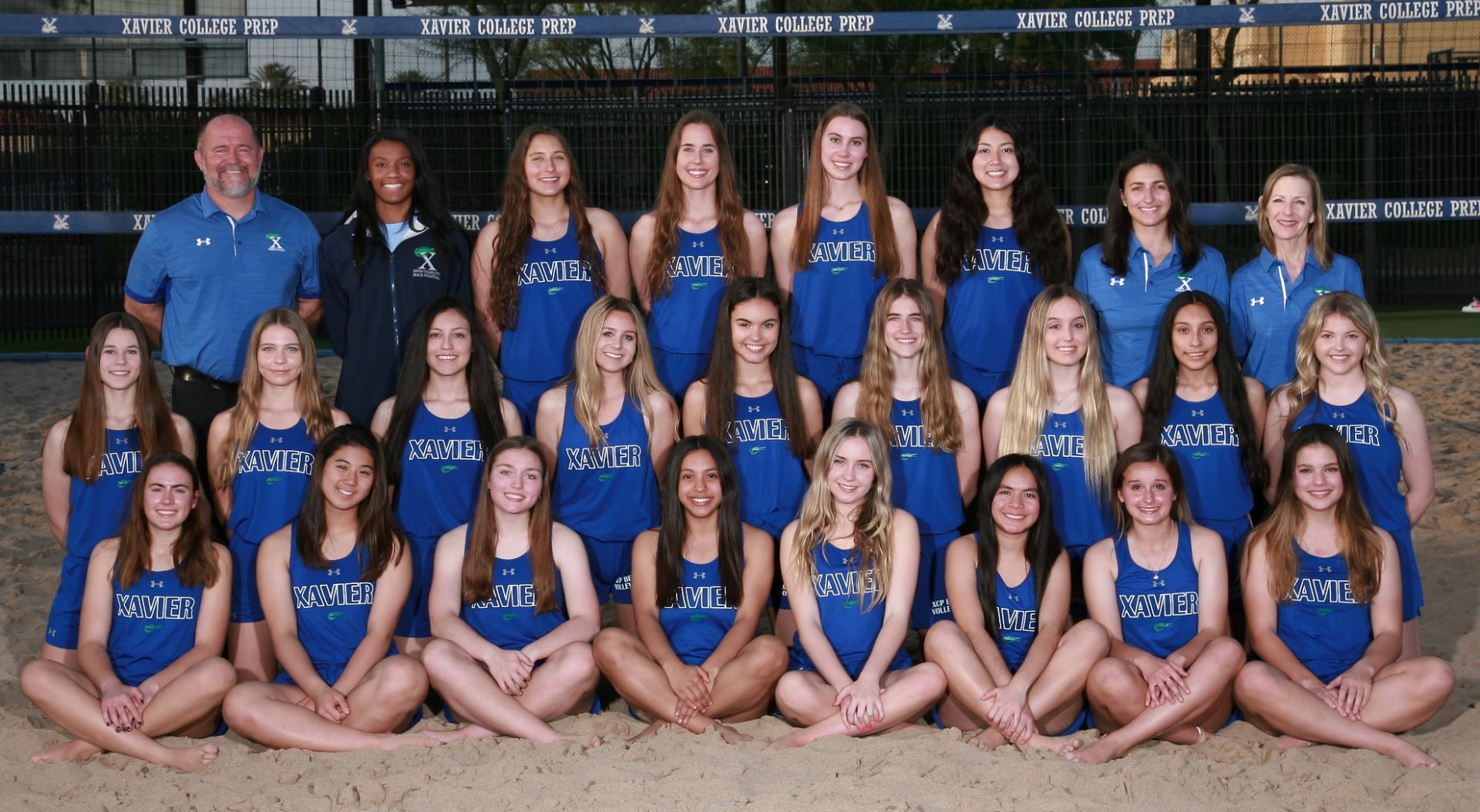 Hadley Heck is an ASU Cronkite School of Journalism student assigned to cover Xavier College Prep for AZPreps365.com
With seven state titles in eight years, the Xavier beach volleyball team has quite the tradition and reputation to uphold.
The one constant in that near-decade of success is Coach Tim McHale, who has led the Gators since the program first started nine years ago.
McHale first broke into the coaching circuit when he was in high school, taking his first job as a coach with Phoenix Parks and Recreation. Then, when he was 18, he was offered the JV indoor volleyball coaching position at Xavier College Prep under varsity coach Susan Contreras.
After a few years, Contreras stepped down and McHale took over the Gators' indoor varsity team. He held that position for 12 years and won six indoor volleyball state titles.
Just when McHale thought he had retired from coaching, Xavier decided to start a beach volleyball program. He's been coaching ever since.
Under McHale, Xavier has been a powerhouse, winning seven of the eight state championships awarded since the first season of competition.
"It goes all the way back to what Sue instilled in the program 30 years ago," McHale said.
But what did she instill? What's the secret?
The team warms up for practice the same way every day. They talk about the same things. And they do the little things right. If Xavier isn't the most athletic team, then they'll be the hardest working, senior Abby Converse said.
"And since my freshman year," Converse said, "we've had a secret tradition right before the state tournament that everybody gets really excited about."
Converse, who also played on the indoor team at Xavier, said that playing beach is more loose compared to indoor. It's just you and your partner on the sand. Your coach cannot talk to you as you play, and there's no bench, Converse said.
"One major difference is, you have to figure out emotionally and, in your head, how to calm yourself down," Converse said. "It's much more independent, and I think you learn more that way."
McHale said that another key difference between indoor and beach is ball control. Because there's only two players on the court, whoever takes the first contact is often responsible for attacking the third contact over the net as well. The game is similar to a chess match where you set up points three to four plays ahead, McHale said.
"Talking to your partner is very important when you're playing because that affects the entire game," senior Analy Carbine said.
When picking partners early in the season, McHale said it is important to use every possible variant and constantly put the players in situations to compete. Partnerships flourish over time, but sometimes the coaches have to get creative.
"The picking of partners is not like the sorting hat in Harry Potter," McHale said. "It's a lot more fluid."
Converse said that partnerships work well when you have opposite strengths and can help each other get better in certain areas of the game. Being able to support your partner when things get tough and pull them out of a bad headspace is really important, she said.
"I remind her that in every point where she might do one thing bad, she's also doing a million amazing," Converse said.
Assistant coach Anna Panagiotakopoulos, 25, a Gator volleyball alum herself, played college volleyball at West Virginia University and University of Arizona. She worked as a graduate assistant volleyball coach at Texas Christian University while earning her master's degree before returning to Xavier. Now, she's working as a guidance counselor at Xavier and coaching.
"Being back here from an athletic standpoint just makes you remember everything you loved about sports in high school," Panagiotakopoulos said.
Xavier began its season on Friday with a 4-1 win over Basha. The Gators next will host Boulder Creek at 4 p.m. Friday.
With roughly 70 high school beach volleyball teams across the state, the sport continues to grow.
"The AIA has done everything in their power to make sure this thing didn't die on the vine," McHale said.
With strong support and flexibility from the AIA, the local club circuit now thinks high school beach volleyball programs are a good thing. They are no longer fighting the high school leagues and are all working together, McHale said.
"Twenty years ago, in the golden era, men drove this game. Then it almost died," McHale said. "Now, I'm watching the game grow and it's the girls that are driving it, and I think that's awesome."
Former Xavier players have played at Texas Christian and Louisville. Currently, a handful of Gators are being recruited, including a soft verbal commitment to Stanford from junior Serena Turner.
Moving forward, the Gators have their sights set on another state title. But more importantly, they hope to make sure that the Xavier tradition of volleyball, beach volleyball and being a team is carried on, Converse said.
"I can say that we want to win a state championship and that won't be a lie," McHale said. "But more so, I want to make this team the best that we possibly can."
---