Softball coach hopes final season ends with a season
March 19, 2020 by Les Willsey, AZPreps365
---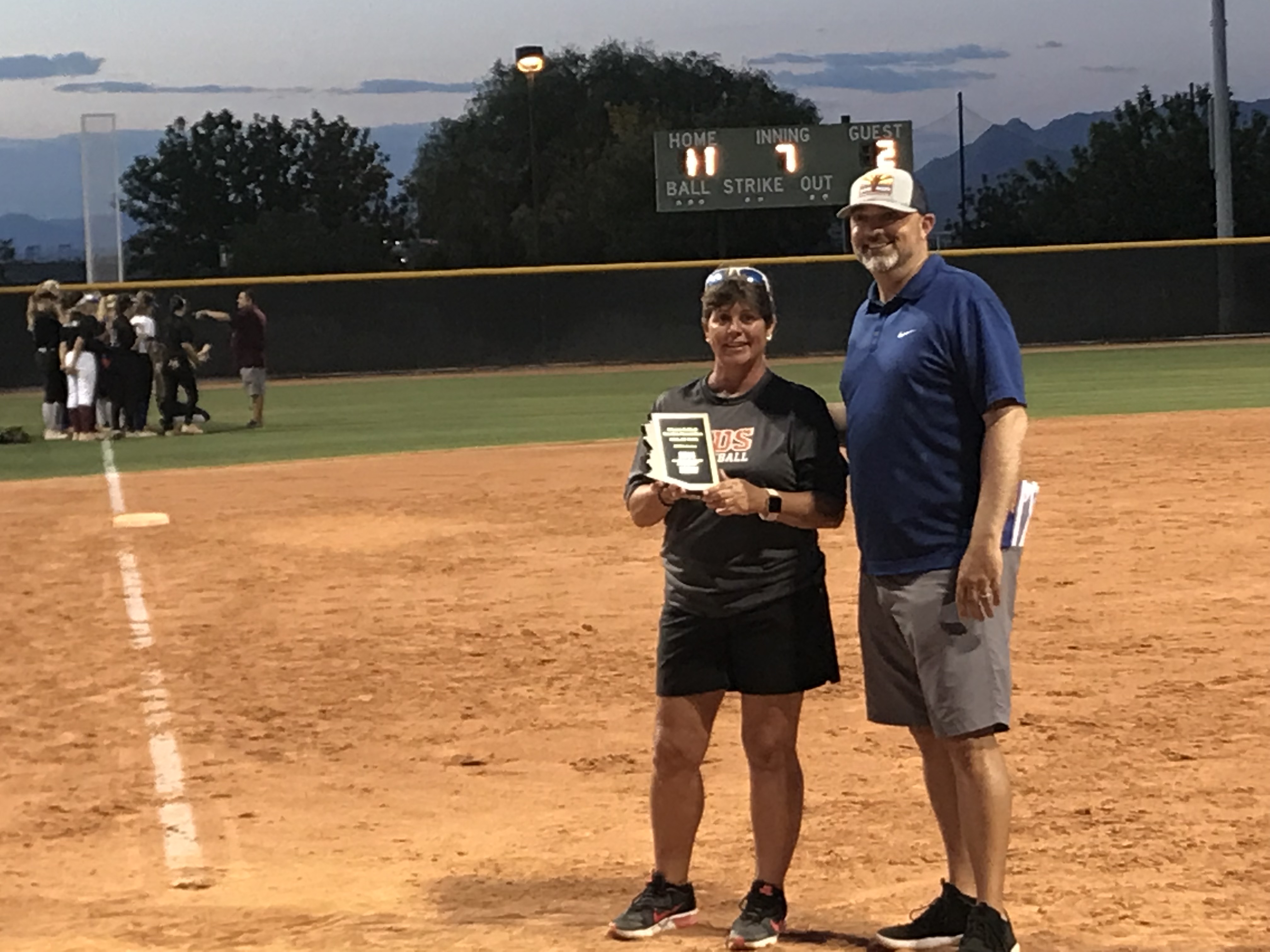 Corona del Sol softball coach Jeep Ray has been immersed this week in preparing videos to send her students in her five yoga classes as online learning is in vogue with Arizona schools shutdown due to the COVID-19 virus.
It consummed her Wednesday in a very long day. It did, however, take her mind off softball and what is or is not ahead for her team and 267 other AIA schools and their respective spring sports.
The kicker in Ray's case is this - she is retiring at the end of this season after 24 years as Corona's softball mentor. It's been a successful run with a state title (2003), two runner-up finishes (2006 and 2008) and several other deep runs at a title. Her win-loss record - 518-228 - is virtually a .700 winning percentage. She coached several other sports (volleyball, basketball, badminton, boys golf) at Corona del Sol and Marcos de Niza and as softball assistant at Apache Junction before settling in at Corona as softbal coach in spring 1997.
In addition to her coaching experiences, Ray has been accorded a handful of accolades recently. Beginning with induction into the Arizona Softball Coaches Association Hall of Fame last year, a spot 2020 in the Arizona High School Athletic Coaches Hall of Fame and most recently in January the NFHS Section 7 softball coach of the year representing the states of Arizona, California, Hawaii, Utah and Nevada.
With the question of the 2020 season being cancelled, would Ray want to go out without a season that didn't crown a champion? Not this time.
Ray has done that once before - last year in fact. Halfway through the 2019 season her decision to bow out didn't sit well.
"As last year moved on I started feeling sick to my stomach, literally," Ray said. "Really sick. It hit me it didn't feel right to stop. I had turned in my letter to Cory (athletic director Cory Nenaber). The letter was still sitting on his desk when I went in. I ripped it up."
Ray is comfortable with her decision this time. "Yes, I am done after this year," she said. "It could be a very weird way to go out. But I feel good about it this time."
Noone has experienced what is happening at present with the COVID-19 virus. Corona had an invitational rained out to open the 2019 season, which cost the Aztecs a half-dozen games and was disappointing. And this week Corona was scheduled with 11 other schools to play in Hamilton's inaugural invitational. COVID-19 put a stop to that. The widespread hope is cancellations end up being annoying and not season-scrapping.
"You feel bad for all the kids and coaches if eveything gets cancelled, it would be a crappy," Ray said. "For seniors everywhere especially. The thought of not getting to play and finish their last season."
Ray has let it be known this is her final year.
"The players know it's going to happen," she said. "We don't talk about it. It's there, but we focus on playing, practicing and having fun doing things together."
One reason Ray feels right with her decision to bow out now is the program is in good hands with the assistants on board right now, especially if that staff can stay intact. Two of the lower level assistants are former players and varsity assistant Sean Thornton, who teaches at Corona, she believes would be a great fit to take the reins.
"I think the program is going to be good the next four or five years," Ray said. "The varsity has three seniors this year. We have a lot of talented younger players in every class."
Red Mountain softball coach Rich Hamilton has known Ray for nearly the entirety of her stint at Corona. Hamilton was an assistant at Red Mountain beginning in 1998.
"They don't make them like her," Hamilton said. "I feel bad for her if the season ends up not getting played. We've become very good friends. Our families our friends. We hang out together at times. We've played each other just about every year and played in a lot of the same tournaments."
Hamilton says umpires are at times taken aback when they play and exchange lineup cards
"We always hug," Hamilton said. "Usually coaches just shake hands at the meeting. Having good relationships with other coaches, it's a part of the job that makes you not want to retire. Jeep retiring is one of those."
---