Xavier beach volleyball team disappointed
April 20, 2020 by Hadley Heck, Arizona State University
---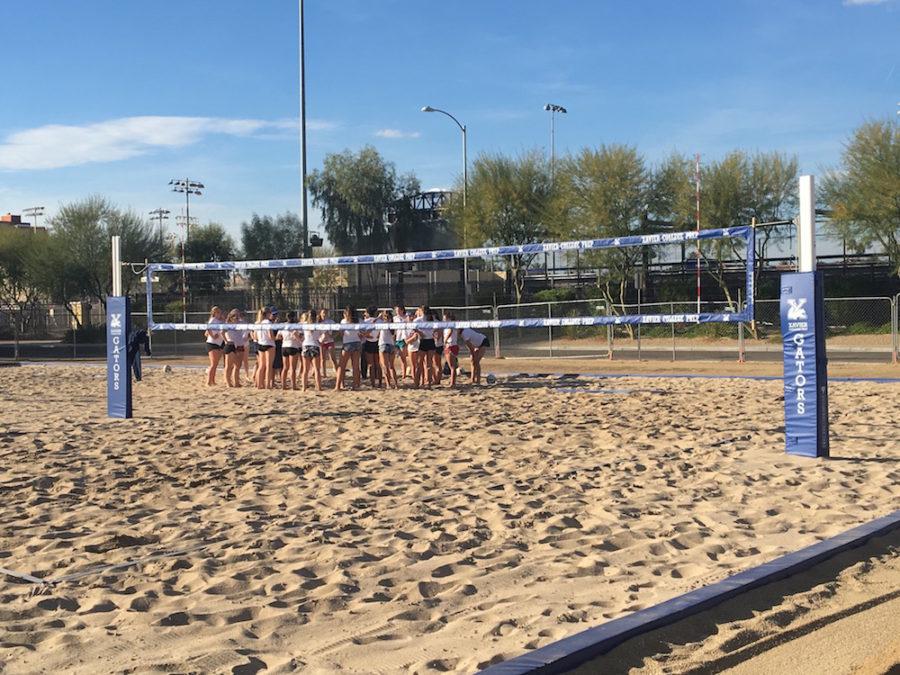 Hadley Heck is an ASU Cronkite School of Journalism student assigned to cover Xavier Prep for AZPreps365.com
The AIA was hesitant to cancel spring sports due to the COVID-19 pandemic.
"We wanted to make sure that we gave every opportunity to our students, the opportunities that they've worked so hard for," said Jeannine Brandel, president of the AIA Executive Board.
The Xavier Prep Beach Volleyball team waited in anticipation, hoping their 2020 season wouldn't be canceled. But once Xavier announced its transition to online classes, senior Abby Converse knew canceling the spring athletic season would soon follow.
After just two weeks of competition, their season had come to an end.
"This is awful, but there are a lot of bigger problems around the world," Converse said.
After losing her senior season, she's keeping an empathetic attitude. Converse, a Stanford commit, stays positive as she knows she'll have another opportunity to play. But she feels for her fellow seniors who had their last season end prematurely.
"We should have looked around and enjoyed those moments more because you never know what's going to happen," Converse said.
As this pandemic has taken seasons away from athletes all over the world, Xavier coach Tim McHale said that his seniors are disappointed that they don't get to finish what they started with their team.
The news of cancellation came on a game day for the Gators. Given the circumstances, Xavier couldn't follow standard gameday tradition. As team captain, Converse decided to rally her teammates by hosting a team lunch via Zoom.
"Zoom calls really help us stick together as a team," Converse said.
The AIA has also prioritized communication with students as they've organized meetings on Zoom as well as through Google Meet, Brandel said.
As a college prep school, most of the senior Gators already know where they'll enroll in the fall. Meanwhile, McHale is eager to help his players continue to play the sport they love.
"I try to be a support system and will do whatever it takes to give them what they need if they want to continue playing somewhere," McHale said.
However, given current quarantine restrictions, finding places to train remains an issue. The Xavier beach volleyball court is down, as are beach courts across the valley.
"It's really funny as you look at the city of Scottsdale, tennis and pickleball courts are still up and everybody's allowed to play," McHale said. "We're trying to wrap our heads around why."
McHale explained that recreationally, people often play beach volleyball with groups of people on each side of the net but competitive players only play in pairs. Assuming rec players hit the sand in packs, social distancing is at risk.
Despite the cancellations and closures, athletes have adapted and improvised, finding new ways to train and get their workouts done from home.
"I measured out sideline to sideline and I've been doing shuffles and footwork, strength and agility, and I've had my parents toss me so many balls to get passing reps," Converse said.
Moving forward, the AIA plans to treat this summer just like any other year. They're scheduling and preparing for fall sports as usual.
"We want to make sure we've got all of our contests scheduled, our equipment all squared away and have everything in place," said Brandel.
---