Mesa softball star Salas eyeing next level
April 23, 2020 by Marti Savlov, Arizona State University
---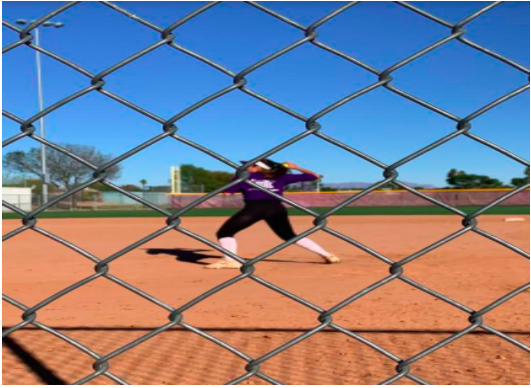 Fridda Salas started playing softball at 11 years old. She moved to Mesa, Ariz., from Sonora, Mexico four years ago because her parents wanted a better life.
Now she's a star softball player at Mesa High School and accepted a scholarship offer to continue playing at Mesa Community College.
Her mother used to play softball but stopped when she became pregnant. Salas became inspired by her mother's past and started playing to make her proud.
Salas also received offers from different colleges but chose Mesa Community because it is the best fit and is closer to home.
"I never even thought of playing at the next level," Salas said. "My coach gave me this card at the end of the season and she said, 'You will get a scholarship,' and I still have it."
Her parents work every day and take care of her family back home in Mexico. To buy equipment for softball, Salas started a bakery from home. She made enough money to buy herself a glove last year and is currently working to buy herself a bat by selling cakes. She bakes an assortment of goods with a specialty in cakes.
"Her cheesecake is amazing," teammate Justine Galarza said.
This year, the team nominated Salas to be the team captain before the season was shut down because of the COVID-19 pandemic. They all closed their eyes and every girl voted for her.
Teammates say she is optimistic, hardworking and grounded, many of them emotional when talking about how uplifting Salas is.
"She works hard, her priorities are right, she puts her body in front of the ball, is super uplifting, and even if I called her in the middle of the night I know she would be there," coach Kylie Eskridge said.
Eskridge noted her hard-working attitude and listening skills as some of her best attributes.
Salas first met Eskridge at 15 when she tried out for Eskridge's travel ball team, the Red Hawks.
Since Salas has known the coach and team for years, she has a unique bond with all the girls.
"We all bring something that brings out the best and it feels right, it feels right to be here," Salas said.
She prioritizes softball but also school. She hopes to study pre-dentistry, while crushing the ball on the field next year at Mesa Community College.
---