Chandler football aims for five-peat in 2020
June 25, 2020 by Jordan Spurgeon, Arizona State University
---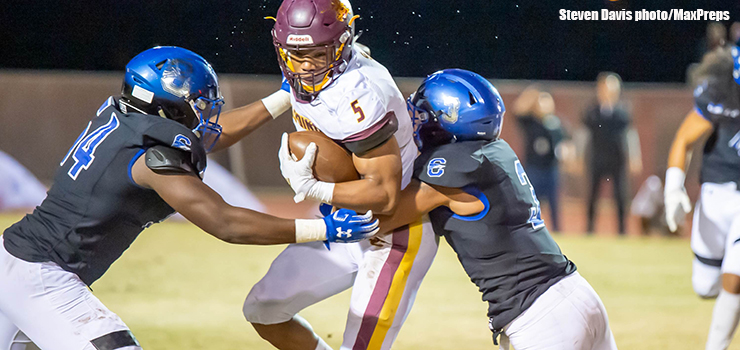 In a year clouded by uncertainty and chaos, only one thing has remained clear for the Chandler High School football team: its desire to win another state championship.
With a top-10 national ranking, the Wolves will face a tougher schedule than in previous seasons in their quest for a fifth consecutive state title.
Revised 2020 CHS FB SCHEDULE #LETTHEJOURNEYBEGIN pic.twitter.com/0SWLJAqIic

— Coach G (@GarretsonRick) June 12, 2020
They've won five out of the last six, winning Arizona's first Open Division championship last season.
The Wolves went 13-0 under first-year head coach Rick Garretson, who spent the previous eight seasons on staff as an assistant. He's seen the winning habits at Chandler blossom over the past decade and hasn't let that culture change.
"As time has gone on over the past decade, we've developed a nice mention in the Arizona football world and the national scene as well," Garretson said. "We expect nothing less than championships at the end of it all."
The Wolves have 21 players on the roster who have combined to receive 107 total college scholarship offers, including 93 from NCAA Division I schools.
The team's success begins with quarterback Mikey Keene, who took over as the starter for the Wolves last season and threw for 2,835 yards while completing 73 percent of his passes.
"We've got a gunslinger at quarterback that can make things happen for us," said Garretson, who said he has never seen a quarterback make more mesmerizing plays at the high school level.
Keene is the unquestioned leader, and the way he has supported his teammates during the COVID-19 pandemic has only amplified his role as the captain of the team.
Senior tight end Eli Swope, who is close friends with Keene, was blown away by how often he checked in on their teammates.
"He's the best leader I've had on any team," Swope said. "There's no doubt that we all trust him to do the right thing on and off the field."
In 2019, the Wolves' offense averaged 50 points per game. This year, Keene gets to throw to a talented receiving core comprised of juniors Quaron Adams and Kyron Grayes, and seniors Swope, Jalen Richmond and Nason Coleman. All five have NCAA Division I offers.
"It's awesome being able to throw to those guys," Keene said. "There is nobody in the state who can guard our receivers one-on-one."
The defense, which held eight of its opponents to 14 points or less last season, has eight starters returning. Senior middle linebacker Kyler Orr understands that this year can be special for this group.
"As a leader this year on defense I can't wait to get out on the field with my guys and get back to the state championship game," Orr said.
The defensive line, which recorded a school-record 62 sacks in 2019, is the focal point of the game plan. Senior defensive ends Zion Magalei and Brandon Buckner relentlessly compete in practice and are the driving forces of the D-line.
Their goal is to record 100 sacks as a defense for the 2020 season, which would be 50 more than any other team had in 2019, excluding Chandler.
"We have a big goal this year," said Buckner. "We feel we will be the best defensive line in the state."
Individually, Magalei and Buckner said they're chasing the Chandler single-season sack record of 17.5 sacks, held by Cameron Jordan, who plays in the NFL with the New Orleans Saints.
Buckner, who recently committed to play at the University of Oregon, fell one sack short of the record last season with 16.5.
"𝙱𝚎𝚎𝚗 𝚝𝚘𝚕𝚍 𝚎𝚖 𝙸 𝚠𝚊𝚜 𝚌𝚑𝚘𝚜𝚎𝚗, 𝚒𝚖𝚖𝚊 𝚏𝚞𝚕𝚏𝚒𝚕𝚕 𝚖𝚢 𝚙𝚞𝚛𝚙𝚘𝚜𝚎..."
𝙲𝙾𝙼𝙼𝙸𝚃𝚃𝙴𝙳🙏🏾
𝙳𝚁𝙴𝙰𝙼𝚂 ➡️ 𝚁𝙴𝙰𝙻𝙸𝚃𝚈
𝚂𝙲𝙾𝙳𝚄𝙲𝙺𝚂 #𝙶𝙾𝙳𝚄𝙲𝙺𝚂 #𝚃𝙰𝙺𝙴𝙵𝙻𝙸𝙶𝙷𝚃𝟸𝟷 @coach_cristobal @CoachKWils @oregonfootball @CoachJsalavea @AADucksDC pic.twitter.com/jCpCiodw16

— Brandon Buckner (@brandonbuckner_) May 29, 2020
The coaching staff uses the phrase "iron sharpens iron" to inspire their players to outperform each other in practice.
"Everyone is always competing for a spot," said Garretson. "We always tell them don't knock that door down, kick it down and make something of yourself. It's part of the culture."
Although COVID-19 put a damper on spring football plans, the Wolves' coaching staff and players met on Zoom twice a week to discuss their playbook and game plans. Sometimes Garretson wouldn't even discuss football, but instead talked to his team about life and current world events.
"I think the Zoom meetings helped us get smarter as a team," senior offensive lineman Tevainui "Tevai" Neher said. "Our football IQ is through the roof right now compared to where we'd usually be at this part of the year."
Phase one of the return to football began for the Wolves on June 8. They're only allowed to condition and work out in pods of 10 for the next three weeks, in accordance with guidelines set by the AIA and the Chandler Unified School District.
They'll be able to resume full team practices by Aug. 1 in order to prepare for week one of the season, when they will face Centennial on Aug. 21 in the AZPreps365 Football Game of the week, which will be streamed online for free.
---