Basha volleyball aims for a return to the top
July 17, 2020 by Amna Subham, Arizona State University
---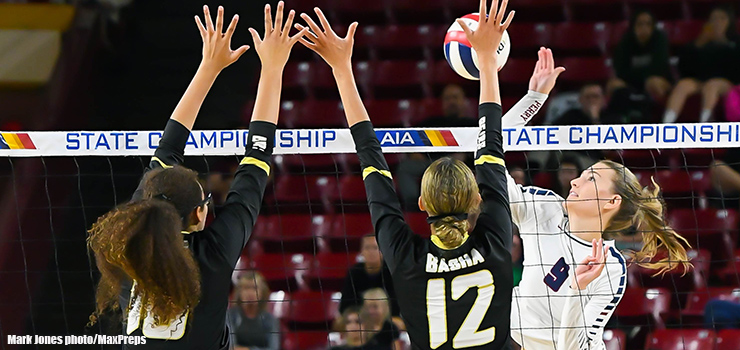 Terri Spann coached the Basha High School volleyball team to a 6A championship last season. Now the team hopes to repeat, just safely.
Starting up high school sports is risky during the COVID-19 pandemic, but Spann thinks it's a risk many parents and athletes are willing to take.
"You personally have to decide if it's something you're willing to risk by playing," Spann said.
Some parents she's spoken with voiced concerns, but most indicated they want their kids back on the court. If a player tests positive, though, she's not sure how parents will react.
Spann said it's hard to find the balance in being safe. There's no way to be completely safe without sacrificing the important aspects of the sport. Precautions that require sanitizing balls after each bump and set or practicing entirely without balls is too far, she said. At the same time, Spann will implement whatever necessary to allow the girls to play again.
"I'm hopeful because I know how important this is for the kids," she said. "I know how important it is for their sanity."
Spann noted she's seen an increase in mental health struggles. Without the sports that they love, some high school athletes are unmotivated and depressed, she's found.
Haley Carrington made 6A's All-Conference second team last season. Now heading into her senior campaign at Basha, she's just looking forward to playing with her team one last time.
Basha athletic director Eric Magaña is working with stakeholders on multiple levels to get fall sports off the ground. From district officials to coaches, they're working together to make rational, informed decisions.
Barring changes, the first day of practices will convene on the first day of school, which for Basha is Aug. 21. Last month Arizona Gov. Doug Ducey pushed back the start of statewide in-person schooling to Aug. 17.
Magaña is optimistic the fall season will commence but is working entirely in the interest and safety of the players.
"I wake up every day thinking how can I make sure that the kids on our campus are safe," he said. "That's our priority. That's my priority."
Protocols set in place by Basha include sanitizing all equipment before and after each use, social distancing where possible and wearing masks around campus.
Mandates to wear masks while competing is being discussed, but both Magaña and Spann don't find that realistic. Spann worries it may be harmful to her players' breathing.
Volleyball, unlike football, is a non-contact sport that begins each serve with natural distancing. However, Spann finds volleyball to be more high-risk compared to others. It's played indoors, the ball is shared rallying back and forth, and players often bump into each other.
Basha isn't putting a one-size-fits-all glove on the different sports, Magaña said.
"There are different variables you want to look at with each sport," he said. "We want to make the decisions based on what those individual sports look like."
There can only be so many plans the school can make on its own. Magaña said they're at a standstill waiting for AIA's decisions.
AIA Sports Information Coordinator Seth Polansky said the association intends to complete the full schedule concluding with championships. That would depend on schools remaining in-person which the state will determine.
If high school volleyball is canceled, Spann said her players will go play for clubs or find other avenues. She runs her own club team, Arizona Storm Elite Volleyball Club. In the event that high school sports are restricted, Spann said she'd still help her players stay involved and help them get recruited by colleges.
"If it's under our control in a high school environment we'll do a much better job as opposed to club because they don't have to follow the same protocols," she said.
While clubs haven't competed, they have trained together. Carrington has practiced with her club team, One Beach. She said the club levied precautions, but it's been difficult to adapt.
With play being limited this summer, Spann said players took to the sand, and when cities took away the nets, parents bought their own. Many will find a way to play regardless, she anticipates the same if high schools omit fall volleyball.
"The AIA is doing everything it can to conduct a fall season," Polansky said.
Protocols for volleyball could include not switching sides after games and filtering in more balls with a dedicated person to sanitize them. There are also potential plans where players cannot high-five their teammates or at the end of the game with opponents. The goal is to stay as contactless as possible.
Carrington said it feels almost rude to not high-five. She explained how a team is so close in volleyball, the concept will take some getting used to.
"Everyone is so used to sharing everything with their teammates whether it's water or an extra pair of socks," she said. "I feel that not being able to bond like that will affect the team environment."
"AIA's bylaws do not include for association oversight on medical issues, therefore the testing responsibility will be handled at a local level," Polansky said. If a player is suspected of contracting the virus or shows symptoms, they should stay home and get tested as per the guidelines given to them by school personnel.
Magaña noted tests in the area are hard to come by. He doesn't know if there's a right answer for that. Basha administrators are working on guidelines for those scenarios.
Gov. Ducey announced in a recent press conference that Arizona will ramp up its testing capacity. Less invasive saliva tests will be available as well, according to the governor.
High school sports need to happen, Magaña said. He realizes that may not be realistic if circumstances change.
"Everybody's hopeful for a season. No one wants to end it," Spann said. "On the flip side, we're willing to do whatever it takes so that everyone's safe."
---