Coconino's Bennett rushing for more than records in fall
September 2, 2020 by George Werner, AZPreps365
---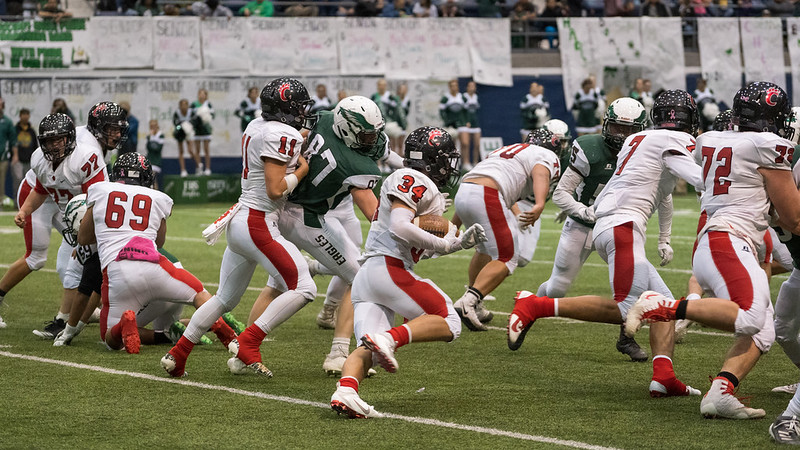 He ran away with his school's single-season rushing record as a junior.
He hustled Coconino High School to a 9-1 finish and the 4A Conference Grand Canyon Region crown in 2019.
Yet for the Panthers' Zach Bennett, no Coronavirus is going to stand in the way of his drive to make his final football season something special--no matter how many games it ends up being.
"I want to be known for that person who comes to work every day and works hard," said Bennett, who adds he has been conditioning for his final football season--currently slated for an October restart--since Friday, June 5.
"That's how I want to be remembered after I leave Coconino," he said.
The Panthers' football records--and their keeper, second-year head coach Mike Lapsley--already tell a less modest story. The 1,753 yards Bennett rushed for in 2019 were just one of 10 school records the first-team all-region running back broke that season.
And those are just the ones Lapsley can readily cite, with statistics.
"He broke, like, 20-something school records last year," said Lapsley, who earned last year's Grand Canyon Region Coach of the Year in his debut season after leading the Panthers to their first postseason appearance since 2005. "Now he's just running over people. He's a very dynamic runner: he can run downhill or he can juke you out of your shoes."
Consider these records Bennett, who has expressed a preference to continue playing football next season at Iowa's Drake University, already owns:
Rushing yards per game, 159 over last season and 141.1 for his career.
Career touchdowns, 39, 37 of which are rushing.
Touchdowns in a season, 23, with 22 of them rushing.
Career points scored, 238.
Points in one game, 36, including a record six touchdowns, five of them on the ground, in a 77-12 home destruction of Cortez on Sept. 13.
With 2,963 total career rushing yards in just two seasons, Bennett is only 860 yards away from the Coconino career rushing record--and Lapsley is confident his incoming senior, who also punts for the Panthers and starts at outside linebacker, will own that mark, even over an abbreviated eight-game schedule, if necessary.
"His running style, his vision of the field is amazing," Lapsley said. "That's just kind of a natural thing, the kind of thing us coaches don't have the opportunity to teach.
He is one of those running backs who can cut and can never lose speed. When there's times he doesn't need to be patient, he knows to hit [the hole] hard and hit it fast."
Last Monday, on Aug. 24, Coconino, for the first time in six weeks, cautiously opened up its weight room to Bennett, who Lapsley adds has packed more than eight pounds of muscle on his 182-pound frame since the Panthers' unexpected 10-9 home loss to state semifinalist Gila Ridge in the first round of last year's 4A playoffs.
"They studied film very well," said Bennett, who also has been working out with free weights and doing regular footwork drills off-campus ever since he was held scoreless by the Hawks on Sept. 13. "They were definitely bringing an extra defender over in the backfield. Teams are going to do that; they're definitely going to key on that.
"It was definitely frustrating, [but] it gave me a bunch of motivation."
For all the Panthers working out now, however, there is one significant difference.
Weights have been sanitized and moved outside, where there is proper ventilation and room for social distancing.
"His power clean is just ferocious," lauded Lapsley, who added that Bennett has bench-pressed his weight or better 10 times. "He's an incredibly strong kid."
But he is by no means alone.
He will be joined in the backfield and in the linebacking corps by another first team all-region athlete, senior Manuel Cardoza.
"He is an absolute beast," Lapsley said of Cardoza, who is poised to break a school record of his own, for solo tackles. "I look for him to do great things this year defensively."
Cardoza, like Bennett, is looking at playing football full-time next fall, whether on the Division I level or at a smaller school.
"That's what we both feel, honestly," Bennett said. "We both feel like we want to play ball somewhere where we're wanted.
"Manuel's just amazing. He comes every day and just works hard."
Whether or not Cardoza will join Bennett in getting their shot this fall is dependent on COVID-19 contingencies out of their hands, though.
"We can't control the uncontrollable," Lapsley said. "That's been our motto through this whole thing, whether it's an eight-game season or a 10-game season. The team has just been pushing forward as if it's a regular season."
---