Mesquite badminton set to defend championship under new coach
September 30, 2020 by Jude Binkley, Arizona State University
---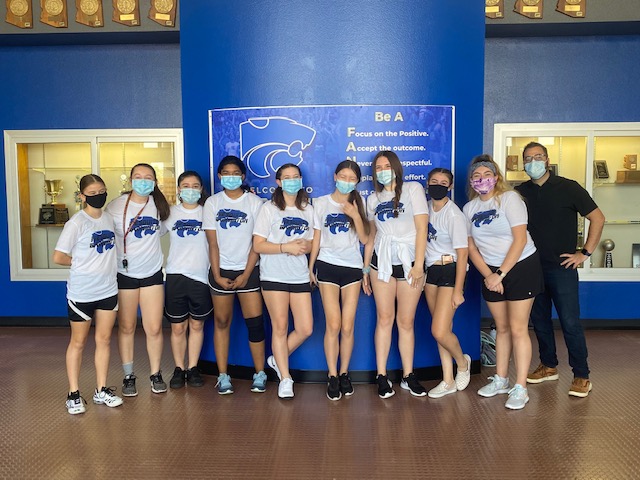 Jude Binkley is an ASU Cronkite School of Journalism student assigned to cover Mesquite for AZPreps365.com.
The Mesquite badminton team is looking to continue its success following an undefeated season last year that brought the Wildcats their first state championship in school history.
New coach Joshua Anson is at the helm after Mark Hanna stepped down following 12 years of coaching at Mesquite.
The team is led by seniors Sabrina Farias and Brianne Campbell, the two returning members from the championship squad. Farias went a combined 28-0 in singles and doubles last season, and has a perfect record in her sets so far this season.
"Between Sabrina and Bri, they're taking on different aspects of leadership roles," Anson said. "Sabrina's right there when players come out of their games, letting them know what they did well. She's like coaching material, she could be a coach someday. Bri is there encouraging players and keeping a positive attitude at practice and games."
The Wildcats are off to a 5-0 start this season, posting three wins over Division II East Valley opponents.
"So far our season has been going great, our team is very close and we're always having fun," Campbell said. "I feel we're best at keeping each other positive. If one person starts getting down on themselves or losing that confidence we're all there immediately to pick them back up."
In addition to strong leadership, one of the Wildcats' biggest strengths comes from how each athlete's playstyle complements one another on the court, a strategy Anson has capitalized on in doubles pairings.
"We kind of play to the strengths of each player," Anson said. "Some of them are more finesse and then a player like Sabrina is more of a power player. So her and Bri pair together well as doubles. Our No. 2 doubles pair is well-paired with one power player and finesse. The main thing is they communicate really well."
Kimiye Westover, Isabella Gonzales and Lillian McCullough are making the jump to varsity after playing on the junior varsity last year. Freshman Pravindi Gurusinghe rounds out the team's six.
Because of the Coronavirus pandemic and classes at Mesquite initially going online, the team couldn't recruit in classes like past years. The program size is at 12 players compared to 19 last year. Some athletes couldn't practice until the week before their first game.
While the Wildcats believe they can make it back to the state championship in November, they haven't let up on working to improve.
"There's always room for improvement, but I think they have that mental toughness," Anson said. "And with the leadership that we have that's helping with these younger players, I think they definitely compete."
The Wildcats look to stay undefeated when they travel to Combs High School (0-6) on Thursday.
---