Barry Goldwater falls short to Deer Valley in home opener
October 3, 2020 by Andrew Kurland, Arizona State University
---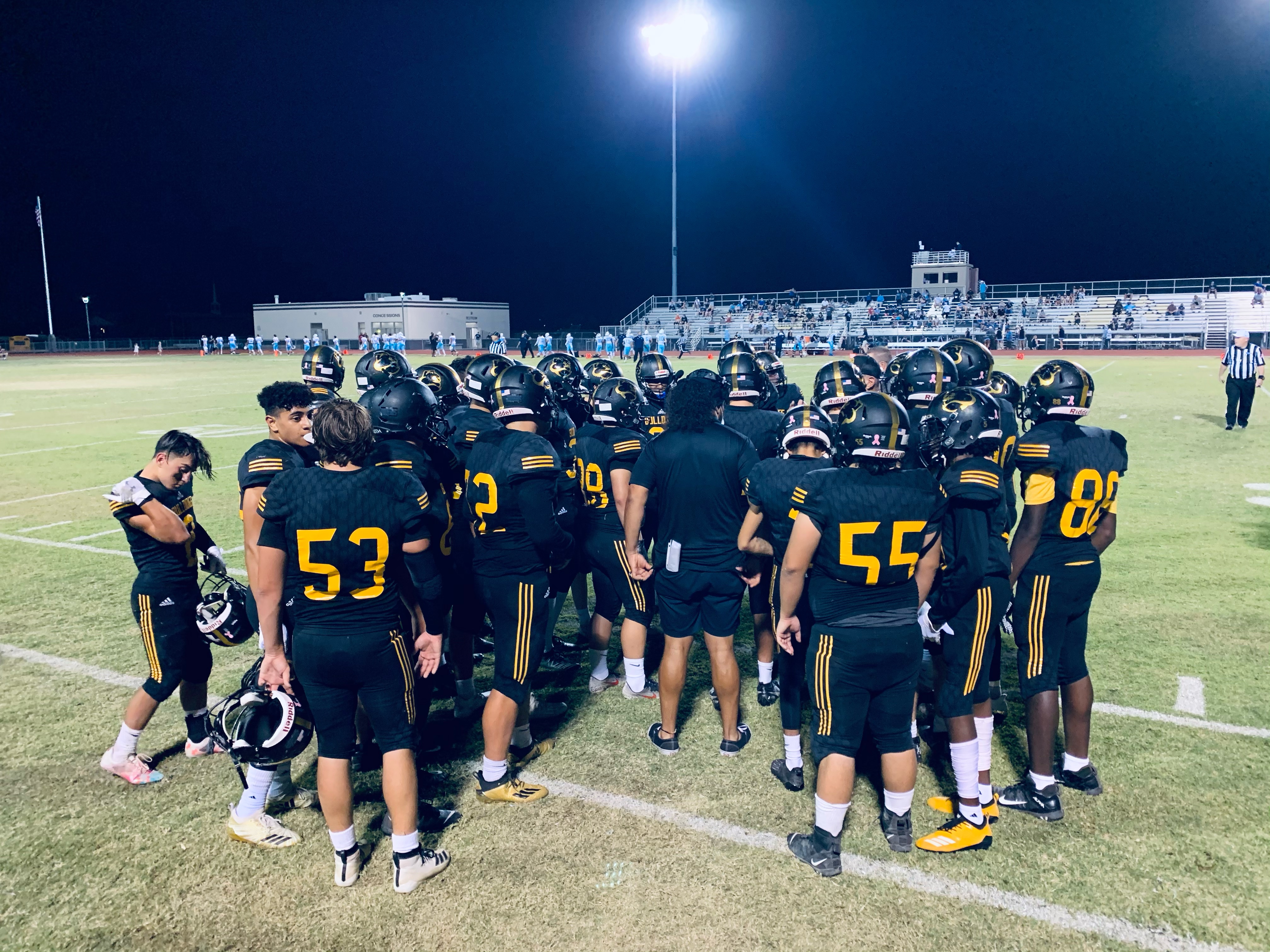 Andrew Kurland is an ASU Cronkite School of Journalism student assigned to cover Barry Goldwater for AZPreps365.com.
Despite a late charge, the Barry Goldwater Bulldogs fell just short in a 27-24 loss to Deer Valley on Friday night.
Throughout the contest, the Bulldogs struggled to hold onto the football. Two fumbles, one leading to a 90-yard recovery for a touchdown, left the Bulldogs down 10 in the first quarter.
Overall, the Bulldogs fumbled four times. The turnovers, as Coach Frank Lautt put it, need to be addressed.
"We have to get back to it on Monday,'' he said. "Go back to fundamentals of holding the ball."
In a game driven by momentum, the loss of possession ended up playing a significant role. For senior running back Earnest Greenwood, the turnovers impacted the mood on the field.
"We needed to hold the ball, keeping the drive going, we needed momentum,'' Greenwood said. "We have to keep the momentum going. Because obviously after a turnover, you saw how many heads were down, the momentum shifted just like that."
Greenwood was the player to watch. He scored all four of Barry Goldwater's touchdowns. With speed and agility, Greenwood opened his senior year with an impressive performance.
"(Greenwood) did well," said Lautt, adding: "He picked up right where he left off last year. One of the best running backs in the state."
Despite Greenwood's strong effort, the Bulldogs still fell short. They didn't, however, go down without a fight. Their second-half run consisted of three touchdowns to take the lead entering the closing minutes. The shift in momentum led fans to their feet, cheering the Bulldogs to the end.
The late-game comeback didn't surprise Greenwood.
"We already know we are a second-half team,'' he said. "The second half is what we do. Coming into this year that was the thing we needed to work on, was all four quarters. We started off slow, but we always pick it up at the end."
Despite the lead, the Bulldogs' momentum was cut short late in the fourth quarter when Deer Valley's Kellen Huth caught a 59-yard pass. That set up the winning touchdown.
"We fell short today,'' quarterback Jesse Martinez said. "We need work. We need serious work. All I have to say is, we're going to come back. We're going to come back stronger."
Even though Barry Goldwater came up short, the energy from the limited group of fans was evident. According to senior leader Brody Beckman, each player, band member and cheerleader received two tickets to the game. The extra support helped Martinez push through.
"It felt great," he said. "I didn't even think we were going to have people in the stands and it really helped us a lot."
Barry Goldwater travels to Apollo next week.
---