Chandler's blowout win over Pinnacle
October 10, 2020 by Joshua Pullen, Arizona State University
---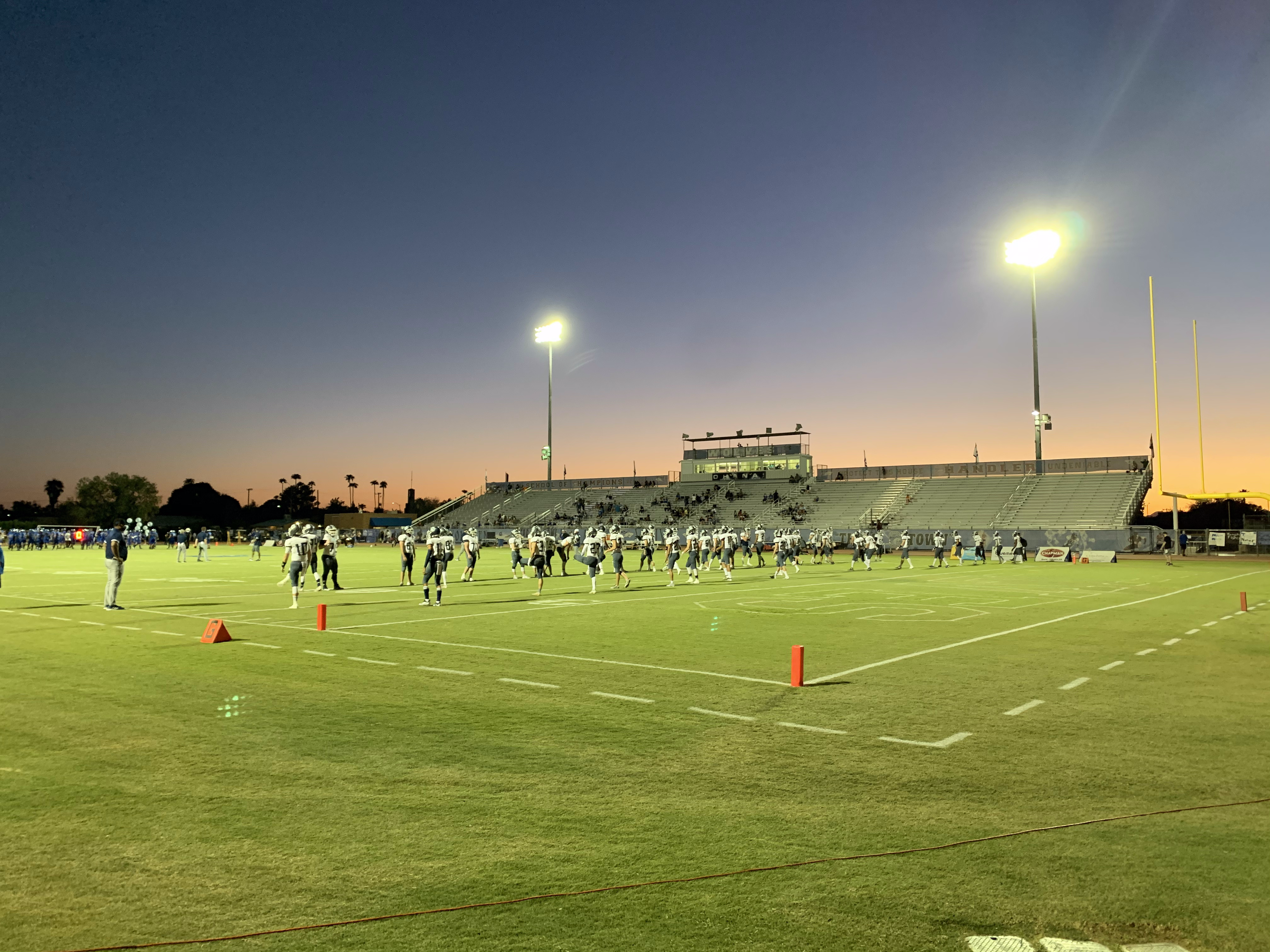 CHANDLER -- Ryan Feinberg saw the most action on the field tonight for Pinnacle as he punted the ball eight times. It was a struggle for the Pioneers on both sides of the ball as they lost 64-0 to last year's state champions, Chandler High School.
Chandler hasn't lost a game since Week 1 of their 2018-2019 season and were not looking to lose tonight as the Wolves jumped out to a quick 14-0 lead. This was thanks to a pair of 65-yard drives which included a 43-yard touchdown run by Chandler's Eli Swope.
Pinnacle's ineffectiveness to stop the run game became the story of the night as four different Chandler players rushed for touchdowns. Chandler running back Eli Sanders had four rushing touchdowns with his longest coming from his own end zone as he ran right up the gut to bring it into the house from 95-yards out.
Pinnacle defense showed some promise early in the second quarter with a big 4th-down stop inside their own 25-yard line but were unable to capitalize offensively.
While it's easy to target Pinnacle's QB Devon Dampier for their lack of offense, the blame isn't entirely on him. The offensive line's inability to keep a safe pocket for Dampier became the norm as he scrambled away from several defenders every play.
If it couldn't get any worse for Pinnacle, their longest positive gain came off a 45-yard kickoff return which unfortunately resulted in a lost fumble.
By halftime, Chandler led the Pioneers 43-0.
Pinnacle came back from halftime still unable to find their stride as they had three-and-outs for the rest of the night.
It was a full-team effort, as Chandler finished with 422 yards on the ground, totalling over 600 all-purpose yards.
"It was a very tough loss this week," said Pinnacle head coach Dana Zupke. "We're gonna have to go back and look at the film to see what we can improve upon for next week."
Zupke came to Pinnacle High School 17 years ago, entering the season with a record of 121-63 and 12 consecutive playoff appearances.
"It was a tough loss but we're a young team, we have a lot of new players," said Zupke. "We'll watch the film, fix the mistakes and keep working hard at it till it clicks."
Pinnacle plays ranked No. 3 Salpointe Catholic High School next week at home.
---