Desert Heights expects production from all ages of varsity athletes
November 19, 2020 by Kevin Redfern, Arizona State University
---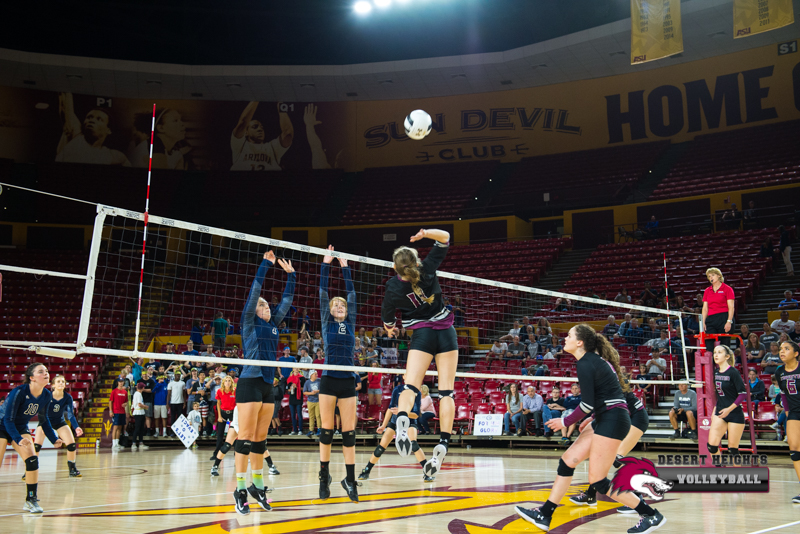 Kevin Redfern is an ASU Cronkite School of Journalism student assigned to cover Desert Heights for AZPreps365.com.
Most seventh and eighth-graders dream about making the big play at their local high schools, whether it is on the court or under the lights. They know they are only a few years away from competing for their hometown schools.
At Desert Heights Preparatory Academy, a kindergarten through 12th-grade school, a select few eighth and even seventh graders have had serious impacts on varsity teams.
Because of the small enrollment at Desert Heights, a charter school, coaches look down the age line to find talent for their rosters. With no freshman-level teams to pick from, anyone can expect to be called up to varsity.
Junior volleyball player Kiera Alfred began her first varsity season at Desert Heights as a seventh grader. Alfred was one of the best volleyball talents at the school. She had been at the school since kindergarten, but started to ponder transferring to the bigger, public Centennial High.
However, she soon realized the value that would come with the attention of being a young varsity player.
"There are many opportunities for one-on-one attention with volleyball and the academics." Alfred said. "That is why I stayed."
Three years later, the Desert Heights volleyball team has four underclassmen who played volleyball this season. Among them is freshman standout Gabriella Escobar. Similar to Alfred, Escobar joined the varsity team before turning the traditional high school age. She did so in eighth grade. The next closest teammate in age was a sophomore. On top of the pressures of being significantly younger than some teammates, she had the added challenge of competing with her older sister, Isabella, who is now a junior on the team.
"There were some times where I felt defeated because I was so young," Escobar said. "I just had to keep pushing."
Soon enough, Alfred and Escobar established a relationship. Both play club volleyball during the offseason, and they both attend the same personal training sessions. Alfred says that all the girls, no matter age, are close during the season.
"Gabby is always asking questions," Alfred said, "it's nice being able to give her and others guidance."
These relationships are the reason coach Courtney Martin and other varsity coaches at Desert Heights pull so many younger kids up to their teams. By taking a couple of younger athletes every year, coaches hope the players will strike critical relationships with upperclassmen and hold on to those lessons over their high school careers. Martin also can develop those connections with her players.
"You get more quality time to grow with them and build a relationship with them," Martin said. "You grow up with them and as a coach, get pushed to work with all levels, and differentiate between every athlete."
Volleyball is not the only sport at Desert Heights that consistently pulls up younger players. Ten out of the 18 students who played varsity basketball last year, boys and girls, were freshmen.
The football team fielded two sophomores and a freshman this fall. Diversity in age is something celebrated within Desert Heights athletics, and is expected to be part of their programs in the future.
---