Amphi is now 4-0 after beating Rincon/UHS 42-0
November 21, 2020 by Andy Morales, AZPreps365
---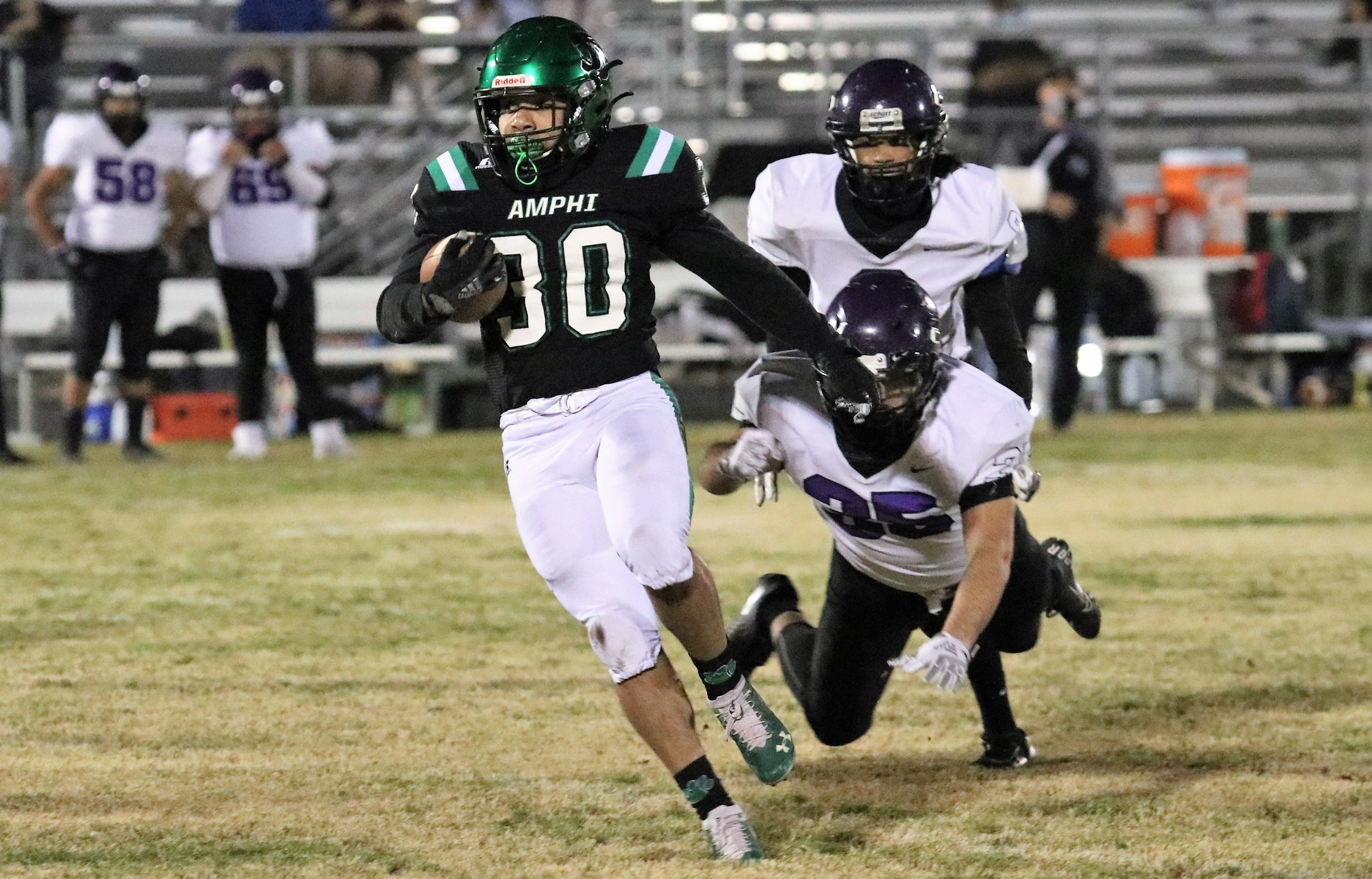 Amphitheater moved to 4-0 on the year after beating Rincon/University 42-0 Friday night for the first time since legendary football Vern Friedli guided the Panthers to a 13-1 record in 1997. That team lost to Mountain View Mesa 28-24 in the 5A state championship game but the current team will not get that kind of finish with the majority of Tucson area squads unable to qualify for the state playoffs.
The AIA Bracket Release Show is scheduled for Saturday morning and only Salpointe and Pusch Ridge will have a spot reserved for them in the state playoffs. 2A powers from Southern Arizona, Benson and Santa Cruz, will also draw attention after winning play-in games on Friday night
Salpointe (6-0) is destined for the Open Division after beating Desert Mountain 31-3 and No. 5 Pusch Ridge (7-1) is looking to host a 3A quarterfinal game after No. 3 Blue Ridge and No. 4 Valley Christian lost. (Rankings are different than seeds in the 3A playoffs).
No. 1 Benson (7-0) and No. 3 Santa Cruz (6-1) are also expecting to host a 2A quarterfinal game.
For Amphitheater, the name of the game at this point is to get games in while trying to avoid cancellations due to positive COVID results. There is also some conversation around a mini tournament for Tucson area teams and the Panthers are building a case for inclusion in those talks especially with the numbers being put up by their running back crew.
Senior Isiah Hill rushed for 215 yards on 13 carries with two touchdowns against the Rangers, Jr. Kiko Trejo finished with 85 yards on 7 carries with a score and Sr. Emilio Cocio had 39 yards with another score. Trejo and Hill might break 1,000 yards each of the Panthers can get the games in.
Lineman Daniel Dominguez added an 8-yard scoring run for the Panthers, fellow lineman Jose Gonzalez ran in a 2-point conversion and Michael McGinnis had two interceptions. The Rangers struggled to move the ball but Sr. Steven Geiger had 42 yards rushing, 59 yards receiving and he picked up an interception.
Rincon/UHS dropped to 0-2 on the year and it's likely the Nov. 25 game scheduled for Ironwood Ridge might not take place with the Nighthawks canceling their scheduled game against Desert View Friday night. The Panthers are set to host Empire (0-1) on Wednesday.
Steven Geiger (Andy Morales/AZPreps365)
---