Sacrifice and safety: How Valley Christian ensured successful seasons for its athletes
December 4, 2020 by Cole Topham, Arizona State University
---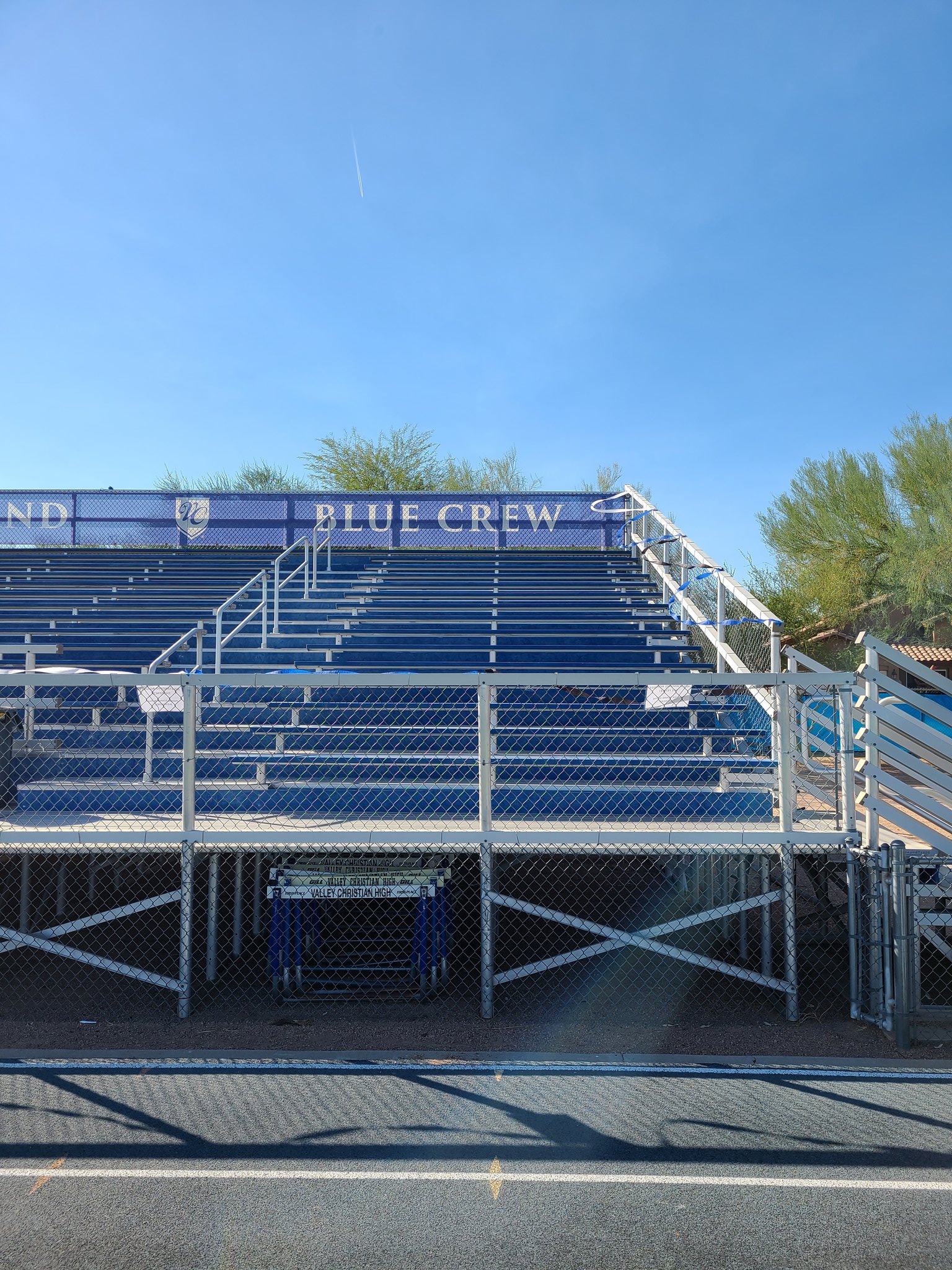 Cole Topham is an ASU Cronkite School of Journalism student assigned to cover Valley Christian High School for AZPreps365.com.
When simply looking at Valley Christian's box scores and standings, it may not seem like COVID-19 has particularly impacted the success of the school's athletic teams.
In football, the Trojans achieved a 6-1 record and scored 31 touchdowns, earning their third consecutive playoff berth. Senior Jadon Hanzal threw for 1,753 yards, which ranked third among 3A quarterbacks. The University of Mary commit even broke a program record with seven touchdown passes in a single game.
The girls volleyball team finished 13-2 and went undefeated in freedom play. Senior Emma Richardson and junior Cara Braun both ranked top 10 in hitting percentage in the conference. The Trojans continued their success and won their first two games at the state championship.
However, those dominant seasons for the Trojans didn't happen without sacrifice in response to the virus.
Valley Christian is allowing fans to attend home games, but Benson Field is capped at around 40 percent capacity. The school has moved to ticketless admission. Spectators are required to wear face coverings and spread out in designated zones over the bleachers. The team also debuted a live stream on the Valley Christian's official athletics website to help fans stay connected and enjoy the action virtually.
Valley Christian athletic director Greg Haagsma said that the school's commitment to protecting its community has resulted in significant financial losses. Between football and volleyball, Haagsma said limiting the gameday crowd has contributed to at least a $5,000 loss in ticket revenue. Around $3,000 was lost in concession stand sales, which restricted the athletic department's ability to enhance the experience of its students through bonding trips or improved gear.
On top of that, the Trojans' athletic department slashed its budget before the season.
"All of our sports, school-wide, had about a 10 percent cut in their budget at the beginning of the year," Haagsma said. "That was to offset some of the losses that we were going to sustain for this."
Another important safety measure that cost the Trojans was the decision to invest in new football equipment.
"This is a special time for kids," coach Jake Petersen said, "so we wanted to make sure everything is safe. Whatever we can do to prevent the spread of this virus, we're gonna do it."
Haagsma said the most disappointing aspect of playing in the pandemic is the effect it has on recruiting. Both the football and volleyball teams gave up home games because of shortened seasons. The latter has been hit especially hard.
"We lost all of our tournaments for volleyball," Haagsma said. "Typically, we go to two or three tournaments, which cost us probably seven or eight games at least. So those were opportunities for our girls to play against some of the bigger schools, which is usually pretty important because those are some of the better games our girls send to college coaches."
None of Valley Christian's athletes could have imagined that their senior seasons would look like this.
"It was so unexpected," senior libero Macy McClain said. "You don't know what's coming next. You don't know what's in store. I was looking forward to this for so long and it's crazy that this is how it's turning out."
"The kids are feeling more pressure this year than they have in past years," Haagsma said. "You can sense that with the way that they're looking at game film and certainly talking to coaches and things like that. The coaches are trying to keep it the same as possible, but I think everybody is recognizing that there is a little bit of change."
Haagsma said he expects the school's coronavirus protocol to continue for athletes partaking in winter sports, whose seasons were put in jeopardy by a surge in cases this November. On Nov. 19, the Arizona Interscholastic Association announced the postponement of high school winter sports seasons until Jan. 5.
With the fall season complete, Valley Christian is prepared to adapt to any challenges presented by COVID-19 in the new year.
---