Benson to meet Santa Cruz in the 2A title match
December 6, 2020 by Andy Morales, AZPreps365
---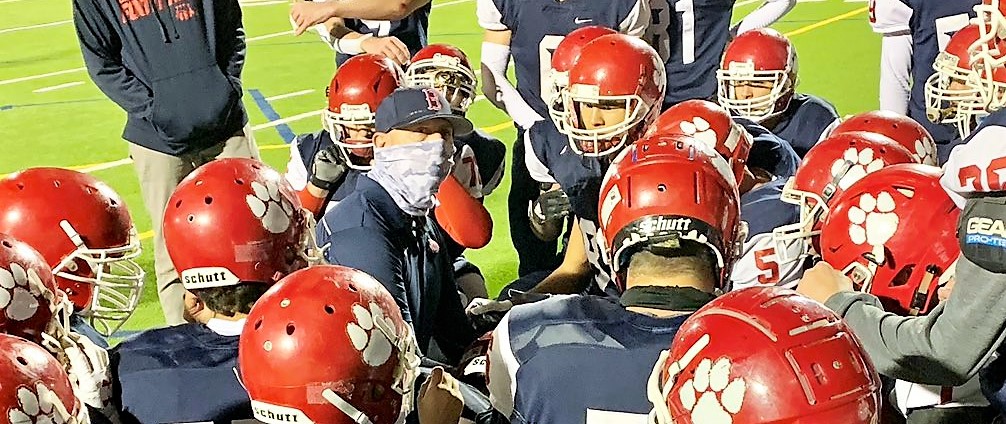 The 2A Conference state championship slate is set with No. 2 Eloy Santa Cruz (8-1) taking on the top-seeded Bobcats of Benson (9-0) on Saturday, Dec. 12 scheduled for 1 p.m. at Scottsdale Coronado. This will be the fourth match between the two programs dating back to 1997 with the Dust Devils holding a 3-1 lead including a 49-0 win in 2017 and a 44-8 win in 2016.
The 2016 loss came a year after the Bobcats took second place in the state playoffs for only the third time in school history. Now, head coach Chris Determan (134-81-1) has another shot at a championship that has eluded the Bobcats. Meanwhile, the Dust Devils have seven state titles but none since 1990 and current head coach Rishard Davis (57-21) led the program to a runner-up finish in 2017. It will obviously be the first title for either coach.
The final was set up after a long day of semifinal games held at Higley High School on Saturday with Santa Cruz outlasting No. 7 St. Johns 27-20 in the day game and Benson holding on to beat No. 4 Arizona Lutheran 34-27 in the nightcap.
Santa Cruz standout Hunter Ogle finished with 186 yards rushing with a couple of touchdowns to help lead the Dust Devils to victory but it was the play of Jr. Steve Calvin that proved to be the difference. Calvin scored on a 47-yard run and back-breaking 67-yard punt return.
Ogle put Santa Cruz up 6-0 on a short run midway through the first but St. Johns went on a 90-yard scoring drive with Cael Stewart running the ball in from 3 yards out to give St. Johns a 7-6 lead and then Stewart hit Case Heap from 26 yards out to give St. Johns a 14-6 lead in the final moments of the first half.
Ogle turned a St. Johns fumble into another short TD to cut the lead down to 14-12 in the third but Stewart found Joseph Bushman to give St. Johns a 20-12 lead with 6:07 left in the third.
St. Johns got to this point after upsetting Chandler Prep in the 2A ply-in game and knocking off No. 2 Scottsdale Christian in the quarterfinal round last week. It looked like Santa Cruz was next on the upset list but Calvin ripped off his 67-yard punt return to cut the lead down to 20-18 and then Wyatt Ogle threw to David Avilez on the 2-point conversion to tie the game up 20-20 to send the game to the fourth quarter.
Calvin put together his 47-yard run to give Santa Cruz a 27-20 lead with 8:56 left in the game and momentum changed. St. Johns gave the ball back on downs then the Dust Devils were forced to punt but one final chance at a score for St. Johns stalled with a sack on a long fourth down at the 30.
Stewart threw for 167 yards with two scores, Bushman pulled in 107 with a TD and Ira Tullous finished with 119 yards rushing for St. Johns.
This was the first meeting between the programs but St. Johns head coach Mike Morgan lost to Santa Cruz 66-0 in 1982 in his first year coaching with Ganado in the Class A quarterfinals. Some 342 wins later and Morgan still has what it takes to get a team ready for the playoffs and he did it on short notice with Stewart (6-4, 195) transferring in from New Mexico where he was rated the No. 2 QB in the state.
"It was definitely a brotherhood approach this year," Stewart said. "I was happy to be a part of it and we had one goal and came so close. My success was due to my line and the rest of my teammates making plays."
When asked about playing for legendary coach Morgan, Stewart got even more emotional. "I'm really grateful I had a chance to play for him," Stewart added. "I see him as a father figure and he taught me a lot in the short time I was here."
Morgan has more career wins than any other coach in Arizona history and those wins include six state championships so he has coached a lot of young men and a quite a few quarterbacks in his time.
"These kids are 16 and 17 years old and they've been working since last March mostly on their own," Morgan explained. "It was COVID this and COVID that but these kids got a lot better in only five regular season games but that also hurt us. We needed a few more games. As far as Cael is concerned I just had a few months to get to know him and he's special. He's come a long way."
With the stadium cleared and cleaned, Jacob Holguin stunned Benson with a 61-yard TD run to put Arizona Lutheran up 7-0 early and then a Bobcat fumble at the goal line put the Coyotes back in business but penalties hampered Arizona Lutheran and Benson cashed in on a punt and Brok Determan hit Mundo Esparza from 41 yards out to tie the game up 7-7.
The Coyotes were on their way to another score but Devin Bowling scooped up a fumble and dashed 89-yards to give Benson a 14-7 lead at the half. Eli Jacobson scored from close to get Arizona Lutheran back in the game but the extra point was missed and the Bobcats held a 14-13 lead with 5:25 left in the third. Jace Barney put the Bobcats up 20-13 with 42.3 seconds left in the third and then Determan hit Angel Rigney from 24 yards out to make it 27-13 with 8:31 left in the game.
The Coyotes still had a lot of firepower left and Gabriel McKenney cut the lead down to 27-20 on a 5-yard run with 5:52 left in the game. Rigney scored again from 26 yards out to put Benson back up 34-20 with 2:18 left but Jackson Indahl hit Jack Schaumberg from 7 yards out to make it 34-27 with 42.8 seconds left.
Catastrophe almost derailed the Bobcats after the Coyotes got the ball back on a fumble at the 50 with 28.2 seconds left but Jimmy Lerblance picked up his second interception of the game to secure the victory for Benson.
Indahl finished with 139 yards passing with Schaumberg pulling in 80 of those yards and Holguin and McKenny rushed for 110 yards each,
"Everybody worked together and we gave a lot to get here," Indahl said. "Our coaches helped us get this far and I'm going to miss playing with the seniors."
For the Bobcats, Determan threw for 76 yards, Bowling rushed for 49 and Barney had 101 yards rushing.
Arizona Lutheran had a state championship in 1992 and a couple of runner-up finishes in 2005 and 2007.
---