Diversity in Willow Canyon esports
December 16, 2020 by Maddux Burks, Arizona State University
---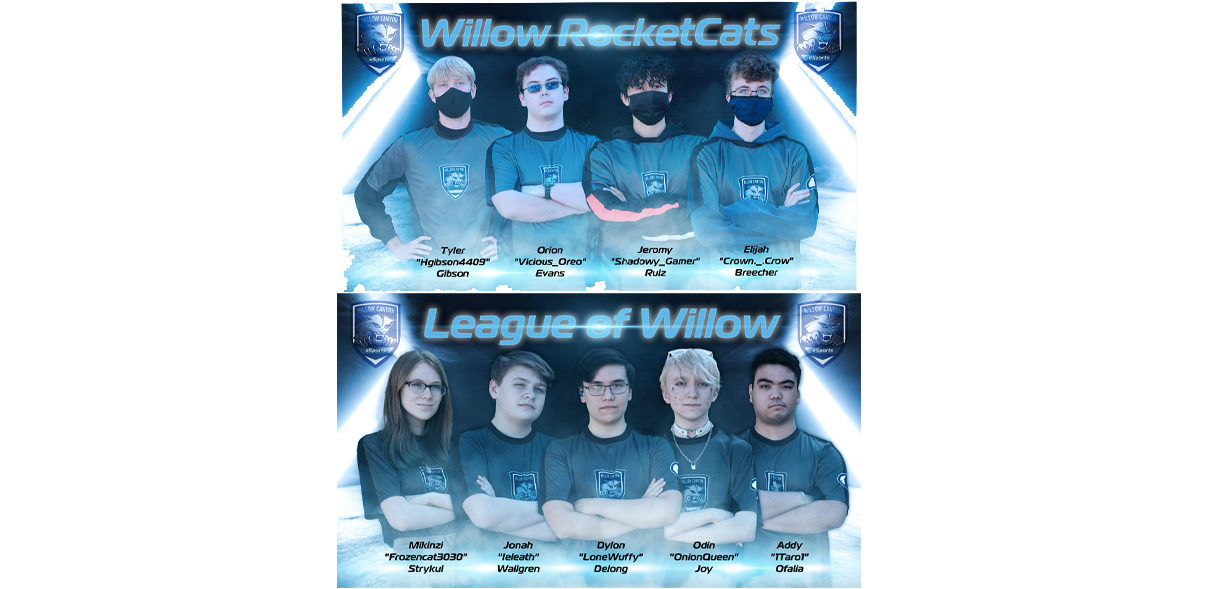 Maddux Burks is an ASU Cronkite School of Journalism student assigned to cover Willow Canyon High School for AZPreps365.com
No PC is made alike. Neither are the games that are played, and especially not the players that participate in them. The virtual world of video games welcomes every monster, soldier, superhero, plumber, racecar, and person. The Willow Canyon High School esports teams are no different.
Willow Canyon has five esports teams: League of Willow, Willow RocketCats, Willow Rocketeers, Wildcat Schwarzinators, and their Unified Special Olympics team, the Willow WildRoar. These teams use their PCs to compete in League of Legends and Rocket League games against rivaling high school squads across the state. For them, diversity shines through every facet of the sport. Diversity is even something that goes hand-in-hand with the sport itself.
Esports lends itself to inclusion and diversity. Students who wouldn't normally be engaged in sports gravitate towards esports, building a Willow Canyon video game team sprinkled with every type of student and person.
"There's not any one socioeconomic group or race or gender or identity that defines all of them," head coach Jon Alfred said. "I have the 'social outcasts' and the 'popular' kids. … There's no real stereotype."
Gaming escapes the stereotypes and stigmas that often surround traditional sports teams. Traditional athletes are expected to be muscular, sociable, and adapt to the requirements of their sport. Esports players possess all of the competitiveness of traditional athletes but are free to be the athlete of their choosing.
"With esports, you can just be you," said graduating junior Mikinzi Strykul, who plays for League of Willow, Willow Canyon's varsity League of Legends team. "We're all players who just like the same game."
For Strykul, League of Legends wasn't new to her, but high school esports was. At team tryouts, she was nervous about liking esports and getting to play the role she wanted. She expected to only play a few times and then leave, but her mood changed quickly.
"Once I got the role I wanted and got to play, I was like 'Wow, this is really fun, this is actually something I enjoy… and want to make a career out of,'" she said.
In esports, Strykul felt essential. "With esports, you need to be there. If you're not there, your team can't win without you."
Team diversity goes beyond just identifying qualities. Playing style, game discussion, and skill level all vary within the team, creating a unique gaming dynamic and structure.
"We have a lot of different skill levels, so we can work as a team and build each other up," said senior Tyler Gibson, who plays for Willow Canyon's varsity Rocket League team, Willow RocketCats.
Every ranking, grade level and personality is welcome in the Willow Canyon studio. The diverse and inclusive nature of the teams creates a culture that breaks the shells of even the shyest students.
"I used to be a huge introvert and I've never met any of these people beforehand," Gibson said. "But I've come to know them, and they've become some of my closest friends… [Esports] has definitely helped me open up out of my shell."
These friendships with contrasting personalities build character, Gibson said. Having a team full of different voices lets him see different points of view and different thought processes.
"It gets you out of your comfort zone," he said.
Diversity proves to be beneficial to esports teams. To Gibson, it doesn't matter what someone believes in or what they are. What matters is their contribution to the team.
"Anyone can be good at anything," he said. "The more we open up to other people and allow them to come in[to the team], we can find new abilities, new play styles, different performance… we open up a whole new spectrum of players."
The Willow Canyon esports program is only one year old, but those involved are committed to Willow Canyon's "winning culture" motto. Strykul hopes that more exposure to gaming will help erase untrue labels about the sport and continue the inclusive atmosphere they've started.
---