Girls hoops turn: A look at 6A-1A East Valley, NE Valley teams
January 19, 2021 by Les Willsey, AZPreps365
---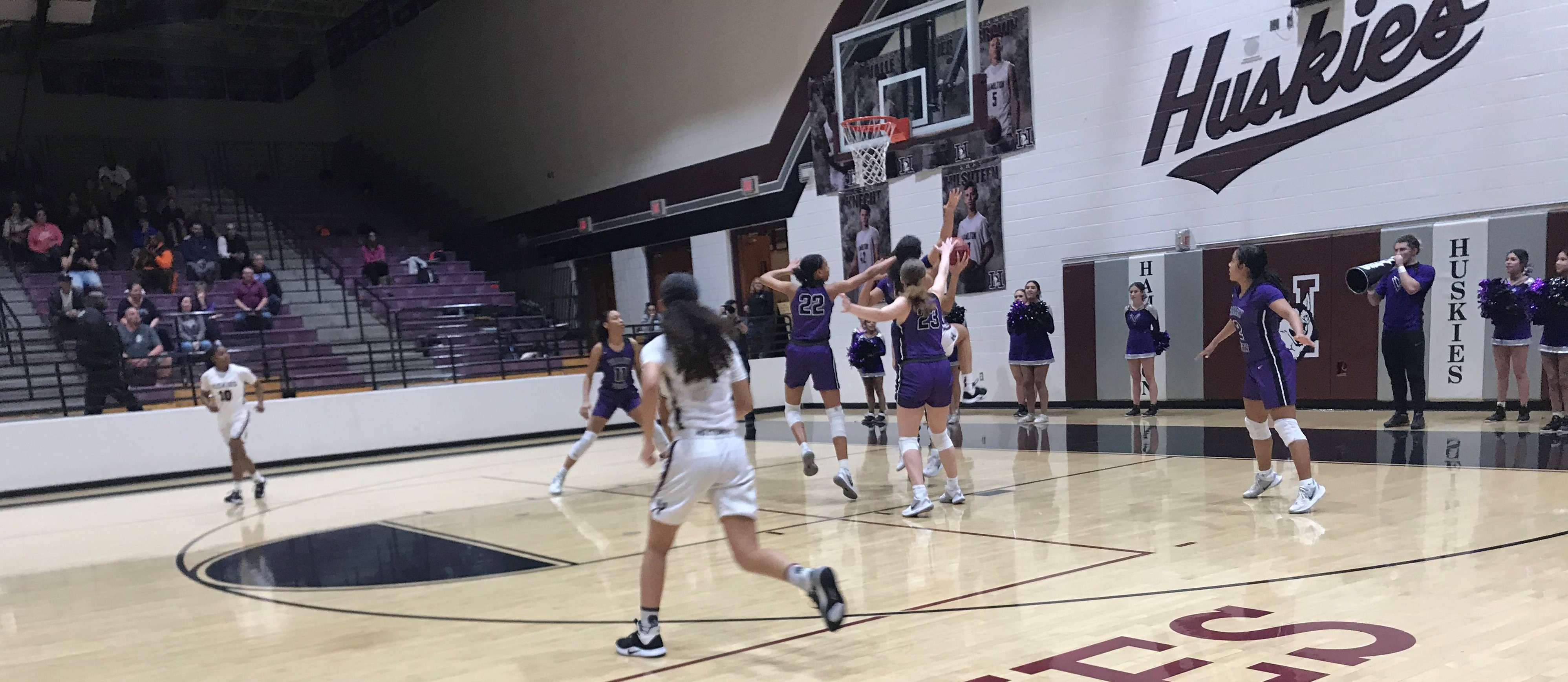 There's a good chance on paper - if not in reality - the girls hoops powers in the upper conferences will be tough to overthrow in 2021. In 6A its Valley Vista and Hamilton, Millennium (5A), Seton Catholic (4A). The season gets underway in earnest (hopefully) tonight and continues through the first week of March. Coaches who submitted questionnaires below.
6A
Desert Ridge: Coach Erin O'Bryan welcomes returning senior starters Sam Wattawa and Tori Munguia. Wattawa led the Jaguars ink scoring and rebounding last year. Incoming freshman Saige Miller (6-foot-1) and junior Asia Patterson (6-2) supply size lacking in previous years. Transfer Afton Jaussi, a senior, will contribute on both ends of the court.
Dobson: The Mustangs brought home a nice season, going 21-9 and finishing second to Westwood in the East Valley Region. Returning starters on a guard-fueled team are four-year varsity players and seniors Rachel Early and Jaden Leslie. Both led the team in scoring averaging 12 ppg. Sophomore Aaliyah Garcia (8.2 ppg) turned in an outstanding freshman season. More guard depth will come from seniors Jaedyn Brown and Monique Hernandez. Inside players come from the junior class in Siarra Beck, Allira Martin and Alexis Petrini. All are in the 5-11 to 6-2 range. Two freshman guards will be exciting to watch - Ahdiayh Chee and Camisha Fusoon. They bring speed, court sense and can shoot.
Hamilton: Coach Trevor Neider and the Huskies will again be in the hunt in 6A after runner-up finish in 2020. They are led by a pair of guards with commits to the next level - Amyah Reaves (Hampton University) and Graciela Roybal (Az Christian). Reaves is stat leader in nearly every category. Roybal is a deadly shooter. Expanded playing time this season for seniors Vanessa Washington, a slashing guard; senior post Raegan Farrington and senior guard Amari Burnette.
Highland: The Hawks held their own in the Central Region last year, posting an 18-11 record and third-place region finish. Season ended in round of 16 at loss at state to SDO. Two senior starters are back in Norah Washington and Tieyah Rosier. Avrie Mathie and Shyla King picked up some time as freshman on varsity. Two more seniors on this year's roser are Gwen Lund and Mackenzie Crotts. Two transfers will find a niche - Nicole Biscoe (Mesa) and Kyuana Skinner (Williams Field).
Mesa High: The Jackrabbits are aiming for a region title at the least in 2021 after placing third in region with a 15-13 overall record. Coach Katie Fonseca returns reigning East Valley Region player of the year in MacKenzie Shivers. Shivers (17.5 ppg, 5.1 rpg) is a junior and can fill any guard position. She can score from anywhere. Sophomore Ashiian Hunter is also a 1st-team, all-region guard (16.1 ppg and 3 apg)and second leading scorer last year. A third starter back is defensive catalyst Dei'Jonae Moore. Counted on for increased playing time are senior guard Sarianna Buck, junior Aliyah Owens-Parsons and post players Camille Turcotte. Newcomer Anaya Packer, will add to post play.
Mountain View: The Toros qualified for 6A state winning a play-in game and then ran headlong into eventual state champ Valley Vista in the first round. Mountain View is in a rebuidling mode this season and looking for help from returning senior forward Mikaye Begay, transfers Lilly Mayz (Dobson), Taylor Williams (Texas), Sara Smout (Red Mountain). Coming up from the freshman squad is 6-4 Courtenay Lee, improved strength and finsh around the basket.
Perry: The Pumas were 21-8 last season losing in the semifinals to eventual state champ Valley Vista in the final seconds. They lost few players to graduation with potentially the most experienced lineup of players returning. Five key players from last year transferred out. A couple veterans return with many underclassmen itching to contribute. Two four-year, varsity players are back - seniors Gabrielle Schwartz and Nicole Smith. A sophomore counted on for a breakout campaign is Khamil Pierre, part of a solid group from lower levels. Coach Mike Curtis also has transfer from California, who will be eligible after the the first game needing required practice time.
Red Mountain: The Mountain Lions have to play catch-up with the upper-echelon of teams in the region - Westwood, Mesa and Dobson. Three rotation players return and figure to take on expanded roles - Taylor Johnson, Kendall Garcia and Jaimie Rusnak. Two transfers will contribute as well - Emmy White and Alexis Ibarra.
Sandra Day O'Connor: The Eagles were region Northeast Valley Region champs with a glossy 23-4 record. The season ended with a state quarterfinal loss to Perry. SDO will as good perhaps better in 2021. The starting backcourt for the past three seasons, now seniors, are back - Elle Walker and Paris Atuahene. Also back is senior starter Jocelyn Erickson, a standout softball player who brings an inside presence. In all eight players return who were in 2020's rotation. Other players to watch are Katy Frost, Mak Snyder, Amaya Washington and Leyah Gewargis. A few newcomers could work their way in - freshman Thalia Daniels, Lana Croker, Maya Cobb and Alex Vasquez.
Valley Vista: Coach Rachel Matakas possesses a loaded defending 6A champ roster, led by two of the top five players in the state in junior point guard Jennah Isai and senior forward Marisa Davis. Add senior Alanis Delgado, sophomore Olivia Arvallo and junior Mikeala Cooper to name a couple make the Monsoon a prohibitive favorite for a repeat. Davis signed a letter of intent in November to the University of Washington while Isai is still weighing numerous offers. Davis, who averaged 22 points per game, 8.3 rebounds, 2.5 steals and 1.6 blocks per game last season. She has been a member of two state title teams with the Monsoon (2018 and 2020).
Westwood: If one enjoys up and down, fast-paced basketball the Warriors are your team. Coach Ron Compton guided Westwood to a 24-5 season, an East Valley Region title, the most wins in program history and an elite-8 finish at state. Three starters return and eight players overall. The leader of the team is senior Mya Johnson, who set a school record for points in a season (422). The program overall was 2nd in the state in 3s and made a state-high 72 percent of free throws. Joining Johnson as returning starters are juniors Nyese Jones and Nikkianna Kinsel. Potential new starters are sophomores Kristine Scabby (guard) and Kya Burrough (post) and senior guard Samantha Martin. Three seniors and a sophomore are moving up a level and new to the program are a pair of freshmen.
Xavier Prep: The Gators posted an 18-11 record playing in the Premier Region and advances to the state tournament dropping a first-round game to Westwood. Much of their returning experience is in the form of underclassmen. Returning starters are sophomore forward-center Mia Davis (9.1 ppg), sophomore point guard Sienna Cherwinski (8.4 ppg) and senior guard Victoria Saucedo (8.2 ppg). More young players could see bunch of time - freshman Dominique Nesland and Sarah Miller and sophomore Hannah Young.
5A
Campo Verde: The Coyotes' aim is to make the playoffs under coach Michele Matthews. Top players returning to reach that goal are senior forward Cassidee Meyer, junior guard Arwen Griggs and sophomore forward Allison Saunders.
Casteel: Figures to be another solid year for the Colts. They are led by senior guards Daeja Johnson and Autumn Franks. Johnson, a four-year starter, averaged 16 points, six rebounds and 3.5 steal last year. Franks was second in scoring at 10 per game and led the team in steals (4 per contest) and is also a four-year starter. Perry senior transfer Grace Oken (6 ppg) and senior Camilla Norton add more to the veteran presence for coach Dan Trageser. Look for juniors Kierney Murphy and Rayn Holton to make an impact on the defensive end. Sophomore Stella Burt will be an impact player right away after having her freshman campaign cut short due injury. Waiting in the wings with Oken is Gilbert transfer Jaleah Hendrix.
Desert Mountain: The Wolves were 17-11 last year, finished runner-up in their region and advanced to the state quarterfinals. They have a nice mix of players. Lexie Certo (4.5 ppg, 5.2 rpg) and Kamea Letcher (7.6 ppg, 4.9 rpg) supply experienced leadership. They have great chemistry and play tough defense. Two transfers - Laan Hill (Michigan) and Kyah Wynn (Cactus Shadows) -- will add scrappy play. Sophomore point guard Abby Moore looks for a breakout season and junior Ella Bowman will help if she doesn't opt out due to COVID concerns.

Gilbert: The Tigers have their third head coach in as many years in 20-year-old Colton Walker. The Tigers were 23-7 last year and reached he semis before losing to eventual champ Millennium. Gilbert returns one starter in junior Nicole Evenson who averaged 6.9 ppg, 5 rpg and 3.3 spg. Three seniors graduated, one possible returner transferred and one player is sitting out the season.The other players with some varsity experience are sophomore Rylee Baird and juniors Kayden Long, Eileen Lucio and Saadia Salim. A trio of freshmen are in line for lots of playing time - Meisha Caserio, Morgan Evenson and Kiki Kowitz - and from impact sophomores Julia Kishimoto, Madison Mendoza and Julia Womeldorf.
Higley: The Knights will try to move up some, but ina tough region no easy task. Higley was 5-21 last year. Five starters return from a freshman-sophomore heavy team. MIx of juniors and seniors will make up varsity rotation. Top player back is Maren Woffinden. Woffinden averaged 6.9 ppg and 9-6 rpg.
Horizon: Coach Christ Young has a lot of work ahead with three senior starters graduated, and a trio of players from last year absent due to COVID-19. Lone returning starter for the Huskies is Kylie Esquibel, who averaged 6.6 ppg, 4 rpg and 2 ast. Young will have options with last year's sixth man, sophomore Natalie Scherz. junior Sedona Nuessle, who transferred from Scottsdale Christian a year ago, incoming freshman standout Mia Brown and sophomore wing Samantha Sebastiani,. Sebastiani has impressed in the offseason.
McClintock: New coach Sydnie Lengyel has several senior players and starters trying to improve on seven-win season. Standing strong with our 4 seniors. Returners are Mary Elias, Paola Perez- Mendoza, Raquel Bia and Deasia Hendrix.
Millennium: Players who transferred out aren't likely to slow one of the top programs in the state this season with back-to-back titles in hand. New coach Kevin Thomas looks to pick up where Cory Rojeck left off. Graduation took two top players, yet three returners who can make up some of the difference are in tow. The are senior guard Kassidy Dixon, shooting guard and soph Mia Amundsen and forward Reese Grimsley. The program is used to providing depth and players ready to step in up from lower levels.
Williams Field: The Black Hawks try to replace three starters gone due to transfer, out-of-state move or health concerns. Coach Tuara Gardner has a few players back with some or limited varsity experience led by junior forward Anyah Woods (6.5 ppg, 5.1 rpg), a forward with guard quickness and a good rebounder. Also returning are senior forward Jordyn Chesir and juniors Solaya Sanchez and Alana West. Three transfers - senior guard Tatyanna Clayburne (Perry) and guards Trinity Flores and Erin Remfrey (Campo Verde). Freshman move-in from Washington State Savanah Horton is deep in the mix as well. Williams Field posted a 13-10 record in 2020.
4A
Combs: The Coyotes fell just short of a region title and state playoff berth with a 17-11 record in 2020. They have seven core players back, and all five returning starters. Senior guard Theresa De La Cruz (11.9 ppg) is second in school history in career points and assists and all-time leader in steals. Senior guard Londyn Cunningham (6.4 ppg, 3.8 apg) is school's all-time assists leader. Junior forward Acacia Melvin (7.7 ppg, 10.1 rpg) has started every game of varsity career with rebounding and defense her calling-card. Senior guard Hailey '"Speedy" Bates also has three years on varsity with junior Aimee Hansen ready for a second year starting.
Mesquite: The Wildcats reached the conference quarterfinals in 2020 bowing to Sahuaro in that round to cap a 19-12 season. Coach Candice Gonzales has plenty to work with in making a strong run again. Senior guard Alaya Fitzgerald has signed with Portland State and is 58 points shy of 1,000 for her career. Earned region player of the year honors last year and can fill the stat sheet in most every category. Two more returning starters are senior guards Gabi Solis and Emma Besirevic who fan fill in with solid stats. A transfer who sat out all of last season is Priscilla Varela, who Gonzales says is an all-around talent and will be a huge contributor. Another transfer from Canada is Hattie Ogden, who brings size, rebounding and scoring range beyond the low post.
St. Mary's: The Knights tried their best to navigate a harsh schedule and look to improve yet without many experienced returners. Coach Patricia Hollerbach has four seniors on the 2021 roster and three will start and play the majority of minutes. The top player is senior Marlene Moreno, a first-team, all-region choice who led the team in scoring and most other categories. Senior Gianna Brittain augments the offense and senior Evelyn Lopez will supply work inside and in rebounding. Incoming freshman Francis Moreno will also start and help in the low post.
Seton Catholic: There's plenty of firepower back for Karen Self and the Sentinels, the defending 4A champs. Leading the charge is senior Amanda Barcello, headed to BYU next fall. Barcello is a four-year starter and 1st-team, all everything. Three more returning starters senior Bella DiGiovanni (Dartmouth signee) and junior guard tandem Lexi McNabb and Sasha Daniel forge a lineup hard to eclipse at any conference level. All four returning starters averaged between nine and 11 points per game.
3A
American Leadership Ironwood: First-year coach on the scene for the Eagles in Patrick Peterson. Six of 10 players are seniors back with the program. Those returning are Giselle Rodriguez, Nancy Rodriguez, Naveah O'Neal, Charlotte Simmons, Autumn Moe and Shelby Walag. Walag is a sophomore and brings an aggressive presence on defense. The other senior, who missed the last two seasons due to injury, is Haylee Fortner. Peterson says she brings a balance of poise and skill.
Coolidge: Coach Aaron Monteverde expects some improvement this season after going 8-15 in 2020. Top returner is all-region point guard Brooklyn Pablo. Could be a region-player-of-the-year candidate. Pablo averaged 11.3 ppg, 8.3 rpg, 2.7 steals and 3.0 aprg. Also back are Precious Jordan solid defensive players Precious Jordan and Shae Clegg. New to the Bears are junior wing Jrew McWilliams, a perimeter threat and senior Africa Jordan who plays the low post.
Eastmark: First year for the new Queen Creek distric school and with a first-year head coach in Wayne Brimley. Program had only a half-dozen players last year, but Brimley has 14 players to evaluate and see how things begin for the Firebirds. Five players are juniors, one two a sophomore and 10 are freshmen.
Gilbert Christian: The Knights transition to a new coach - husband and wife team. Al Wilson is head coach and bride, Kahli, his assistant. The team was 17-12 in 2020. The new seasons returns one senior in 6-3 post Katie Gross, a leader by example on and off the floor. Juniors Cameryn Jones and Macee Finkbiener complete the front court and add size, skill and depth. Sophomore Lilly Juve steps into consistent minutes and will be counted on to produce game by game. Transfer Marlee Hebbring adds a nice skill set to returning mix of guards.
2A
Arete Prep: The Chargers posted an 18-6 record last year and eturn to 2A after two seasons in 1A. They will reside in the Valley Region. A senior and two juniors are returning starters - senior Sara Tollen (5 ppg) and juniors Alissa Kassebaum (10.4 ppg, 5.9 rpg) and Mariah Dominguez (9.6 ppg). The rest of the squad are freshmen and sophomores. Frosh are Grace Howell and Riley Emery and sophs are Rachel Garver, Claire Njaguna Hannah Tollen and Addison Bell.
Gilbert Classical: Coach Andres Castro lost two starters to graduation, but returns everyone else and are led by second team all-region sophomore point guard Kelsey Klauba and senior captain Sophia Shoemaker.
1A
Leading Edge Academy: The Spartans have made their presence felt in 2A the past four seasons with a a title, runner-up and two additional state tourney appearances. They drop to 1A this year and figure to be a menace there. Coach Erik Gray has players who've been in the program for three years or more (including middle school). Two seniors lead the charge into 1A - center Morgan Smith, last year's 2A defensive player of the year and forward Brionna Smith. Brionna Smith was the 2A Valley Region offensive POY. Junior guard Talia Estrada is a perimeter threat and senior guard 5-10 Amber Thorson offers size more size 1A teams will have trouble defending.
Lincoln Prep The Lightning played an independent 2A schedule last year and advanced to a play-in game that ended their season. Their final record was 11-7. Coach Andy Krebs will pilot the team in 1A this year in the Maricopa Region, but the team is young with eight freshmen and sophomores. Returning starters are senior Opal Buehler and sophomore Gillian Krebs. Other returning players are senior Nalini Bushanam and sophs Emily Schweinberg, Beth Mills and Kiana Warner.
---