Chino Valley, Mingus begin quest to end Yuma dynasty
January 20, 2021 by George Werner, AZPreps365
---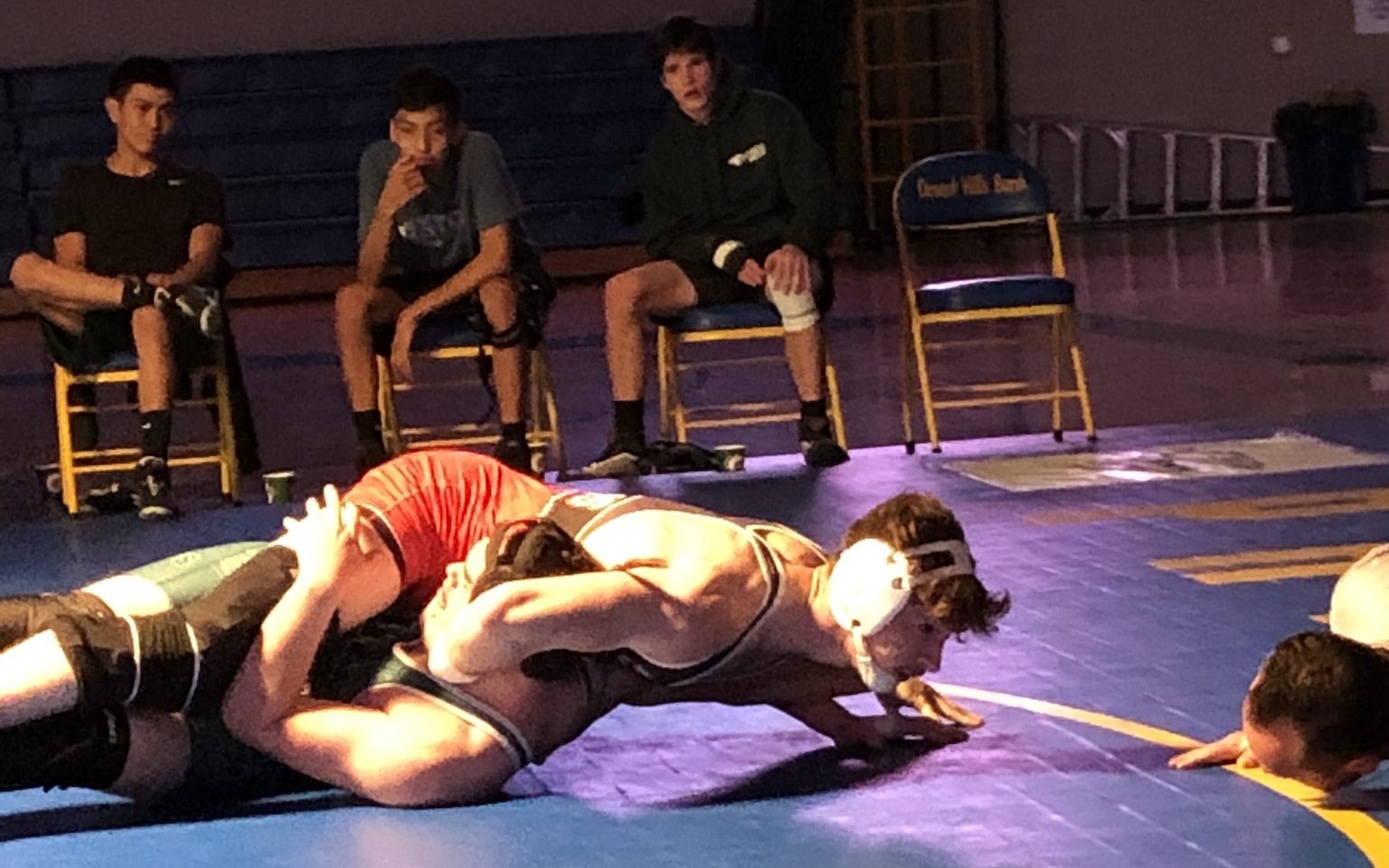 As the contenders for state wrestling glory at last fully return to action Wednesday, Jan. 20, the race for the Division III title has become one against time as well as Yuma High School.
State champions in two out of the last three seasons, the Criminals gained separation from the rest of their competitors in 2020 with a 20-point margin of championship victory over third-place Chino Valley High School, their closest Section I rival.
If Northern Arizona teams like the Cougars and fifth-place Mingus Union High School hope to close the gap by mid-March, when the state championships plan to return to the Findlay Toyota Center in Prescott Valley, they will need to do so in single matches at 14 dual meets over a span of less than two months.
"To look back and see that I'm not only doing my entire senior year spent online, but now I have to limit my wrestling and wrestle with a mask on? It's just very odd to me," said Mingus Union High School senior Conrad Brady, one of only four returning Division III state titlists. "I feel robbed, in terms of this is the year I've been waiting for since I started wrestling as a little pup."
Another defending champion, Chino Valley senior Colby Evens, won't be able to wrestle 59 opponents, as he did at 113 pounds last season when he defeated 53 of them. Neither will 195-pound junior Dakota McMains, who finished 49-12 and sixth in the state at his weight class last season.
But that is the least of his head coach Kevin Giese's problems, as COVID-19 restrictions and shutdowns have ravaged a program already rebuilding from the loss of 12 graduates since 2019.
"We've lost basically a whole team in the last two years," he said. "We actually lost several wrestlers due to COVID. We're stretching out two JV wrestlers to fill weight classes, and right now we have a two-girl team. So we're down in numbers all around."
The toughest part came when the program was shut down completely. Heritage Middle School's feeder program was forced to cancel until the fall, and Giese never could find a heavyweight wrestler or even a 220-pounder like Mingus' returning State qualifier, junior Anthony Islas.
"With the two heavies we don't have, it's going to be pretty tough to finish in the top two, but we're hoping to finish in the top five anyway," said Giese, who gets his chance to directly challenge the defending state champions Feb. 12 in the section finale at Yuma. "We've had to change our status from a school program to a club program, and back.
"The quality hasn't been there, and the virus restrictions have made practices not quite as hands-on as we want. All in all, we're doing what we can as far as what the school allowed us to."
But Mingus head coach Klint McKean, whose Marauders travel to Marcos de Niza for their first dual, can see at least one silver lining to all the reduced mat time.
"Their bodies won't be as broken down, and they wouldn't have as much fatigue," said Mingus head coach Klint McKean. "We have a new wrestling room that was open in 2017, so there are no issues there" with ventilation.
"And if I'm honest, I really couldn't care much about the tournaments during this pandemic," Brady added. "The only tournament I even wanted to wrestle was regionals and State."
Although he did lose most of his junior varsity and female wrestlers during the shutdown, McKean managed to hold onto a full cohort of varsity wrestlers, including junior heavyweight Avery Hines.
"That team bond is pretty strong," said McKean, whose son, Isaac, looks to improve on a fourth-place finish at 132 pounds. "This time off has been a chance for them to grow and connect to their teammates."
Teammates like senior captain Tyler Griffin, who along with junior Andy Babcock and sophomore Kai Miller boast perfect 4.0 grade-point averages.
"Kai had to bump up his weight class last year to 126 [pounds]; he was undersized," McKean said of Miller, who was a middle school champion under him along with sophomore Brody Townsend. "Brody qualified but didn't wrestle [at State] because he was sick."
With new Coronavirus restrictions in place, Giese thinks it is important to protect his numbers, even if they have to be pre-quarantined into practice cohorts by similar weight class.
"We're not really focusing on moving kids around to win duals, because that's what's messing with their seeding," Giese added. "If somebody gets COVID, you're out two weeks, so it's important to keep kids healthy. We're focusing on individual weight classes for sectionals, so we've adjusted our lineups."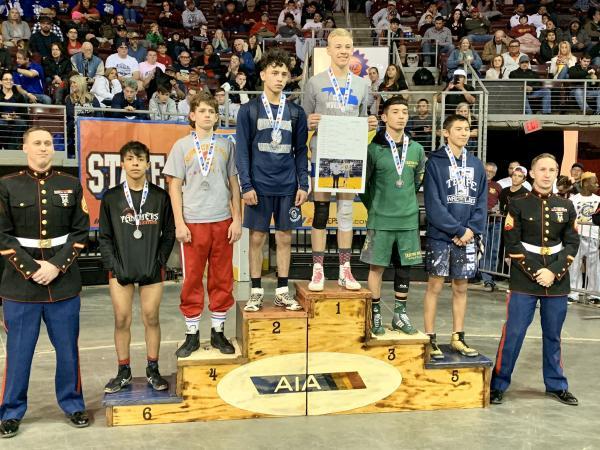 Chino Valley High School senior Colby Evens tops the award dais after winning the 113-pound Division III state championship. (Andy Morales/AzPreps365.com)
---